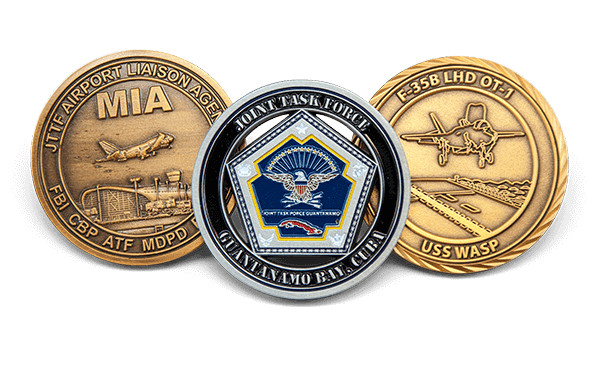 A Step-By-Step Guide To Creating The Perfect Custom Challenge Coin
Creating perfect challenge coins is easy with a few simple tips.
Custom challenge coins have a wide range of uses. From being superb marketing tools to making perfect gifts for loved ones, challenge coins have grown in popularity over the years.
However, when designing a custom coin, some people can be overwhelmed thinking about all the details and the ordering process. That's where we come in. At ChallengeCoins4Less.com, we make designing challenge coins fast and easy. Let's take a look at a few basic steps for creating the perfect custom challenge coins.
Start by considering what you want your coins to show. If you want to include a logo or unit insignia, that's the place to start. Then fill in more details around it. You don't have to have a full design to start. We can work with anything from a bare-bones sketch to a full design.
Next, think about the size of your custom coins. Do you want something small and easily carried, or something bigger with more room for detailed design art? Generally speaking, the bigger the coin, the more detail you can include, and the more each coin will cost. The choice is up to you.
You have plenty of custom options when it comes to designing your challenge coins. Think about the shape. While round is the most common challenge coin shape, virtually any shape is possible. Options include dog tag, octagon, star, badge, oval, square, and rectangle, just to list a few. Choose the shape that's right for your organization, group or company.
Now you're ready to select the type of metal finish you want for your coins. We offer a range of metal finishes, both polished and antiqued. You can also combine metal finishes for a two-tone look. Antique finishes highlight text, while polished coins make your design pop, giving them a regal look.
Consider adding custom diamond-cut edges to your coins. These offer a special look and feel and are always a great way to make your design even more elegant. Popular edge options include rope cut, cross cut, wave cut and more.
While all these choice might sound complicated, our experienced staff will make it easy to decipher them and get exactly the coins you want. We'll work with you every step of the way from the original design to delivery of your finished custom coins. We make ordering fast, easy, and even fun.
Ready to find out more? Get a free quote on your custom challenge coins or email us with any questions. We're here to serve all your custom coin needs!
---
Jesse Daugherty
Blogger
Hello, I'm Jesse Daugherty, a music enthusiast, sports aficionado, and an avid supporter of the arts. I'm a writer and content creator. For the past 5 years, I've shared my knowledge of custom challenge coins and other promotional products, exploring their designs, meaning, and purpose.