Wooden Poker Chip Coins
Boost Your Brand in Style with Custom Wooden Poker Chip Coins! Seeking a fresh, engaging way to promote your brand? Replace the mundane business cards with something unique. Our Custom Wooden Poker Chips are your solution to make a lasting impression. They're perfect for events, as creative business cards, or for boosting brand recognition in a fun, memorable way.
Think of these chips as miniature billboards for your logo, combining the appeal of custom challenge coins with the novelty of poker chips. Affordable and distinctive, they're sure to get your brand noticed and remembered.
Ready to transform your branding? Click below to start creating your custom poker chips and watch your brand's popularity soar!
How Are Custom Wooden Poker Chips Made?
We start with 100% birch rounds 39 millimeters in diameter and 3 millimeters thick. There's plenty of room for your design. We can engrave your choice of text, logo or images on one or both sides of the chips.
No matter whether you have an existing design or want to create an entirely new one, we've got you covered at CustomCoins4Less.com. We can easily reproduce virtually any existing design. Or our graphic artists will work with you to create an appropriate, attractive custom design that's perfect for your needs. And we don't charge for artwork or revisions, so you can be sure your chips will look exactly the way you want.
Unlike metal challenge coins, wooden poker chips are light, and won't weigh down a pocket or purse. They're fun, tossable, playful. Whether you pass them out as work reward tokens or as marketing tools at conferences, conventions, games and bars, they're a lighthearted way to increase brand awareness.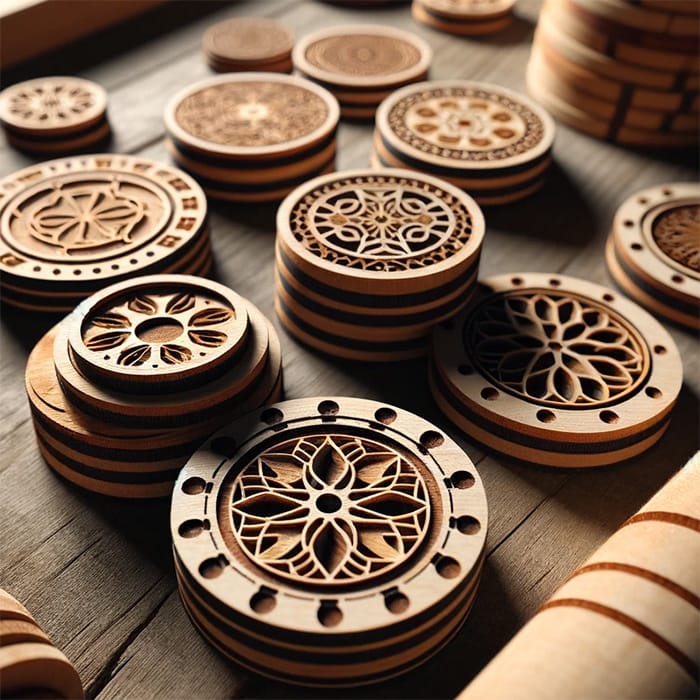 45 Uses for Wooden Poker Chips
Wooden poker chips are not just for poker enthusiasts. They are a multifaceted tool that can be incorporated into various aspects of your life, business, and leisure. Custom wooden poker chips can serve a variety of purposes, both functional and promotional. Here are some creative uses:
Business Cards: A unique and memorable alternative to traditional paper business cards. They can include your contact information and logo.

Promotional Items: Great for handing out at trade shows, conferences, or events to promote your brand or product.

Wedding Favors: Personalize them with the names of the couple and the date for a unique keepsake for guests.

Drink Tokens: Useful in bars or events where they can be exchanged for drinks.

Souvenirs: For tourist attractions, museums, or gift shops, as a memorable take-home item for visitors.

Loyalty Rewards: Businesses can use them as part of a loyalty program, where customers collect chips for discounts or special offers.

Board Game Pieces: As a replacement or enhancement for standard game pieces in board games or for use in custom-made games.

Educational Tools: For teaching purposes, such as in math for counting, sorting, or probability exercises.

Personal Gifts: Customized with personal messages or designs for birthdays, anniversaries, or special occasions.

Art Projects: They can be used creatively in various art and craft projects due to their unique look and texture.

Fundraising Tools: For charity events, they can be sold or used as part of fundraising activities.

Event Mementos: For sports events, festivals, or concerts as a collectible item to commemorate the event.

Membership Tokens: As physical tokens for club or group memberships, granting access or signifying membership status.

Gaming Currency: Used in place of traditional currency in board games or role-playing games.

Reward Tokens for Kids: For behavior charts or educational achievements, which can be traded for treats or privileges.

Customized Coasters: Designed as small coasters for drinks at themed events or as personal gifts.

Storytelling Aids: In creative writing or storytelling classes, each chip could represent a different story element or character.

Interactive Art Installations: Visitors can take or leave a chip, each representing a part of a larger communal artwork.

Pocket Reminders or Affirmations: Engraved with positive affirmations or motivational quotes, easily carried in a pocket or purse.

Golf Markers: Used to mark balls on the golf course, personalized for golf enthusiasts.

Unique Keychains: Drilled with a small hole to attach to key rings.

Dietary Management Tools: Used to track food intake or servings as part of a dietary program.

Puzzle Pieces: Part of a larger puzzle game or treasure hunt, each chip holding a clue or piece of the puzzle.

Seating Tokens for Events: For weddings or large gatherings, indicating table numbers or seating arrangements.

Time Management Tools: Use them as a physical representation of time blocks for productivity techniques like the Pomodoro Technique.

Cooking Timers: Assign different time values for cooking or baking tasks as a fun, manual countdown method.

Language Learning Aids: Each chip could represent a word or phrase for language learning games.

Customized Checkers Pieces: Personalize a checkers set with these chips, each side having its unique design.

Inventory Tokens for Board Games: Replace paper or cardboard tokens in board games for a more durable and aesthetic option.

Interactive Museum Pieces: Visitors collect chips at various exhibit points, which they can keep as souvenirs.

Yoga or Meditation Counters: Keep track of repetitions or breathing exercises during yoga or meditation sessions.

Decoration for DIY Projects: Embed them in tables, picture frames, or other crafts for a unique decorative element.

Plant Markers for Gardening: Use them to label plants or garden rows with the names of the plants or care instructions.

Themed Party Invitations: Send them out as unique, themed invitations that guests can bring to gain entry.

Networking Icebreakers: At events, each person gets a chip with a conversation starter or a fun fact.

Magic Tricks: Incorporate them into magic routines as props or reveal devices.

Workshop or Seminar Participation Tokens: Given to participants to exchange for questions, comments, or to select workshop topics.

Boutique Packaging Seals: Attached to packaging in boutique shops as a unique branding element.

Workout Challenges: As tokens for tracking fitness goals or challenges in a gym or workout group.

Charity Event Tokens: Used in charity events for entry, games, or auctions, with each chip representing a donation or bid.

Customer Service Rewards: Given to customers for exceptional service experiences, redeemable for perks or discounts.

Book Club Tokens: Used in book clubs to determine the next book selection or as a talking point marker.

Task Completion Tokens: For personal or workplace task management, marking the completion of tasks or goals.

Adventure Game Props: In adventure or escape room games, used as clues or currency within the game.

Personalized Door Hangers: Customized with messages or designs, adding a unique touch to home or office doors.
No need to ante up!
Get your free no obligation quote today.