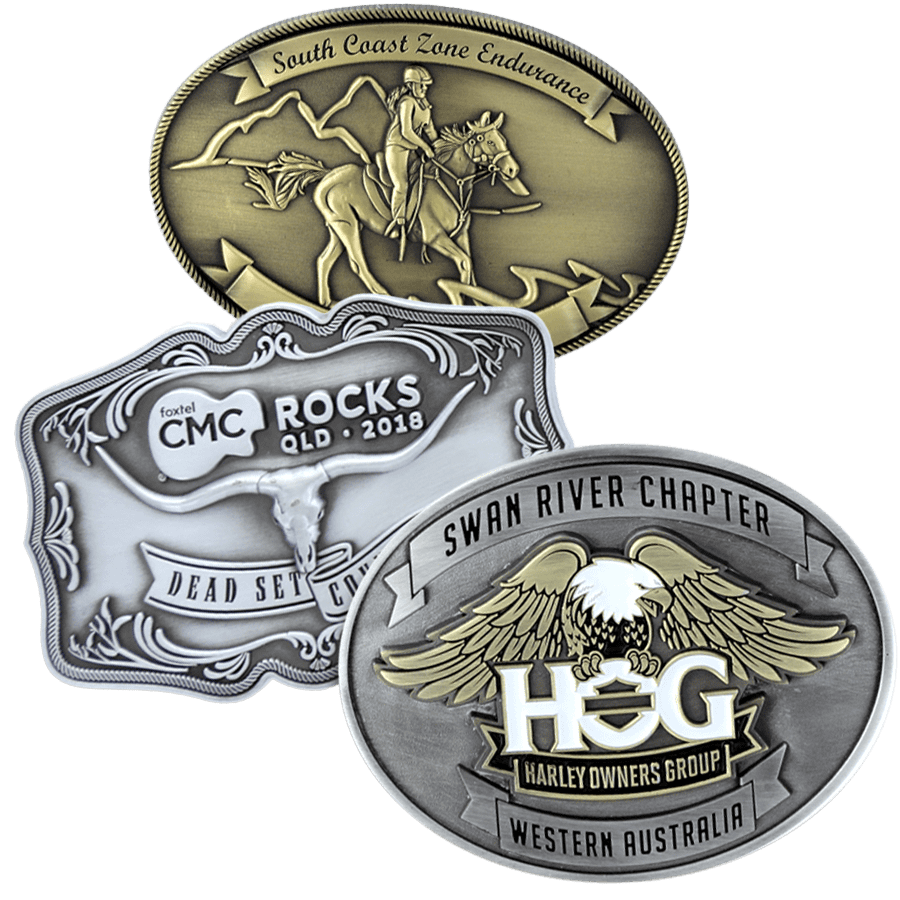 Custom Belt Buckles
Are you looking for a unique gift idea? Custom belt buckles are the ultimate way to commemorate any occasion. We can even turn your favorite challenge coin design into a one-of-a-kind, wearable accessory that reflects you and your personality. Whether for a PBR championship, local or state rodeos successes, or promoting the old family ranch, we can create the custom buckle that can be worn or displayed proudly.
Modern Belt Buckle History
To create a great buckle design, it helps to know a little bit of the history of custom buckles. Most people assume the buckles we call "Western" today was an original part of the Old West. Not quite, historians say. The buckles we know and love today are straight out of Hollywood.
The historians say the real cowboys of the Old West chose suspenders over belts, the better for working with animals. That started changing in the 1920s when jeans with belt loops were introduced. But the basic buckles of the time weren't quite flashy enough for movies and TV. Big, ornate buckles quickly became a part of the standard uniform for cinematic cowboys, and so it remains today.
Company Custom Buckles
Buckles today are not just for cowboys, of course. They're also a popular, distinctive way to market your brand or logo. You can sell them to customers as an extension of your lifestyle brand (Harley-Davidson, anyone?) Or you can give them to employees to commemorate outstanding performance on the job. It's an excellent means to recognize employees and boost company morale, and it promotes your brand every time the buckles are worn – a true win-win.
Buckle Basics
Just like our custom coins, our custom buckles are die-cast to the highest standard. Buckles can be silver, gold, brass, or just about any other color you want. Simple or ornate. Choose from square, round, rectangular, oval, or a custom shape. You can add color or a 3-D relief to your buckle's design. From a small, easily wearable size all the way up to the dinner plate size of championship buckles, you can order exactly what you need for your event, celebration or ceremony.
It's easy to design your own custom buckles. Consider what you want to portray, whether it's a full scene of riding and roping or something as simple as a name. Our experienced graphic artists will work with you to craft just the design you want.