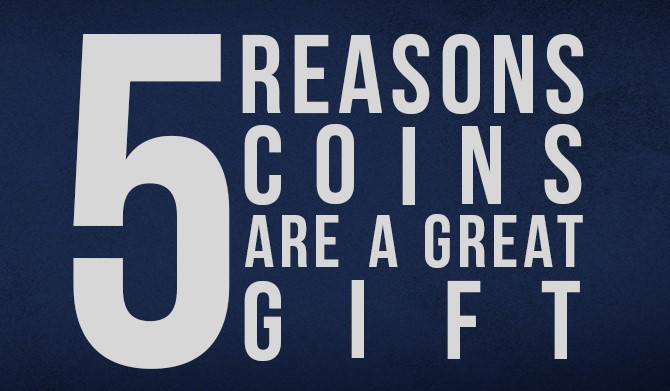 5 Reasons Custom Challenge Coins Make Great Gifts
Challenge coins are an outstanding way to celebrate, commemorate or memorialize.

Challenge coins are a long-held military tradition that can be traced back to the days of Ancient Rome. Throughout the 20th century, they gained a renewed significance through the actions of the U.S. Armed Forces, often awarded for exemplary service or to commemorate a specific unit or mission. While those practices remain, challenge coins have permeated society far and wide, being given out by veterans and civilians alike. Here's why you should consider some as your next big gesture!
History
With such a rich and storied background, challenge coins carry significant cultural value. The act of giving and receiving these tokens is considered a huge honor, and who doesn't want to feel connected to such an esteemed practice? Typically, they're awarded by distinguished leaders and commanders. The tradition has even been adopted by presidents of the United States, starting with Bill Clinton in the 1990s. Though they may have originated with the military, our experienced artists can help you design coins for any organization or occasion.
First Responders Need Love, Too
Speaking of other organizations, first responders such as police, firefighters, and EMS squads have adopted challenge coins in recent years as well. We've helped thousands of departments develop coins for their specific districts and shifts, along with personal coins for top brass to give out as commendations. They are by far one of the best ways to show your pride and involvement in being on the front lines, and a coin ceremony is a fantastic way to boost morale within a unit. If your organization still hasn't found the time or funding to create their own, we've got you covered with the best value and quality on the market.
Great Giveaways
Tired of the same old freebies being given away at events? So is everyone else! There is nothing more memorable than opening a goodie bag and discovering a high-quality coin to commemorate the event. Whether it's a fundraiser, convention, or just a nice thank-you lunch for your members, giving out custom challenge coins is an unforgettable gesture. Handing out a valuable item they'll treasure for years instead of something cheap they'll throw out when they get home is a surefire way to win hearts and minds for good.
Memorial
In times of grief, it is difficult to feel like you have something of your loved one to hold onto. This is especially true for those more distant relatives who are unable to attend a memorial, as well as for the friends and associates who do come to pay their respects. Many families have begun creating custom memorial coins to give to attendees with high-quality photos of their loved ones, or even 3D reliefs of their likeness to celebrate and serve as a heartfelt reminder that people can carry with them always. These touching tributes are easily mailed to friends and family far and wide, and may prove to be the most viable alternative to traditional services in the age of quarantine.
Weddings
The same principle applies for celebrations of life and love! Wedding coins are a hot new trend in the world of marriage, with brides and grooms reaching out to give something magical to their guests that they can take home once the ceremony ends. We are happy to help design and produce orders to mark your happy union (though we suggest convincing the father of the groom to pay for it!)
Custom challenge coins can serve a variety of purposes in the 21st century, and make for unforgettable gifts no matter the occasion. Let our experienced staff help guide you through the process of having your very own design produced today!