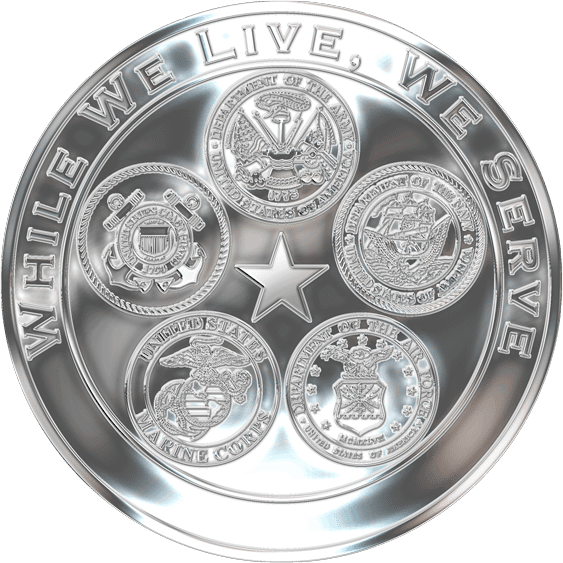 5 Tips & Tricks To Make A Statement With Military Challenge Coins
Challenge coins have a rich history that dates back to Ancient Rome. For many, challenge coins serve as a memory of notable achievements and accomplishments, especially for military members. Challenge...
---
Challenge coins have a rich history that dates back to Ancient Rome. For many, challenge coins serve as a memory of notable achievements and accomplishments, especially for military members. Challenge coins are often associated with the military, as they are used to commemorate events, units, and more. The right challenge coin design can make a lasting impression. Even though most people associate coins with the military, they aren't officially recognized. This means coins are created by units, companies, and even individuals. Anyone can create a custom challenge coin to commemorate an event or honor someone. However, if you are considering making your own challenge coin, we have a few helpful tips for the design and look of your coin. Read below to find out a few essential elements for creating the perfect challenge coins.
Tell A Story
The goal of a challenge coin's design should always be to tell a story. It may be the story of a specific unit, a deployment, a particular date, or even a location. Challenge coins can even be used to honor individual soldiers, milestones, and special tasks. However, before you start thinking about what your coin will look like, decide on the story you want it to tell. Once you begin implementing other design tips from below, you will better understand what you want to focus on. This will also make it much easier to tell a designer or artist about potential images and text for your design. Your story doesn't need to be in-depth, and it shouldn't be. It's generally better to keep it brief. If the story is too broad, it can be hard easy to choose specific elements to focus on when designing your coin. Rather than creating a coin that focuses on a soldier's entire career, choose a single accomplishment to honor the person. You can also focus on the individual by including an image of the dates they joined the service and/or retired. These options will enable you to keep your image simple and text short, taking advantage of the space given. However, we will go into a bit more detail about this a little later.
Imagery & Icons
Once you have chosen a story to tell and aspects to focus your design on, it's time to get started with your design. The next option you need to determine is what image you will use. Many military challenge coins feature a picture or illustration in the coin's center. The image dominates the space, providing a focal point around which text and other details will be centered. Popular choices include unit logos and the logos of various military branches; however, details like flags, aircraft, aircraft carriers, and emblems are great. However, when it comes to custom challenge coins, the options you have for choosing an image are endless. As long as your photo isn't too large or detailed to be placed in a small space, you can make it the centerpiece of your design. Pictures of military equipment, ships, buildings, and other military-inspired images are perfect. You can even include an illustration of a person's face. Other good options are caricatures of mascots, sketches of buildings, and other details. Depending on the size and images you choose, you may be able to shrink them down and include more than one within your design. For example, a picture of a person or piece of equipment can be superimposed on an image of a flag or a map for a unique look. Get creative and think outside of the box. The more eye-catching the coin, the more memorable it will be.

Standout With Color
Military challenge coins are often left colorless, but adding color is a great way to make your design pop. Colorless challenge coins are classic and clean, but adding color is a sure-fire way to make your challenge coins stand out among the others. Challenge coins look great when left in the color of the chosen metal coating, such as bronze or silver. However, a few touches of color can help certain elements pop. Color creates definition between shapes, making it easier to see the details of your images and text. While you can use many colors in your design, avoid going too far. Too many colors will make your design look cluttered and hard to read on a small coin. Complementary colors are an ideal way to make your coin appealing and eye-catching. It's a helpful feature that will add to the charm and allure of your design. Keep it simple but make it stand out with a touch of color!

Less Is More
Keep it simple! We can't say it enough. Your challenge coin can quickly be cluttered with a limited amount of space. The image you use for your challenge coin may be the focal point, but the text you select is just as vital. Whether you opt to include a unit name, a date, or other significant text, aim to keep your message short. Like with color, too many words will result in something hard to read. And, too many words means you will need to use a smaller font, which will be tough to read and see. If you decide that you need to include more text, reduce the size of your image instead of trying to squeeze it all together. Keep it short and straightforward, but still, reinforce your message.
Remember The Back
Once you have chosen the perfect design for the front of your coin, don't forget about the back. Leaving the back of your coin blank will result in an unfinished look. It's always a great idea to keep the back of the coin fair simply, adding just a single word or a phrase. However, you can choose another image and other text for a more detailed approach. While the front of your coin may be more decorative, a less complicated back will allow people to pay more attention to the details of your message. Remember, you can also choose to make the back just as detailed and unique as the front. Remember, keep it simple!

At ChallengeCoins4Less.com, we know custom challenge coins. We've been producing top-quality custom coins for over fifteen years, including military challenge coins, firefighter challenge coins, and many others. We understand their importance and tradition, which is why we take pride in every design we create. If you want to find out more about military challenge coins or the process of creating a challenge coin, give us a call toll-free at (855) 272-8451. You can also email us. Let us show you how easy designing custom military challenge coins can be.