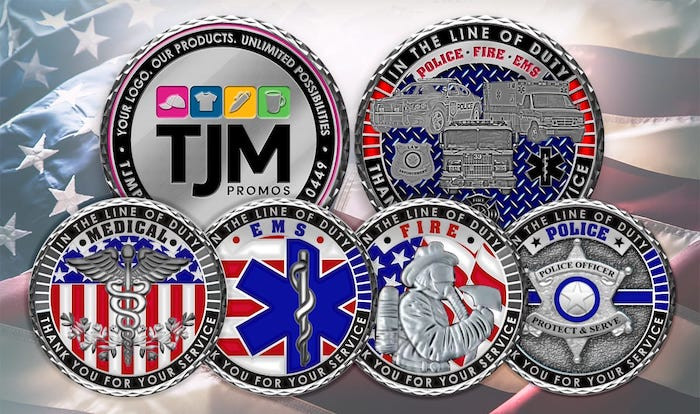 A Bold Difference: Digital Print Coins Stand Out
Digital print coins add detail, color and flair to your challenge coin designs
All around the world, businesses are looking for new ways to market their services. Companies large and small are looking for unique ways to stand out, and they have discovered the benefits of custom challenge coins. The evolution of the challenge coin is incredible, and modern coins offer innovative ways to promote brands, companies, and organizations of all kinds.
Technology has changed everything! Challenge coins are coins created with an image, logo, or text. The name comes from their history in the U.S. Armed Forces, dating back as early as 1917. Custom challenge coins have changed dramatically over the years, thanks to modern production processes. They can be created to say "thank you" to customers or suppliers. They are also ideal for employees, a reward for completing major projects, or reaching a long-sought goal.
With companies seeking new ways to stand out and create eye-catching coins, let's take a look at digital print coins. Adding color is nothing new when it comes to creating custom coins. However, digital print coins offer a more enhanced and eye-catching aesthetic to any coin.
Coins are dramatic when color is added. Much like color fill, the digital print process allows you to add any color to your coin for a one-of-a-kind look. Digital print coins can feature color on the coin or on a raised design, offering a depth and bold attention to detail.
Unlike color fill, digital print coins offer realistic colors, gradients, and fine lines, which can be printed on the coins. You can also add QR codes and more. Faces and fine details can be seen on digital print coins as well. You also can leave some metal showing through for a unique contrast to your design. When ordering digital print coins, think about the images or logos you want printed. It's also important to first determine what size challenge coin you need and what finish.
At ChallangeCoins4Less.com, we have the team and experience needed to create exceptional, eye-catching digital print coins. Our artists and graphic designers are the best in the business. If you are unsure about digital print coins or what color options will work best for your design, we've got you covered.
We've created custom challenge coins for more than 15 years, and we know what it takes to design the perfect custom coin. We make ordering custom challenge coins easy and effortless. We offer a range of finishes and styles, as well as an array of custom options to take your design to the next level.
We take pride in what we do, and we stand behind everything with our 100% Satisfaction Guarantee. We are the one-stop shop for challenge coins, and we'd be honored to work with you on your next order.
Get a free quote on digital print coins or give us an email. We're here to answer any questions you may have on the way to creating the perfect custom coin!