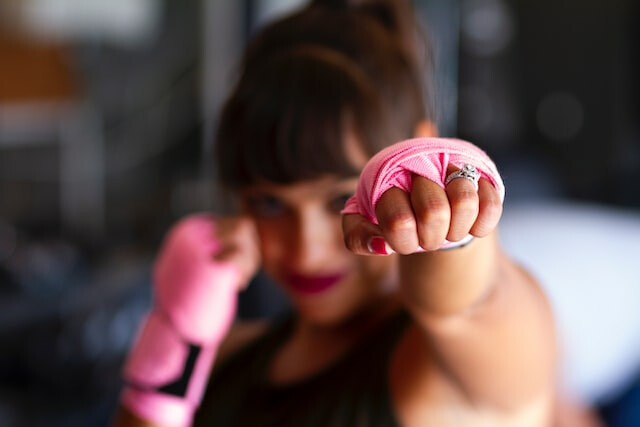 Breast Cancer Awareness Month Challenge Coins
Raising awareness to help find a cure
Every October, the nation observes Breast Cancer Awareness Month. The annual health campaign was organized by major breast cancer charities to increase awareness and raise funds for research. The month is a reminder to everyone to get examined and to support research. According to statistics, about one in eight U.S. women and 1 in 1000 U.S. men will develop breast cancer in their lifetime. October is a time to be proactive in the fight.
It's a time to bring attention to the disease and ways to fight it. The month is symbolized by a pink ribbon, which is seen on everything from pink shirts to coffee mugs and hats, belts, and more. Breast Cancer Awareness Month honors survivors, patients, and healthcare workers with events including walks, runs, and more.
One way to bring attention to Breast Cancer Awareness Month is with memorable custom challenge coins. Challenge coins are a unique way to raise awareness for any cause and are ideal for organizations raising funds to help support research into breast cancer treatment. Let's work together in the fight against breast cancer. Learn more about Breast Cancer Awareness Month and how we can all get involved.
History of Breast Cancer Awareness Month
Breast Cancer Awareness Month began in 1985. The observation began as a partnership between the American Cancer Society and Imperial Chemical Industries. Betty Ford, the wife of former President Gerald Ford, helped start the event as a breast cancer survivor. The goal of Breast Cancer Awareness Month is to educate and inform women about the disease and early detection tests. The campaign aims to promote mammograms as an essential way to fight breast cancer.
A pink ribbon symbolizes Breast Cancer Awareness Month. Estée Lauder cosmetics introduced the pink ribbon in 1992. The company distributed 1.5 million pink ribbons during the nationwide campaign as a reminder of Breast Cancer Awareness Month. Since then, the pink ribbon has become synonymous with the month and a striking way to bring attention to the cause.
Companies and organizations have shown their support with an array of pink products. In 1991, the Susan G. Komen Foundation presented pink ribbons to participants in its New York City race for breast cancer survivors. Delta Air Lines painted one of its planes in Breast Cancer Research Foundation colors. The National Football League shows its support by incorporating pink on team uniforms and apparel. Nearly all players, coaches, and referees don the pink ribbon to show their support.
Some organizations have disputed the number of pink ribbon products on the market. Breast Cancer Action's Think Before You Pink campaign aims for accountability by companies participating in breast cancer fundraising. The campaign encourages consumers to see how much funding companies donate to research. BCA also discourages people from supporting companies that may contribute to causing breast cancer. The organization emphasizes addressing the causes of the disease while pushing for better policies, institutions, and practices.
The National Cancer Institute recently announced that the U.S. cancer rate fell for diagnosed women between 2006 and 2015. The Food and Drug Administration approved at-home genetic testing so women can assess whether they carry any of the gene mutations associated with breast cancer.
Breast Cancer Awareness Month is an opportunity for everyone to recognize the lives that have been affected by breast cancer. Let's get creative and spread the word on this particular disease.
Observing Breast Cancer Awareness Month
There are many ways to observe and honor Breast Cancer Awareness Month, including events across the country celebrating survivors and organizations promoting self-care and cancer research.
You can share stories of survivors who can provide insight into how cancer affected their lives. There are several ways to share your story, including blogs, video platforms, and social media. Wearing pink is another wonderful way to show support during the month. It's time to pull out your favorite pink apparel, including sweaters, hats, shoes, and more. Many workplaces will hold celebrations that encourage employees to get involved.
Another great way to observe the month is by fundraising for breast cancer research and treatment. Plan an event, hold a raffle, or donate to a local organization that helps fund cancer research.
Custom challenge coins are a unique way to commemorate Breast Cancer Awareness Month as well. These small tokens have significant meaning, and you can customize them to your liking. Use them to celebrate cancer survivors or as a way to uplift someone currently battling the disease. Custom challenge coins are meaningful, memorable items that will bring awareness to the cause and hope to those putting up a fight.
Challenge Coins Bring Awareness
Challenge coins are an innovative way to spread the word about virtually anything. They are excellent for commemorating special events, locations, and individuals. Create custom challenge coins that honor survivors and include details important to the recipient. The iconic pink ribbon is a great element to start with, and you can also include special dates and other information that represents the fight.
Nonprofits and other organizations can use challenge coins to raise funds for research and treatment. They can be used as a reminder to get examined, or of the significance of early detection.
Challenge coins are perfect for fundraising. Sell them and donate the funds to support cancer research or as a way to fund an event. They can also be presented to healthcare workers to show thanks for their commitment and hard work. It's a time to honor those around us working tirelessly to fight this terrible disease. Custom coins are a unique and creative way to alert people to this important issue.
October is a time to join the fight and show support for Breast Cancer Awareness. It's a reminder to men and women about the importance of self-care and getting regular exams. With more funding comes more innovations in research, surgical options, and clinical trials that give people more options.
It's time to show more support for this meaningful cause and make a difference. What better way to do so than with some well-designed custom challenge coins? Small but significant, these coins can spread the word about early detection, getting examined, and cancer research.
Let's work together to show our support and create something memorable that will remind people everywhere about this critical issue. Find out more about designing custom challenge coins, and take a look through our coin gallery for inspiration.