Challenge Coins For The ATF Boston Field Division
Celebrating the agents of the ATF's Boston Field Office
The tradition of challenge coins has expanded outside the military, to include police and fire departments, government organizations, and more. These small tokens recognize accomplishments, achievements, and more. Government organizations such as the Bureau of Alcohol, Tobacco, Firearms, and Explosives and the FBI have their own unique challenge coins and traditions. Challenge coins serve as memorable keepsakes that honor and celebrate one's career.
We recently had the opportunity to create a challenge coin for the ATF's Boston Field Division. The ATF is responsible for criminal enforcement and industry regulatory operations. They investigate federal offenses involving firearms and explosives, arson and bombings, and the illegal trafficking and tax evasion of alcohol and tobacco products. The ATF also regulates the sale, possession, and transportation of firearms, ammunition, and explosives.
The Boston Field Division covers six New England states and includes special agents, industry operations investigators, auditors, technicians, intelligence analysts, and administrative staff. This challenge coin represents their duties, region, and pride in the area. The coin symbolizes their hard work, dedication, and a celebration of New England sports.
Dedicated To Service
Challenge coins tell a story, represent membership in a group, and celebrate the past. This particular challenge coin for the ATF's Boston Field Division is simple in shape, while its details provide all the information. The coin has a standard round shape that looks different from front to back. The face of the coin features a classic look with symbols, logos, and text, while a colorful background makes everything stand out. The reverse is much different, celebrating the New England area and its professional sports legacy.
The face of the coin has an ATF badge at the center with an American flag in the background. The gold shield in the coin's center stands out and provides precise details. Surrounding the central element is a border with text that reads "ATF Boston Field Division" across the top. The bottom of the border includes the states that the Boston Field Division oversees.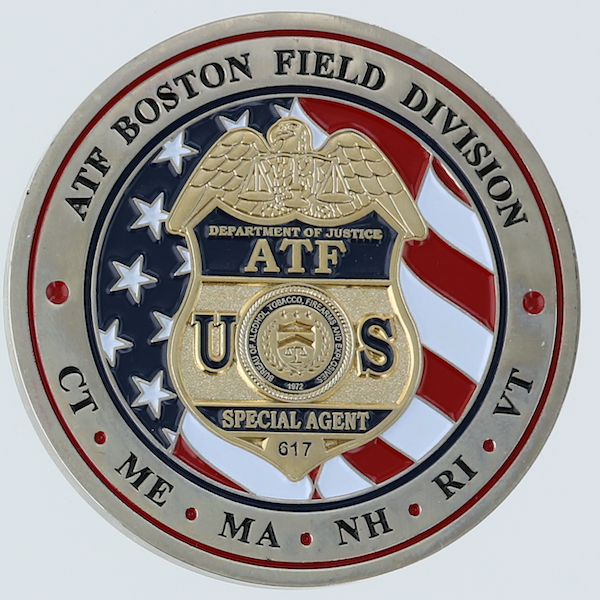 The reverse side includes many details that represent Boston. The city's skyline is black, set against a deep blue background. The design also features the four logos of Boston's sports teams, the Celtics, Bruins, Red Sox, and Patriots. Championship trophies that each team has won accent the logos. The top includes the text "City of Champions," while "Boston" adorns the bottom.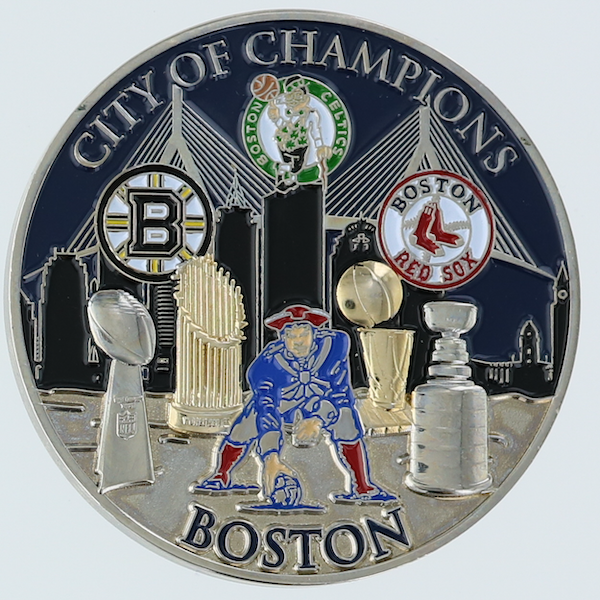 This excellent challenge coin is a great example of a custom police challenge coin. The design is clean and sharp, the text is informative, and the imagery represents the Boston Field Division and the city's pride. At ChallengeCoins4Less.com, we take pride in designing exceptional challenge coins that showcase excellence and dedication.