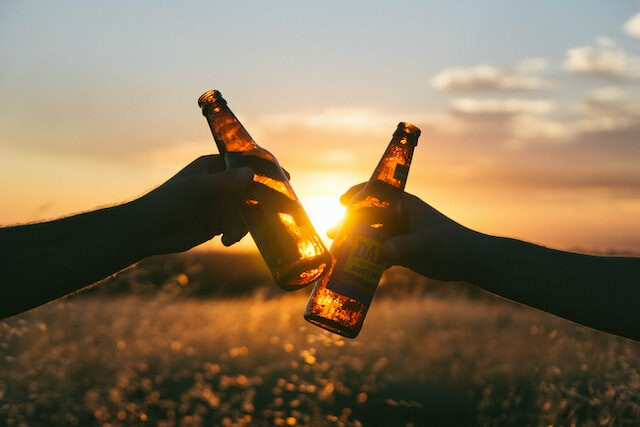 Cheers & Challenge Coins For National Beer Lovers Day
To Beer Or Not to Beer? A celebration of a favorite beverage
Beer lovers rejoice. Your big day is coming soon. On September 7th, we celebrate all things beer. That means the grains, the hops, the brewing methods, and the many breweries across the country.
Beer has a long past that may predate written history. National Beer Lovers Day is a day to celebrate beer as it continues to change and evolve through the times. Beer enthusiasts will celebrate their favorite beverages, and breweries will offer outstanding new blends for their patrons. Why not design custom challenge coins to commemorate the special day?
Whether you are a brewery looking for new ways to engage with your customers or a creative fan of beer that wants to share your passion with your friends, custom challenge coins can do just that. Let's talk beer and fun ways to celebrate National Beer Lover's Day.
Cheers to Beer
Beer is one of the world's oldest and most widely consumed alcoholic drinks. Some of humanity's earliest writings mention the production and distribution of beer. Beer was produced in Syria around 2500 BC, while people made a fermented drink using rice and fruit in China around 7000 B.C.
Germanic and Celtic tribes spread beer throughout Europe dating back to 3000 B.C. These European beers included fruits, honey, spices, and other substances. They did not contain hops, which were first mentioned in Europe in the early 800s A.D. In the early 1500s, William IV, Duke of Bavaria, adopted the Reinheitsgebot, a series of rules which decreed that beer could only contain water, hops, and barley malt. The rules have evolved over the years to include other malted grains, but the basic idea remans the same.
Beer's history changed again during the Industrial Revolution. Beer production became industrialized and domestic manufacture declined significantly during the 19th century. Hydrometers and thermometers further changed brewing, giving brewers better control over the process and producing better results.
In 1912, the Joseph Schlitz Brewing Company of Milwaukee, Wisconsin, began using brown bottles. The brewing industry accepted the innovation, which is still in use today. The brown bottles prevent harmful rays from degrading the quality of the beer.
Today beer is more popular than it's ever been. You can find craft breweries in nearly any city. These creative establishments offer innovative blends and beverages. National Beer Lovers Day is the perfect day to honor the past and celebrate the evolution of this great libation.
Sip and Celebrate
Celebrating National Beer Lovers Day is easy. Do you love beer? Gather a few of your friends, head to your favorite local watering hole, and enjoy your favorite beer. There are plenty of other ways to embrace the occasion too. Take a trip to your local beer store and pick up a few new beers to try at home. Plan a trip and take a tour of a brewery near you.
You could also take a few minutes to learn some facts about beer. Did you know that beer was a normal part of the human diet in the Middle Ages? Or that in the 1960s, Heineken crafted their beer bottles so that they could double as bricks for houses or other buildings? Okay, one more -- you can get a beer at McDonald's in some parts of the world.
There are many fun ways to celebrate National Beer Lovers Day, including custom challenge coins. These tokens mark the occasion, perfect for breweries, brewers, and beer connoisseurs.
For breweries, challenge coins make great gifts for regulars and folks trying out new specialties. They are also unique marketing tools that breweries can present to vendors and other breweries. For beer lovers, they are a tangible way to mark the tradition of having an incredible drink with exceptional friends.
If you are looking for a new and useful way to celebrate National Beer Lovers Day, why not create a custom bottle opener? You can transform nearly any custom challenge coin into a bottle opener. These are perfect for breweries, bars, restaurants, vendors, and customers. These creative items are a fun way to raise brand awareness and a much easier way to open your favorite bottle.
Custom challenge coins are a fun way to commemorate any occasion. National Beer Lovers Day provides plenty of inspiration to create something outstanding. Celebrate the day, honor your favorite beer, and make memories that will last for years. Let's design a National Beer Lovers Day challenge coin that people will display with pride. Take a look through our coin gallery for some inspiration.
---
Jesse Daugherty
Blogger
Hello, I'm Jesse Daugherty, a music enthusiast, sports aficionado, and an avid supporter of the arts. I'm a writer and content creator. For the past 5 years, I've shared my knowledge of custom challenge coins and other promotional products, exploring their designs, meaning, and purpose.