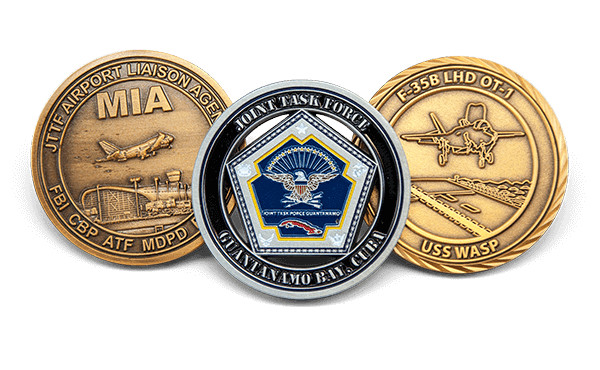 Choosing The Right Supplier For Custom Challenge Coins
Choosing the right supplier is the key to getting exactly the custom challenge coins you want
When you're placing an order for custom challenge coins, it's important to choose the right supplier. You want a coin supplier that will ensure you get high-quality coins that look exactly how you envisioned. It's easy to find a reputable supplier with just a little bit of research and forethought. When you know what to look for, you will increase the chances that you will be able to find a reliable provider.
Experience Matters
Look for a coin supplier that has plenty of experience. Would you trust your custom coins to a company that has only been around for a few years? It's quite easy to set up a business on the internet. However, it's much more difficult to establish a reputation for taking care of customers and providing top quality coins. You want your coins to be of the highest quality. Look for a coin provider that matches your expectations. You want a supplier that will stand behind their work, one that is willing to replace a defective coin at no extra cost.
Order Flexibility
A great coin provider will never charge you for artwork or revisions. It's important to think about flexibility when ordering challenge coins. This gives you the freedom to experiment with your design, in turn creating a unique coin that looks exactly how you want before being produced. A reputable coin provider will also have graphic artists on staff who will work with you on every step of the design process.
The Details
It's important to think about what coin options will look the best. A good coin supplier will offer a selection of metal styles, including gold, silver, brass, copper, or black nickel. They should also offer your choice of finishes, including polished or antiqued. Some even offer a duo-tone metal option, combining two of the preceding styles. Other options to customize your coins include custom shapes, cutouts, color on one or both sides of your design, and diamond-cut edges. You can also add exclusive details like sequential numbering, which makes each one more valuable to the recipients.
Shipping
Be sure to ask your coin provider about shipping times. Most reputable suppliers can get your custom coins to you in about three weeks.
At ChallengeCoins4Less.com, we take pride in what we do. We fulfill each order with precision. We deliver custom coins with exceptional quality, coins that recipients will carry and display them proudly.
From outstanding artwork and design to quality materials and unbeatable pricing, we offer the best of everything at ChallengeCoins4Less.com. We offer free revisions, so you can redo your custom challenge coin's artwork until it's exactly what you envisioned.
We make designing and ordering custom challenge coins easy! Get a free quote on your next order or email us with any questions you have regarding your design. We look forward to working with you.