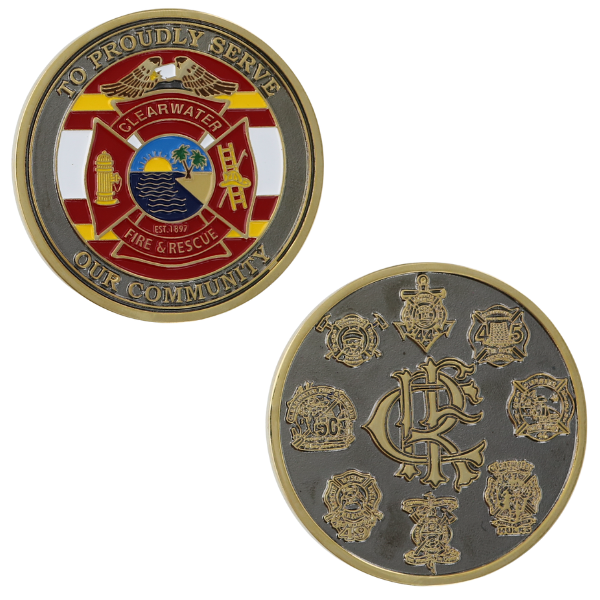 Clearwater Fire and Rescue Coin Spotlight
Recognizing Florida Firefighters with Clearwater Fire and Rescue custom coins
Like military challenge coins, firefighter challenge coins recognize courage, skill, and determination. Custom challenge coins originated in the military and have evolved in the private sector. Firefighter challenge coins are a personalized way to honor those who serve our communities. Every coin is designed uniquely to commemorate a specific event. These remarkable coins feature meaningful elements honoring the men and women who rise above and beyond the call of duty.
At ChallengeCoins4Less.com, we understand the benefits of custom challenge coins. There are many reasons why firefighters use challenge coins, including community outreach, fundraising, and team building. Aside from being a source of pride and dignity, these tokens are also given for excellence in the field and promotions. Challenge coins are memorable and unique. Professionals collect and display these custom coins as reminders of their careers.
We recently worked with Clearwater Fire and Rescue to create custom challenge coins symbolizing their role in the community. The design is an exceptional example of a firefighter challenge coin, boasting exquisite attention to detail and a clean layout. The contrasting colors are a nice touch, while the front and back of the coin each feature a unique look.
Clearwater Fire and Rescue, includes eight stations and nearly 200 staff members. The coin honors those firefighters and staff members who dedicate their lives to keeping the community safe.
It's All in the Details
Challenge coins serve multiple purposes. They can be used to convey information, tell a story, or represent membership in a group. The Clearwater Fire and Rescue challenge coin has a clean and classic appearance. There is a distinct design on both the front and back of the standard round-shaped coin. In addition to its antique gold metal base, the coin boasts a vibrant image and text. Let's take a look at the other details and why it stands out.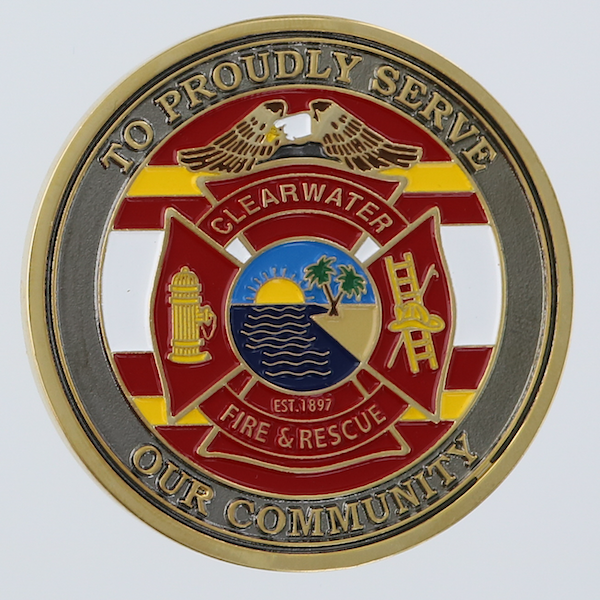 The front features the Clearwater Fire and Rescue logo, which consists of a Florian cross topped by an eagle. The red logo contrasts perfectly with the gold coin's base. The background features red, yellow, and white, bordered by a dark ring. At the top of the ring, there is text that reads, "To Proudly Serve" and at the bottom, "Our Community."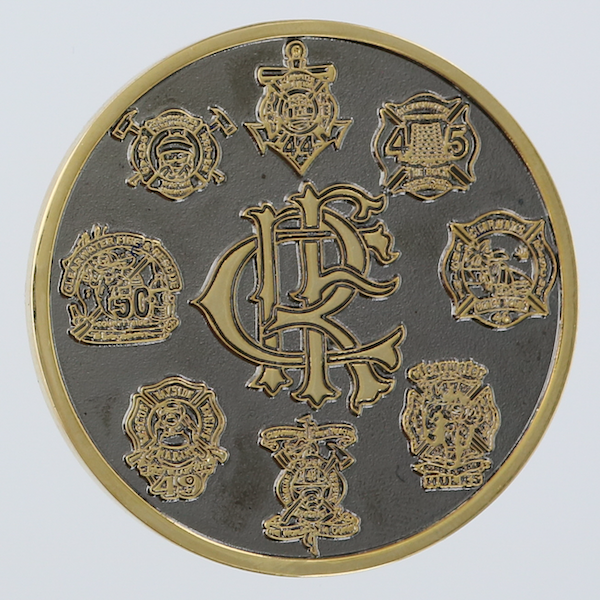 The reverse side of the coin takes on a much different approach. The background of the coin is dark, contrasted by the base metal of the coin. The center features "CFR," representing Clearwater Fire and Rescue, surrounded by specific logos of each fire station. Its eight logos are crisp, contrasted by the dark background, and finished off by a raised border that highlights them.
It is our pleasure to design challenge coins that honor firefighters and fire departments across the country. This coin is one of the finest examples of classic-looking firefighter coins. With concise and sharp details and colors that complement and contrast nicely, this coin is stunning. Take a look at our coin gallery to see more examples of custom challenge coins.