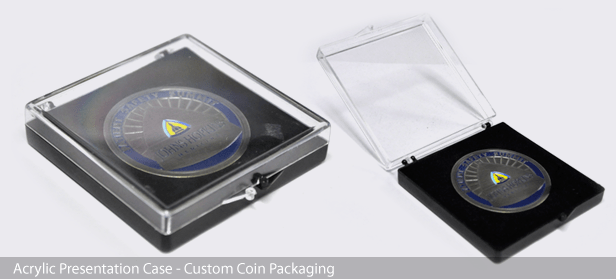 Coin Packaging Options
The right packaging can make your custom coins extra special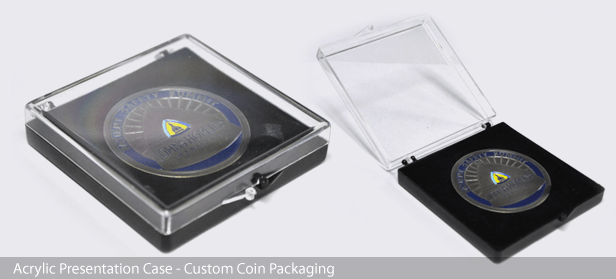 You've finally settled on your custom coin design, everything looks fantastic and you're ready to proceed with the order. But hold on! One of the more overlooked parts of custom coin design is coin packaging options. At Challenge Coin 4 Less, you'll never receive coins without some sort of packaging. All orders ship standard with our PVC coin pouches to protect the coins' finish during shipping, and offer a great, free display option for giveaways and when price is a concern.
Many customers choose beautiful packaging options to match reward coins, recognition coins, and similar items. We now offer 4 custom options: velvet presentation boxes, acrylic presentation boxes, velvet bags or coin capsules. See the information below about all our great coin packaging options.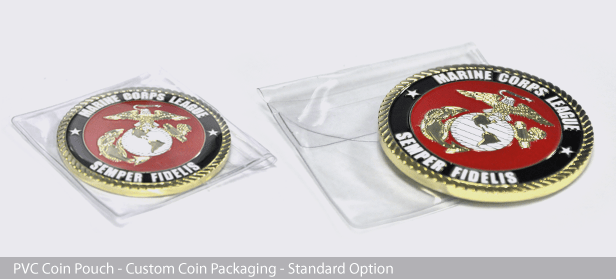 Our standard PVC coin pouches are included with every coin order. Made of a strong yet flexible PVC material, our standard coin pouches protect your coins from damage between manufacturing and the time you distribute them. We offer coin pouches in just about every coin size to reduce movement of the coin. We can even produce custom card inserts to slide into the pouches. We provide this option to you at no additional cost. We made beautiful coins and want to ensure that they arrive to you that way!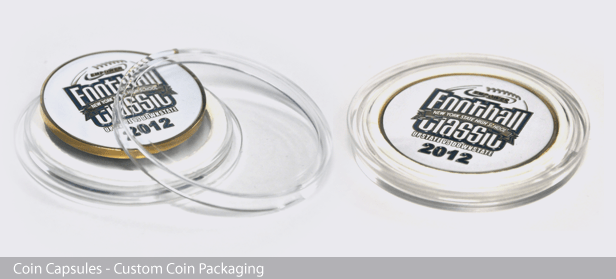 Our coin capsule option is a perfect way to protect your coins in a hard plastic shell, matched to coin size. With the ability to show both sides of the coin, they're perfect for long term display and protection. Our capsules are built to fit your exact coin size. They limit movement and protect the finish on the coins' surfaces during movement and while on display. Each coin capsule comes in two halves, with an easy-open slit. The coin capsule option will add an additional $1 per coin to your coin price, and includes coin placement prior to shipping.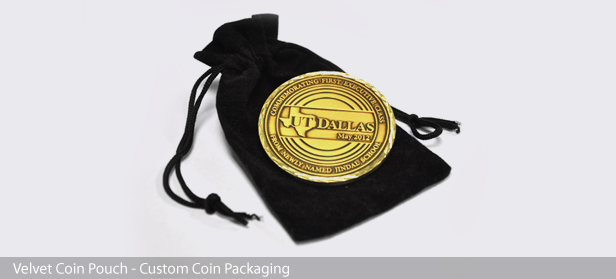 Next up is our velvet coin bag with draw strings. This is our least expensive coin packaging upgrade. They offer a classic soft velvet touch for comfort and coin protection. We offer a full range of sizes to meet your coin needs. The pouches also offer the ability to carry multiple coins together for convenience. Our velvet bags are available in a blue or black fabric and will add an additional $0.60 per coin to your coin pricing.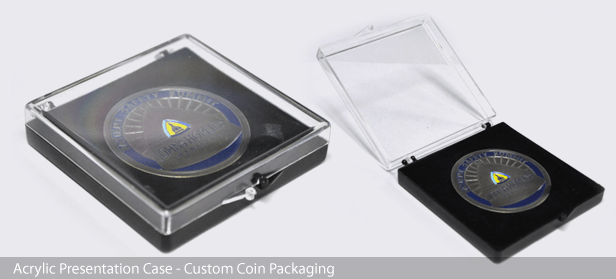 One of our most popular coin packaging options is the acrylic coin presentation case. These are standard in display cases and have been used for years by coin collectors and resellers.The acrylic cases come with a see-through top to display one side of your custom coins. The easy-remove strap helps ensure that you won't scratch or damage your coins' finish. Acrylic cases make the perfect complement for recognition, award, and other achievement-based custom coins. The acrylic cases will add an additional $1.25 per coin to your coin price and will come pre-assembled and ready to display.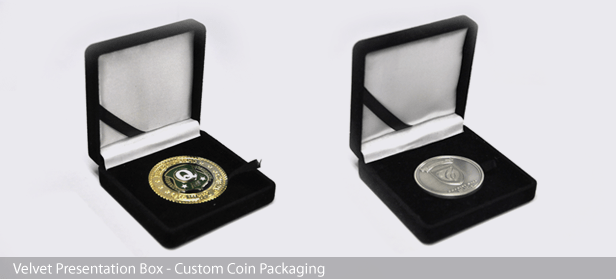 Last up is our custom velvet presentation boxes. These high-quality, fashionable velvet boxes are what you need when quality and presentation really matter. All velvet boxes are built to your coin specifications, and are available in either a blue or black finish. Similar to our acrylic cases, the velvet boxes also come standard with a pull string for easy coin removal. Our velvet presentation boxes will add an additional $3.75 per coin to your coin price, and will come pre-assembled and ready to distribute.
If you'd like more information about any of our coin packaging options, or our great challenge coins, feel free to fill out our no-obligation free quote form, email us at coins@challengecoins4less.com or call us toll free at 855-272-8451.
---
Rick Cundiff
Content Director, Blogger
Rick Cundiff spent 15 years as a newspaper journalist before joining TJM Promos. He has been researching and writing about custom challenge coins and other promotional products for more than 10 years. He believes in the Oxford comma, eradicating the word "utilize," and Santa Claus.