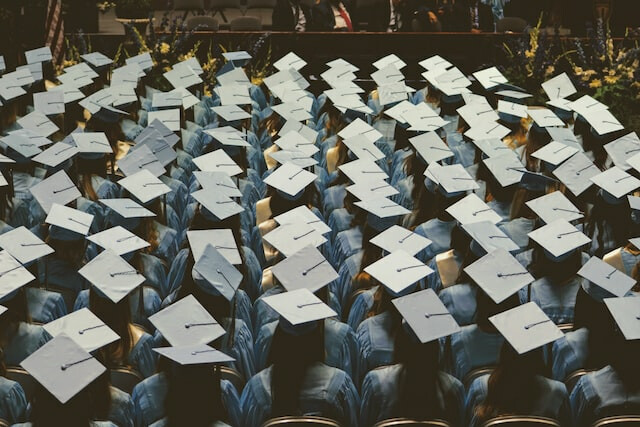 Commemorative Coins For The Class of 2023
Custom coins are an excellent way to commemorate graduations. Now is the perfect time to order, to have them on hand for spring.
For students, the end of the school year is an exciting time. For some, it means graduating and moving on to new and better things. For others, it means advancing a grade and continuing their education. The end of the school year is worth commemorating, and what better way to do so than with custom challenge coins?
Commemorative coins are a fun way to mark the end of the school year. They also motivate students for the next step. Class coins are unique items that encourage students and nurture the importance of education while honoring their achievements. Now is the perfect time to design and order them to have on hand by next spring's ceremonies. Let's talk more about custom coins and how to celebrate the class of 2023.
Graduation Challenge Coin
Graduation is one of the most significant milestones in a student's life. Graduation challenge coins make excellent gifts for graduates. These small coins recognize the effort and work that students have put forth.
Custom coins serve as a remembrance of the past as well as a way to commemorate receiving your diploma. Challenge coins are a symbol of purpose that can inspire graduates to strive for their full potential. A graduation coin can be personalized with meaningful details, such as the graduation date, the location, or a photo of the graduate.
These elements add a personal touch unrivaled by other products such as t-shirts, hats, or pins. Graduation coins are an elegant gift that symbolizes the dedication of those graduating. These coins represent knowledge, character, and accomplishment.
Custom coins are a distinctive way to identify alumni and supporters while reinforcing positive behavior and outstanding academics. Graduation is a step into adulthood and one worthy of celebration.
End-of-Year Coins
Graduation isn't just about high school. There is excitement among students of all ages and grades as they anticipate their next challenge. Elementary schools and middle schools hold graduation ceremonies to celebrate their students as they move forward in their academic careers.
It's a way to observe the end of the school year and send students off on a positive note. End-of-year coins can help students stay focused over the summer. These tangible items are a way to motivate young people to keep learning during their time off. They also build a sense of school pride.
Students can carry challenge coins with them as a reminder to push themselves academically. You can present custom coins as rewards for perfect attendance, achieving the Honor Roll, and more. Fun and creative coins are a great way to do this.
Challenge Coins That Inspire
Keeping students focused all year promotes a positive learning experience. Motivated students do better in school and inspire others to reach their goals. Challenge coins are a perfect way to promote pride in the school and academics. Present custom coins to students who excel above and beyond in the classroom. Praise and acknowledge those who move on to the next grade.
The details of each coin are what makes them outstanding. Use text and imagery to represent the importance of education. Books, graduation caps, school logos, colors, and club names are excellent personal details to include. Add texture to the design with a custom edge and use color to accent your coin. A remarkable custom school coin will benefit students and teachers alike. Teachers can use them to build bonds with students and foster a positive learning experience. For students, they are a tangible reward that makes school engaging and exciting.
Custom coins are an expressive and personal way to toast the class of 2023. Whether it's a high school graduate going on to college, or a sixth-grader moving on to middle school, personalized coins are a novel way to celebrate academic success. These coins reinforce positive behavior and serve as reminders of unforgettable memories. The end of the school year is a significant time for young people, and challenge coins are an outstanding way to commemorate students' achievements. Find out more about designing challenge coins here.
---
Jesse Daugherty
Blogger
Hello, I'm Jesse Daugherty, a music enthusiast, sports aficionado, and an avid supporter of the arts. I'm a writer and content creator. For the past 5 years, I've shared my knowledge of custom challenge coins and other promotional products, exploring their designs, meaning, and purpose.