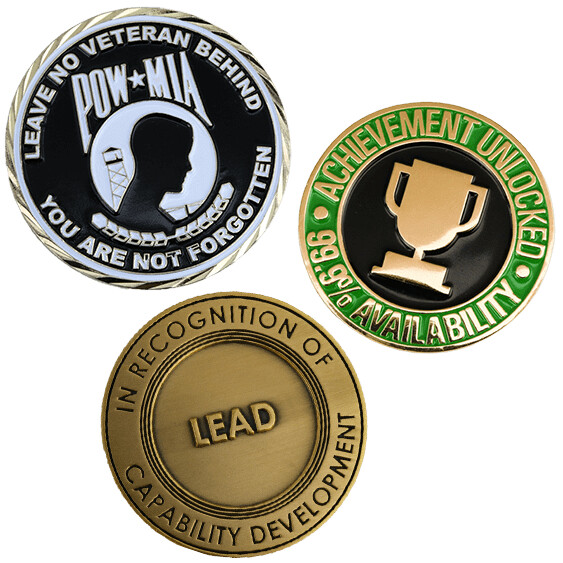 Cool Ideas That Will Enhance Your Challenge Coin Design
These tips can help refine your custom challenge coin style
Challenge coins have been used to promote a sense of community while showing support to service members in the military. However, over the years, the popularity of challenge coins continues to grow. These days, companies, nonprofits, schools, and brands of all sorts are using challenge coins as a way to promote and market themselves.
They are still used for team building and morale-boosting as well. Whether you want to create a challenge coin for an employee, celebrate a special occasion, or even raise money for a cause, there are many things to know. Today, we look at a few ways to enhance your challenge coin by using unique elements and add-ons. Take a look!
Get the Team Involved
If you want to produce a truly different challenge coin, design your own artwork. It's also a great way to encourage teamwork in the office.
Host an artwork contest with your employees and have team members vote on their favorites. Artwork doesn't always have to be serious. However, it should mean something to the people who receive it. Include details such as landmarks to show pride in the community you serve. The choices are up to you, so don't be afraid to go for a bold look. Other popular ideas include state flags, a sports team's mascot, or a memorable date for the company. Get creative!
Platings and Finishes Offer Options
Another great way to create a unique-looking challenge coin is through the use of different platings and finishes. For instance, a polished gold plating would be a great option if you want to reward an employee for hitting goals, quotas, or other milestones. For memorial coins, a black metal plating is always a solid selection.
Another thing to consider is if you want your coin to have a hard or soft enamel finish. It's all about texture! If you want a smooth coin, choose a hard enamel finish. If you want more texture, soft enamel is a better option. Of course, the best finish for your coin will depend on the number of colors and design elements you have chosen.
Don't Forget The Edge
One often overlooked area of challenge coins is the edge. The edge of a coin is a great place to include details that might be small but will significantly impact the coin. Choose different cut edge options, such as a crosscut edge or a rope cut edge. You can also choose to add sequential numbering on the edge of your coins or even a special note or date. The type of edge you choose will have a lasting impact on the overall feel of your coin as well.
One more great way to enhance the allure of your challenge coin is through the presentation. Think about how you want to give out your coins and the significance that is attached to them. For the families of fallen officers and service members, coins will be a heartwarming moment that is cherished for years to come.
These could be presented at memorial services and special events. If coins are part of an employee initiative, present them at a special public function to add to the importance of the moment. You can even plan a game to promote and improve employee relations.
At ChallengeCoins4Less.com, we know custom coins. It's what we do! We are a one-stop source for all challenge coins, and we have the experience needed to produce top-quality products. Our team of graphic artists and designers are among the best in the business and will work with you through every step of the design process. Are you ready to place your order for custom challenge coins? Simply fill out our free quote form or email us. We make it easy and effortless!
---
Jesse Daugherty
Blogger
Hello, I'm Jesse Daugherty, a music enthusiast, sports aficionado, and an avid supporter of the arts. I'm a writer and content creator. For the past 5 years, I've shared my knowledge of custom challenge coins and other promotional products, exploring their designs, meaning, and purpose.