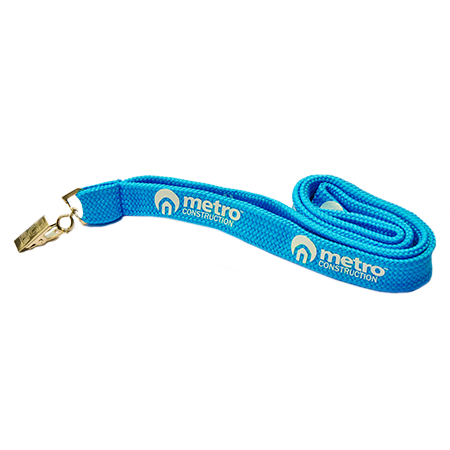 Creating Customs: Learn About Our Custom Lanyards
We're more than just custom coins. Did you know we offer a full range of custom products, including custom lanyards?
At ChallengeCoins4Less.com, we know challenge coins. It's our specialty. Did you know we also offer a host of other products and promotional items for businesses, schools, and more? Companies spend thousands of dollars on marketing strategies that do not generate leads or sales. If you are on the hunt for a cost-effective way to raise brand awareness and create a positive first impression, a customized lanyard can help.
Custom lanyards are most popular in medical offices. They also can be seen at conferences, corporate events, and much more. Custom lanyards can be used for identification purposes, and they can also be a great marketing and promotional tool.
Lanyards are great reusable options to hold keys, badges, and other personal items. A personalized, professional lanyard with your logo and website might just be the best marketing move you make.
Lanyards can be found in offices, schools, conventions, and more. Custom lanyards have a variety of uses. Using lanyards as a form of identification is one of their most popular benefits.
Custom lanyards are a great way of letting customers and employees know who's who. Office workers generally have their identification on display with their lanyards. With a custom lanyard, you can add so much more. Use custom lanyards as a way to identify staff. Use one color for management staff and another for marketing, and so on.
You can also customize your lanyards with text. For example, you can add "visitor" to lanyards for your school office to denote the difference between guests and employees. This allows people to know who does what and provides for easy identification quickly.
Lanyards can be found on uniforms of all sorts and can be used in a variety of ways. Use custom lanyards for your employee appreciation program or use them as a part of your company uniforms. Custom lanyards are a useful tool for identification and even better for marketing!
While we may specialize in custom challenge coins, we know what it takes to market your brand with promotional products effectively. Custom lanyards are ideal for a number of reasons. We understand the importance of custom lanyards, and we offer a full range of options for your particular needs.
At ChallengeCoins4Less.com, we offer an array of custom printed lanyards and accessories as well. Each lanyard can be customized to your liking. Add your company logo and text to elevate brand awareness. Create something unique and eye-catching that will stand out among the rest. We even feature a full scale of colors and materials to choose from. We can create printed lanyards with words such as 'visitor' or 'staff,' and much more.
If that wasn't enough, we also offer accessories such as badge holders, badge reels, breakaway connections, and logo clips. If you are looking to order custom lanyards for your business, brand, or organization, we can help!
Let us show you how easy and effortless ordering custom lanyards can be. Get a free quote on your order or give us an email with any questions regarding your order. We'd be happy to assist! Let's get started today!