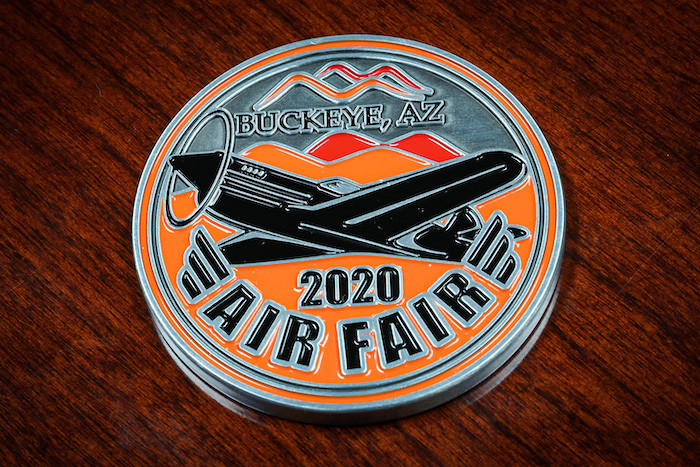 Creative Challenge Coin Elements To Enhance Your Event
Custom Challenge Coins add distinction to virtually any group event
Challenge coins are ideal for promoting a sense of community. They are also excellent ways of showing support for service members, employees, and more. Over the years, custom challenge coins have grown in popularity, utilized as marketing tools, and more for companies, industries, and even non-profits.
Not only are they great for promotional use, but they are also great for team building and morale-boosting. No matter the purpose of your custom challenge coin, a few aspects of your coin can take your design to the next level. Today we take a look at a few tips and ideas that will help you create great challenge coins that have meaning and a great look!
Keep the Recipient(s) in Mind
The first thing to consider before designing your coin is who will receive your coins. If you want to recognize an employee for their hard work and dedication, the coin could be used as a way to show gratitude for their willingness to go the extra mile.
If you are honoring someone in the community, custom challenge coins can be a heartwarming token given to family members. You can also use challenge coins as an employee engagement initiative and for team building purposes. It's important to know who you are giving your coin to before you think about the design.
Create Meaningful Artwork
In order to create a truly unique challenge coin, design your own artwork. While we have an incredibly talented team of artists and graphic designers, creating your own artwork provides something memorable and meaningful.
Use elements that represent your business, organization, or group. Artwork doesn't always have to be serious either. Get creative. Just be sure to create something that fits your message. Logos and emblems are always good options, though using a hometown landmark could be a great way to show your pride in the community. Other popular artwork ideas include state flags, mascots, and logos. Get creative and be bold!
Don't Forget The Edge
There is an array of custom options for custom coins. One key option to think about is the coin edges. Yes, your coin's edge can be customized as well, taking your design up a notch. Edge details are beautiful, small details that significantly impact the overall look of your coin.
There are several options to choose from. The classic oblique line edge is excellent for corporate coins, while a diamond-cut edge adds a more elegant aesthetic. Adding custom edges to your coins will also give your coin a different overall feel, offering a unique approach to the design in the process. It's all about the details when it comes to custom challenge coins!
Select The Right Finish
Last but certainly not least, consider the finish of your coin. Choosing platings and different finishes can drastically change the look of your custom coin. We offer a full range of finish and plating options such as polished and antique gold, polished and antique silver, black nickel, polished and antique brass, and more. Each one offers its own unique characteristics. A polished gold plating is perfect for corporate coins, while antique coins are great for memorials and unforgettable milestones.
Now that you have a better grasp of the design elements of custom challenge coins, it's time to design something outstanding. If you are ready to place your order for custom challenge coins, we are here to help!
Our team of talented graphic designers and artists will work with you every step of the way to ensure you get the custom coin you envisioned. Get a free quote on your order or email us with any questions regarding your design. We'd love to show you how easy ordering custom challenge coins can be!
---
Jesse Daugherty
Blogger
Hello, I'm Jesse Daugherty, a music enthusiast, sports aficionado, and an avid supporter of the arts. I'm a writer and content creator. For the past 5 years, I've shared my knowledge of custom challenge coins and other promotional products, exploring their designs, meaning, and purpose.