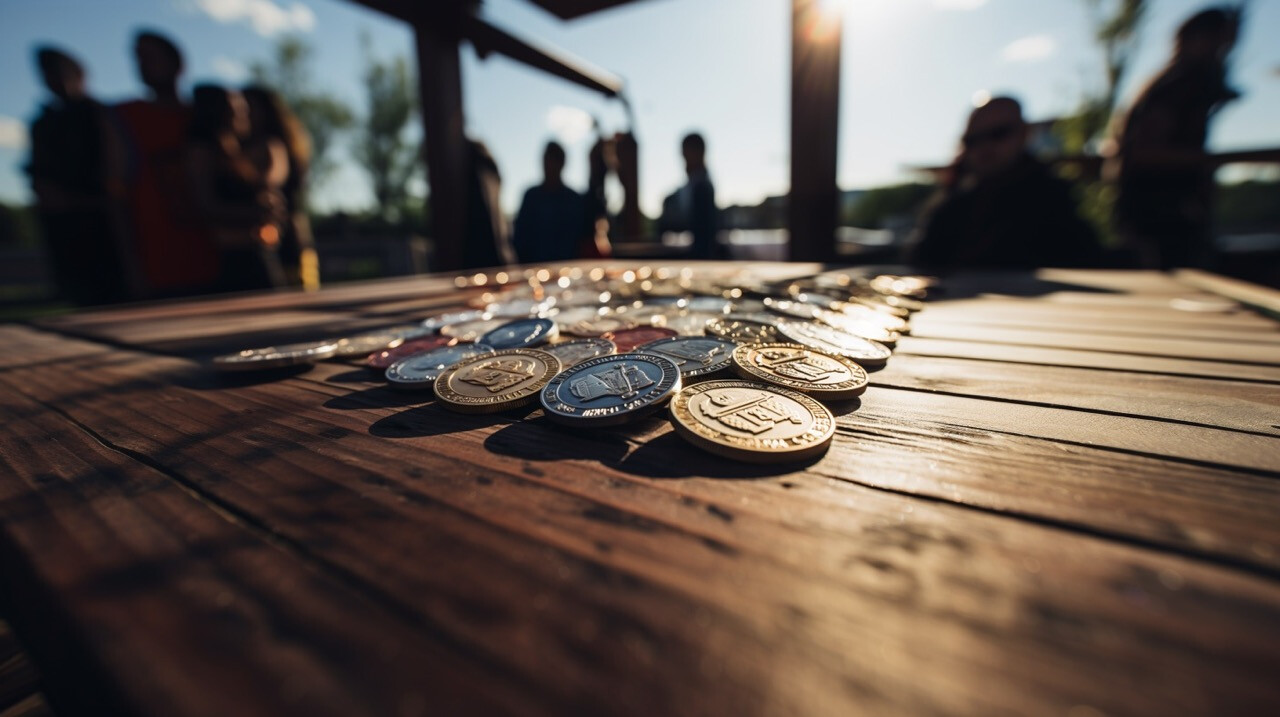 Custom Challenge Coins Foster Team Building
Challenge coins help create team cohesiveness in many settings
Team building is a process that improves relationships between a group of people to help them work better together. In nearly any modern business or office, relationships are crucial to performance. Teams that work better together get more done. Team building is also to improving employee retention and innovation. Success starts with fostering a sense of camaraderie, embracing shared experience, and a certain type of friendship.
Team building is nothing new, but in recent years, many businesses and organizations have place extra emphasis on it. The objectives can vary. Some organizations use team building to clarify the goals of a project while reducing conflict between employees. Others count on it to establish roles and responsibilities while integrating people into new positions.
Effective team building can help showcase further opportunities for growth in employees. The result of team-building exercises can offer insight into areas that need improvement while assisting in finding out the unique strengths of team members. It features several variables depending on the group or organization, though the overall goal is to support better relationships in the workplace. Positive coworker relationships can enhance group problem-solving and push other employees to do their best. This also helps improve employee skills for solutions-oriented outcomes, helping reduce conflict, stress, and wasted time.
Consider this. Your company has landed a new account that will require a team of employees to collaborate. Why not start the project with a fun team-building exercise to get the ball rolling? This will help those employees interact positively before settling into their roles. Once the team-building exercise is complete, wrap things up by introducing the new project and designating unique roles for the staff members.
Benefits of Team Building
Let's examine a few of the biggest benefits of team building. Team building activities that target problem-solving allow employees to learn skills to transfer to their roles at work. This will not only assist on the job but also with real problem solving within their daily lives as well.
Team building also increases productivity. One of the main goals of any business is to maximize productivity among employees. Team building exercises bring employees together while building trust. It teaches team members to rely on one another and work together. Employee trust makes staff members feel confident. This is especially true on projects where individuals must contribute different aspects to the project. Activities that focus on co-workers getting to know one another are great for increased productivity, showing co-workers each person's strengths.
Team building can also boost morale for the entire staff. Stressful coworker relationships or feeling unappreciated can be taxing. Doing something fun and unique is a great way to boost morale for employees and staff members. Small changes, such as taking a group out for a day on the lake or activities such as baseball, can improve teamwork, trust, and company spirit. It brings people out of their comfort zones while allowing them the freedom to think more creatively. Camaraderie is elevated if team members are comfortable brainstorming creative solutions and sharing ideas when working on projects.
There are several different ways to effectively build teams, and there is no universal method that will work for every company. There are a few key factors to consider when creating new ways to foster teamwork. What is the culture of your company? Some companies foster team building in the office, providing employees with fun ways to take their minds off work during breaks or after work. Other companies use weekly meetings, offering a time for employees to engage, share ideas, and open up about tasks.
Gifts are also a great way to boost morale and improve camaraderie. Company gifts such as t-shirts and mugs enable your staff to show their team spirit. Companies can give more unusual items too. Laptop bags are great for traveling employees, as are mug warmers and other items. One item that has been popular for team building is custom challenge coins. Challenge coins can be presented to employees for their outstanding performance and to recognize outstanding achievements, longevity on the job, or other milestones.
Challenge coins are a novel way to show appreciation, providing employees with something tangible that will make them feel valued. Many organizations use challenge coins as a way to reward employees, boost morale and unity among employees and even customers. They are a great way to honor your staff's hard work and dedication while bringing people closer together in the workplace.
---
Jesse Daugherty
Blogger
Hello, I'm Jesse Daugherty, a music enthusiast, sports aficionado, and an avid supporter of the arts. I'm a writer and content creator. For the past 5 years, I've shared my knowledge of custom challenge coins and other promotional products, exploring their designs, meaning, and purpose.