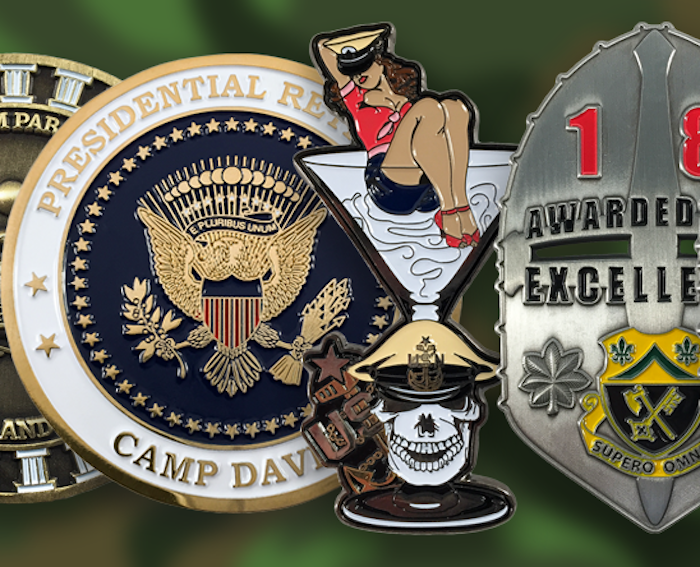 Custom Challenge Coins: The Purpose and Uses
Custom challenge coins serve multiple purposes, in both military and civilian applications
Challenge coins are unique tokens that are presented to someone to show they are part of a specific group. However, that's not the only thing to a challenge coin; there is a whole meaning behind it. Many outside of the military might not be too familiar with what a challenge coin is, but we are here to spread knowledge. Let's find out all about challenge coins and their purposes.
The first question we aim to answer is, "what is a challenge coin?" As we mentioned above, challenge coins are unique coins that are given to indicate membership in a group or organization. The coin serves as proof of membership, as well as a commemoration of respect and honor. The look and design of challenge coins vary depending on the organization they represent. However, most challenge coins feature logos, emblems, and insignia. Traditionally, military officers and commanders present these custom challenge coins to service members. They work as a gift of honor, building camaraderie and telling a story in the process.
Military challenge coins are typically made from brass or zinc and may include plating options such as copper, gold, or nickel. Military coins are usually adorned with mottos, symbols, and other elements that symbolize the unit or department. Challenge coins have a storied history in the military as military members use the coins to prove their loyalty and allegiance. High-ranking officers and veterans often display their coins proudly in their offices or at home, sometimes along with other memorabilia from their careers. In the military, challenge coins symbolize commitment, dedication, and sacrifice. However, their popularity has expanded far outside of the military. Now organizations, teams, businesses, and brands of all kinds are using challenge coins for their own benefit.
Appearance
Challenge coins are usually circular in shape. However, they can also be created in several different shapes, such as pentagons, spades, squares, and more. Challenge coins are popular, and they often feature information and imagery that relates to what they represent. Sports teams will use their logos and emblems, while military challenge coins will feature mottos, significant locations, or the dates of particular events. These tokens can be customized to your liking as well with plating options, details edges, and more. The most popular plating options are gold and nickel; however, an array of other finishes are available. You can also opt for copper, nickel, or silver plating options. Don't forget, color can be added to challenge coins for added appeal. Soft enamel paint can be added to the recessed areas of the artwork, creating unique details that stand out. There are many different custom options available to make your design a one of a kind.
Tradition
Challenge coins have a deeply rooted history in the military, though it is often debated among military historians. Though never officially approved, they have become an essential element across all military branches. Many believe that they originated in World War I when an American lieutenant presented matching bronze coins to his unit members. However, other historians claim that the tradition of challenge coins first began in an infantry-run bar in Vietnam. Although the history of the challenge coin is heavily debated, one thing remains true; they are a crucial piece of military life. The challenge of the challenge coin still carries on today, in which soldiers will tap their coins when they meet in a bar, claiming 'Coin, check!'. Any soldier that cannot present their coin has to buy the first round of drinks.
Evolution
Challenge coins are still used by the military and even by the highest-ranking officials. Back in 2011, former defense secretary Robert M. Gates presented challenge coins to service members in Afghanistan. They were handed out through a handshake and presented as a token of gratitude. Every president since Bill Clinton has carried a challenge coin with a distinct design. These are some of the most sought-after coins and are typically presented to foreign dignitaries and military personnel. Former President George W. Bush gave challenge coins to injured troops while former President Barack Obama presented them to members at the stairs of Air Force One.
Custom challenge coins aren't just used in the military. Thanks to custom-design companies, challenge coins are being used by other government agencies and businesses, brands, and other organizations. Cabinet Secretaries have created their own custom coins as have members of Congress, police departments, fire departments, and other individuals and groups.
The Cost
Challenge coins are affordable for businesses and companies to market and promote themselves. Small, easy to carry, eye-catching, and functional, custom coins are a perfect promotional product. They are great for fundraisers, merchandise, and even for special giveaways. They can raise brand awareness or even bring attention to a particular cause. Now that you have a better understanding of challenge coins and their purpose, why not design one yourself?
At ChallengeCoins4Less.com, we are a one-stop shop for all things challenge coins. We are a U.S.-based company that produces top-quality custom coins at an affordable price. We have made challenge coins of all sorts and have proudly produced military coins for members and military branches for almost two decades. Whether you are looking for challenge coins for a business, brand, government agency, or a non-profit, we are here to help. One of the best things about custom coins is that you have complete creative control. We love turning your ideas into exceptional mementos that recipients are sure to treasure and cherish for years to come. We are dedicated to producing top-quality custom challenge coins with unbeatable pricing and the best customer service on the market.
If you are looking for a coin with your logo or emblem, we can recreate your corporate logo with incredible detail. We can produce custom coins to meet your needs no matter what style you need. With more than fifteen years in the business, we are dedicated to the highest level of excellence in all that we do.
For more information about our custom challenge coins, call us toll-free at 1 (855) 272-8451 or email us. You can also get a free quote on your design with our free quote form. Find out exactly how custom challenge coins can work for you.