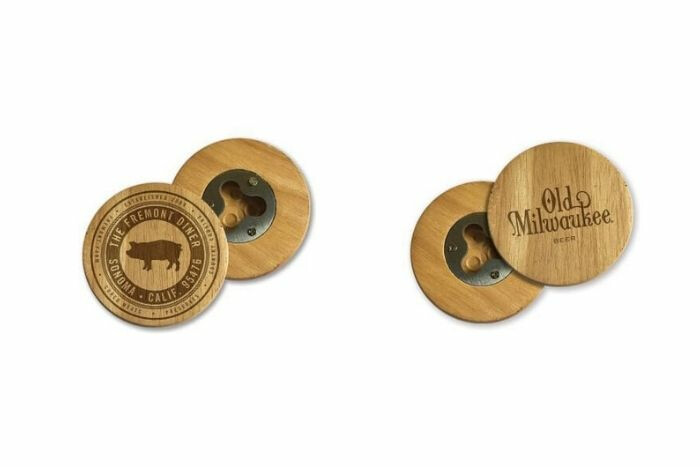 Form & Function: Turn Challenge Coins Into Wooden Bottle Openers
Put your logo into your customers' hands with custom wooden bottle openers
At ChallengeCoins4Less.com, we know challenge coins. While we specialize in custom challenge coins, we can transform any design into several functional items. From keychains to belt buckles, we have a host of products to choose from. With more than fifteen years of experience, we have planned and produced coins of all sorts.
We are excited to offer wooden bottle openers, which we can create with the same personalization as our coins. Put a unique spin on your ordinary coin and turn it into something helpful and functional. Not only will this give people something that represents your brand or business, but it's also an item that has everyday application. This means a further reach and excellent marketing!
Wooden bottle openers are an outstanding alternative to standard bottle openers. Not only do they look great, but they feature a rustic feel. Our wooden bottle openers are a 2.5" birch wood disc, featuring a special opener attachment on the underside. Due to the location of the opener, engraving is only available on the front side.
More than an eye-catching way to raise brand awareness, they are ideal for giveaways, breweries, outdoor businesses, and organizations. Simple, effective, and easy on the budget, wooden bottle openers are also different. Produce something that stands out and offers them patrons, customers, and supporters!
Like our coins, our bottle openers have a selection of design options. As we stated earlier, the bottle openers are crafted from quality birch wood with a clean-cut finish. The laser-engraved details are sharp and precise, while adding color can add an excellent appeal to any concept. We can even create our wooden bottle openers in many shapes and with details, including text, imagery, and more. The best part is the customization options. The finished result is entirely up to you!
We even offer wooden challenge coins. These are fantastic for marketing promotion or even something fun for game night, too. Wooden challenge coins are elegant and distinct, a simple gesture that will be displayed with honor. No matter if you have a rough idea for a coin or bottle opener or a fully realized concept, we can help!
At ChallengeCoins4Less.com, one-stop source for all things challenge coins. We strive to provide top-quality products, great prices, and remarkable service. With that being said, our artists will work with you to bring your design to life. We understand the benefits of custom coins, and we will work with you to devise the perfect coin. We don't charge for revisions, which means you can experiment for the perfect look. Do you want something original and impressive? We are ready to help! No matter if you're looking for a traditional challenge coin or a wooden bottle opener, we can make it happen. We make it easy! Just fill out our no-obligation-free quote form or give us a call toll-free at 1-855-272-8451. Let us show you the benefits of challenge coins!