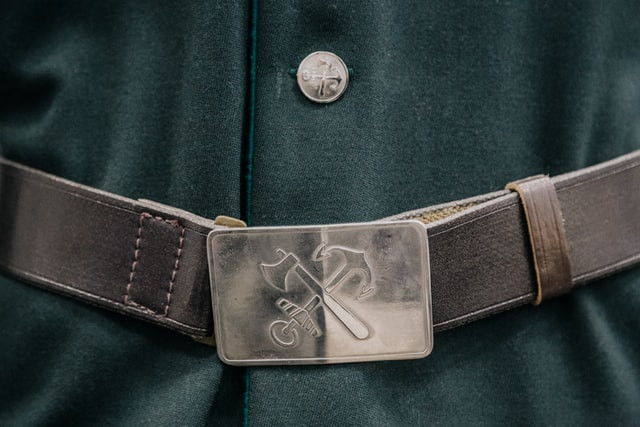 From Challenge Coins To Belt Buckles!
We offer custom belt buckles for any occasion
At ChallengeCoins4Less.com, you can expect the best quality custom coins and challenge coins in the industry. We have created custom coins for every branch of the U.S. military, as well as fire and police departments, even corporations, nonprofit organizations, schools, and more. We know custom challenge coins, but that isn't all we do. Did you know that we can also create custom belt buckles?
Much like our challenge coins and custom coins, we can turn your ideas into stunning looking belt buckles that will be cherished, displayed, and worn with pride. We can take your simple sketches of a fully-realized concept and transform it into a brilliant buckle that is sure to turn heads and start conversations.
Belt buckles are not new. They were worn as early as ancient Rome, and likely even earlier. Belt buckles started as simple D-shaped designs and have evolved over the years. Modern belt buckles can be as simple as the originals or as ornate and intricate as you can possibly imagine. Belt buckles have evolved, getting larger and more detailed, and now belt buckles are just about everywhere.
Custom belt buckles are a great way to showcase your personality and style to the world. Here at ChallangeCoins4Less.com, we use the same process as we do with our challenge coins. Belt buckles are relatively new to our product lineup, but the basics remain the same. Our award-winning graphic artists and designers are among the best in the industry. They will work with you on every step of the process, taking your design and turning it into a beautiful custom belt buckle. Regardless of how intricately detailed or simple, our team will create something stunning that can be displayed and worn for years to come.
Over the past fifteen years, we've gotten familiar with designs that work and what looks good. This concept is transferred into custom belt buckles. We take pride in everything we do, which is why we start with quality. At ChallengeCoins4Less.com, we want you to be excited when you receive your finished buckle, and we want you to be satisfied with your order.
Like our challenge coins, every belt buckle undergoes our rigorous quality control standards. Each belt buckle is inspected by hand before being shipped to you. However, sometimes mistakes do happen, but we stand behind everything we sell with our 100% Satisfaction Guarantee. That means that if you buy a custom belt buckle from us and find any defects in the materials or workmanship, we will replace it at no extra charge to you.
The best part about customizing any product is that you can make it memorable and special. Custom belt buckles are no different. At ChallengeCoins4Less.com, we offer free artwork, design and revisions, and free Pantone™ color matching. If that wasn't enough, we also have free shipping within the continental United States.
A custom belt buckle might just be the perfect fit for someone this holiday season. We are happy to answer any questions you have, and we have gone the extra mile to make ordering easy. Interested in finding out more about custom belt buckles?
You can fill out our fast, easy, no-obligation Free Quote form or email us. However, you can also call us toll-free at 855.272.8451. Let us know what you are looking for in a custom belt buckle, and let us show you how easy designing and ordering can be!