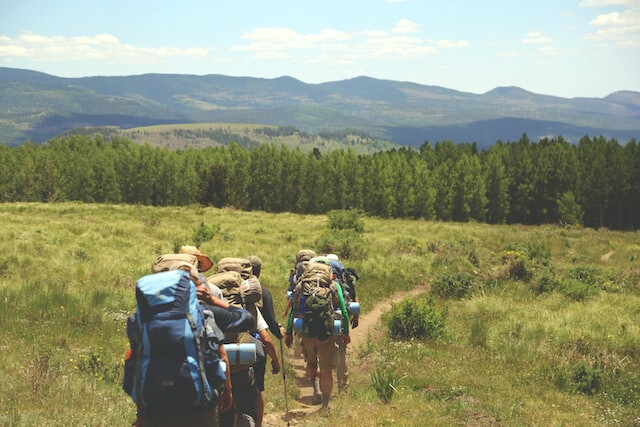 Honoring National Take A Hike Day
Celebrating the spirit of adventure with National Take A Hike Day custom coins.
Hiking is a great way to encounter nature while seeing new things and getting a different perspective on the world around us. On November 17th, the country will celebrate the spirit of hiking and the joys of adventure on National Take A Hike Day.
This annual event encourages people to get outdoors. Hiking is an enjoyable exercise and an excellent excuse to take in some of America's 60,000 miles of trails. Hiking has become a significant part of our culture today. It serves as a break from reality, offering a bit of peace and quiet with spectacular views.
National Take A Hike Day is a day to embrace adventure and nature. Whether you are seeking new hiking trails or stepping out for your first journey, it's a day worth celebrating. Why not celebrate the day and the joys of hiking with a memorable custom challenge coin? Let's learn more about National Take A Hike Day and how to commemorate the day with custom challenge coins.
History of National Take A Hike Day
The origins of National Take A Hike Day are unknown, but hiking has a rich history. Hiking for pleasure is relatively new. Hiking became a leisure activity in the 1700s and grew through the eighteenth century. In response to the Industrial Revolution and urbanization, people looked to escape overcrowded cities and experience the natural world. Hiking clubs began popping up throughout Europe and North America, bringing hikers together and improving access to natural areas.
Hiking provided a peaceful pastime for many, and it grew in popularity during the 1800s. Hiking continued to expand in the early 1900s as innovations allowed hikers to push further and accomplish more. The popularity of rock climbing helped push hiking deeper into our culture. Hiking is a gateway to other outdoor adventures, including skiing, climbing, and more.
National Take A Hike Day is a day to get started, and there is no better way to mark the trip than with custom challenge coins. You can honor the day, the experiences, and the hike by doing something meaningful.
Observing Take A Hike Day
National Take A Hike Day encourages us to get out and hit the trail. An ideal way to observe the day is to hit one of the many trails across the 50 states. Whether you choose a new place to hike or plan to take on a new challenge, there is no shortage of worthwhile hikes.
The National Trail System covers all 50 states. Some of the most notable trails include the United States' oldest continuously maintained hiking trail, Crawford Path in New Hampshire, and the Appalachian Trail, which extends from Springer Mountain in Georgia to Mount Katahdin in Maine.
You can also observe the day by volunteering. Trails require regular maintenance and debris removal, and it's a meaningful way to mark the occasion. Challenge coins are another way to commemorate the day. These customized tokens are easy to design and boast unique elements representing the adventure.
Travel And Adventure Challenge Coins
Custom challenge coins are a fun way to celebrate any extraordinary occasion. Challenge coins are a meaningful way to remember the trip, from family vacations and trips to motorcycle rides, hikes, and more. These small coins include details that represent the trip, bringing back memories of the experience.
Memorialize your hike in the southwest with scenes of the Grand Canyon, or add the dates of your travels. Include items such as trail signs, hiking tools, or natural landmarks found along the way. Pass them on to your travel partners or new friends you meet along the way. Challenge coins are memorable tokens that their recipients will cherish.
They are also effective fundraisers for organizations that keep our trails open and maintained. Custom coins can be sold during hiking trips and events, ensuring the future of the trails and bringing attention to the positive aspects of hiking.
Commemorative Challenge Coins
Challenge coins are a fun way to mark any special occasion. You can use them to honor family reunions, graduations, anniversaries, vacations, and more. Custom challenge coins celebrate notable moments with unrivaled attention to detail.
National Take A Hike Day is an excellent opportunity to make memories and discover new adventures. Create a challenge coin that honors that spirit with details symbolizing your journey. Customize challenge coins to your liking with fun elements that make them a one-of-a-kind item. Challenge coins are a tangible reminder of the trip, the fun, and the memories.
With our help, you will be able to commemorate a memorable hike and spread awareness about the joys of hiking. National Take A Hike Day is worth celebrating, and challenge coins are ideal for commemorating any adventure. Let's create something that reminds people of the pleasure of hiking and the beauty of nature. Learn more about designing custom challenge coins and start creating one of your own.
---
Jesse Daugherty
Blogger
Hello, I'm Jesse Daugherty, a music enthusiast, sports aficionado, and an avid supporter of the arts. I'm a writer and content creator. For the past 5 years, I've shared my knowledge of custom challenge coins and other promotional products, exploring their designs, meaning, and purpose.