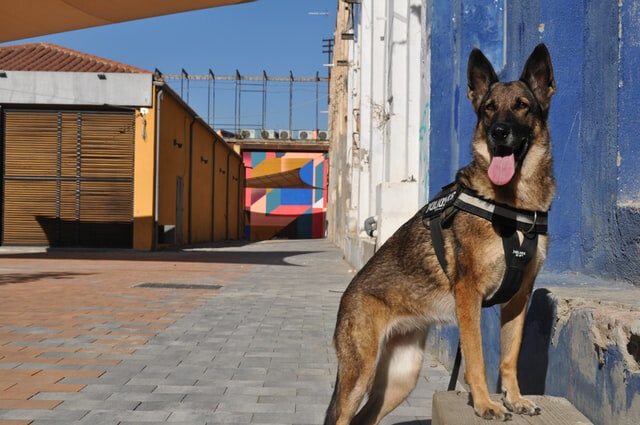 K9 Challenge Coins Celebrate Dedication & Loyalty
Recognizing the contributions of police K9 officers and their handlers
All police officers put their lives on the line every day for the safety of our communities, including police dogs. The use of dogs within the police force is prevalent throughout the United States. K9 (police shorthand for "canine") units are specialized in detection, protection, and search and rescue. Their role gives them a distinct personality and a unique bond with their handlers.
Trained to assist officers using their senses of smell and vision, and their intelligence, police dogs accomplish tasks no human can. These officers deserve their own special recognition. K9 challenge coins celebrate and commemorate the impressive animals working with fellow officers to keep citizens safe. K9 units are dedicated and loyal, showcasing the highest level of merit.
K9 units have many specialized functions. Working as a team, police dogs and their handlers train for purposes as diverse as suspect apprehension, drug or explosives detection, tracking suspects and more.
The most common breeds chosen to be trained as police dogs are Belgian Malinois, German Shepherd Dogs and Bloodhounds. Each has unique attributes that make them suitable for specific tasks. Often, their trainers learn to communicate with the dogs in a foreign language, giving commands in Dutch or German rather than English. That helps ensure suspects won't be able to control the dog without knowing the proper language.
While unusual, other breeds, including Chihuahuas and Jack Russell terriers, have been trained as drug, explosive and contraband detection dogs as well.
The unique role and special skills of K9 units are a great inspiration for challenge coins. Add elements that represent that special bond and the unit's pride.
Honor and Acknowledgement
Challenge coins are a great way to honor police officers, both human and animal. They are excellent tools for team building, fundraising, or praising individual K9s and their handlers. The purpose of the coin will influence the design.
For example, commemorative coins include different details than coins used for fundraising. Commemorative coins may consist of images of specific dogs, meaningful dates, and other related information. Fundraising coins feature components that instill pride and the unit's role in the community.
K9 challenge coins are also an excellent tool for community outreach and building camaraderie. Each unit has its own insignia with unique elements. The details, including emblems, badges, dates, and details such as paw prints or teeth, are all perfect for K9 challenge coins.
Challenge coins hold a special meaning to police officers. The coins have become a staple for departments and units across the country, used for everything from fundraising to memorializing fallen officers. K9 challenge coins are a thoughtful way to honor and commemorate both the dogs and their handlers for their selfless actions.
Find out more about designing a custom challenge coin of your own here.
---
Jesse Daugherty
Blogger
Hello, I'm Jesse Daugherty, a music enthusiast, sports aficionado, and an avid supporter of the arts. I'm a writer and content creator. For the past 5 years, I've shared my knowledge of custom challenge coins and other promotional products, exploring their designs, meaning, and purpose.