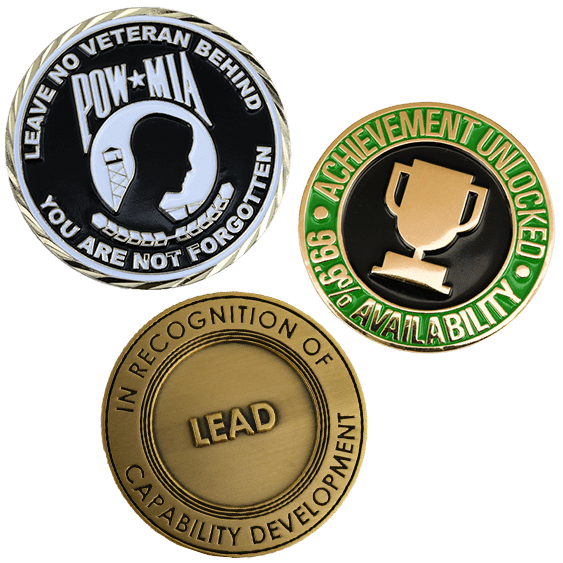 Know Your Options! Choosing The Right Challenge Coin Supplier
Choosing the right challenge coin supplier is easy with a few tips
From team building to rewarding a job well done, challenge coins have a variety of functions and uses. No matter the reason, finding the right coin supplier is just as important as the coins you are creating. You should know a few things before choosing a coin supplier, and we are here to help.
Knowing what to look for in a coin supplier will increase your chances of finding the best, most reliable supplier for your needs. A good challenge coin supplier will deliver high-quality coins that match your vision, and they are quite easy to find. Let's look at a few key details to look for when choosing a supplier.
First, consider experience. Setting up a business on the internet isn't difficult these days. But building a solid foundation and a great reputation takes hard work. Would you trust a company that has only been in business for a short period of time? Or, would you rather entrust your design with a company that has a proven track record and a great reputation?
Any reputable supplier should take care of their customers and provide top-quality products. You should demand quality, so look for a provider that matches your expectations and do not settle for less. You also want a coin supplier that will stand behind their products. Look for those willing to work with you on defective designs, just in case you run into any issues once you have received your order.
A reliable coin supplier will also offer a full slate of options for your coins. Expect a full range of metal styles such as gold, silver, brass, copper, and others. The supplier should also offer a host of different finishes, such as polished or antiqued looks. Some providers will also offer a duo-tone metal option, combining two styles for a unique and modern look.
Other options, including custom shapes, cutouts, color, and diamond-cut edges, should also be offered. A reputable coin supplier should offer all of these details for a reasonable price. For an exclusive coin, many suppliers offer sequential numbering. This makes your coins more valued, thanks to a numbered, limited-edition design.
Keep flexibility in mind when ordering custom coins. Good coin providers will not charge for artwork or revisions, ensuring you get the challenge coin you have in mind. Be sure to ask about shipping times as well. A good coin supplier will accommodate your needs if you need your products by a specific date.
At ChallengeCoins4Less.com, we make designing and ordering challenge coins easier than ever. We have a full range of custom options to choose from and a great team that will work with you to explore what looks best for your particular design. We know coins, and we take pride in every one that we produce. You can expect high-quality challenge coins for a reasonable price while getting the best customer service on the market.
Are you ready to get started with your order? We can help. Simply get a free quote or email us. Let us show you how easy ordering challenge coins can be.