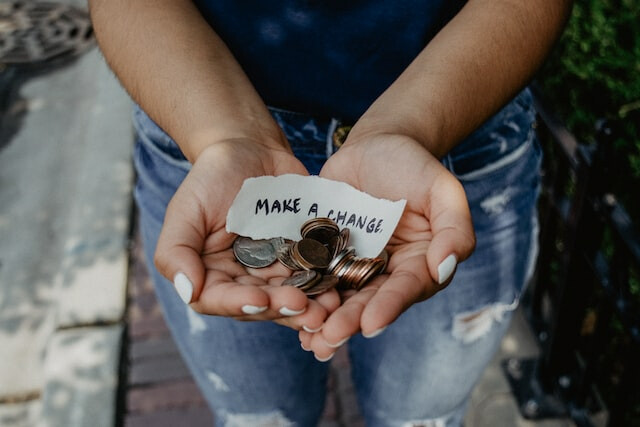 Make A Difference Day With Custom Coins
Finding ways to make the world a better place
Every day we have an opportunity to change the world around us. Whether you donate to a particular cause, volunteer at a local shelter, or help the homeless, each day is a chance to make a difference. On October 22nd, we are all encouraged to make a difference in the world around us.
There are many ways to make a difference, from checking in on your neighbors to telling someone to have a great day or passing along a token of appreciation. A simple gesture, such as a custom challenge coin, can go a long way.
Custom challenge coins may be small, but they hold significant meaning. Make a difference in someone's day by celebrating their hard work and dedication to a cause or recognizing their efforts at work, school, and more. Use challenge coins to spread a message or bring awareness to an issue in your community. There are many ways to make a difference, but nothing like a well-designed challenge coin.
Make a Difference Day should inspire us to take one day a year to make a change. Let's learn more about this yearly celebration and how you can make a difference.
All About Making a Difference
National Make a Difference Day inspires people to unite and help those who need it most. Maybe it's your neighbor or the less fortunate in your neighborhood. This is a time to give back.
People everywhere need our help, including the homeless, the elderly, and underprivileged children. You can also make a difference in other ways, including recycling, using less plastic, and being conscious about how we treat the planet.
National Make a Difference also raises awareness about charities and nonprofits fighting poverty, discrimination, and other issues. It's a day to focus on community service, bringing together like-minded beliefs to make a change in the lives of others and our communities.
What better way to make a difference than with a memorable challenge coin that inspires people to do better? Challenge coins are tangible reminders that are easy to carry and display. Pass them along to friends and family, patrons, customers, clients, employees, and others as a reminder to do their best.
History of National Make a Difference Day
USA Weekend magazine created Make A Difference Day in 1992. The day offers support and encourages volunteerism across the country. The observance is co-sponsored by Points of Light, a nonprofit organization founded by former U.S. President George H. W. Bush.
USA Weekend shut down in 2014, and the newspaper USA Today took over as the official sponsor of Make a Difference Day. The day became the most important national day of community service for over twenty years. USA Today no longer sponsors the observance, though other corporations and Points of Light carry on.
Since the beginning, Make a Difference Day has been observed in 30 countries and has garnered more than 30 million volunteer hours. Outside of the yearly observance, Make a Difference Day also offers humanitarian aid for natural disasters.
It's a day to encourage people to make a difference in their neighborhood, themselves, and the world. Challenge coins are an unforgettable way to inspire and motivate people around you. One simple act can make a change, and a custom challenge coin can be a tangible reminder of the act.
How to Make A Difference
You can make a difference in many different ways, and you can do it all year. The best ways to help are to start in your community, volunteer for an organization, and help people.
Be a mentor and help young people learn new skills. Donate to a charity that supports a cause you are passionate about. Lend a hand to someone in need, or say kind words of support to someone struggling. You can also use your creativity to make a difference.
Why not make a difference and create something meaningful? Custom challenge coins are tangible items that are full of memorable details. They are a perfect way to commemorate someone special in the community or as a reminder for people to create positive change in their own and others' lives.
Reward students with custom coins for excelling in the classroom or employees for going above and beyond. Acknowledge people for their outstanding work, pass custom challenge coins as a token of appreciation for volunteers, or use them as a way to bring awareness to your organization.
Making a difference is easy, and the effects benefit everyone involved. With National Make A Difference Day on the horizon, let's mark the day with something people will remember. Learn more about designing challenge coins.