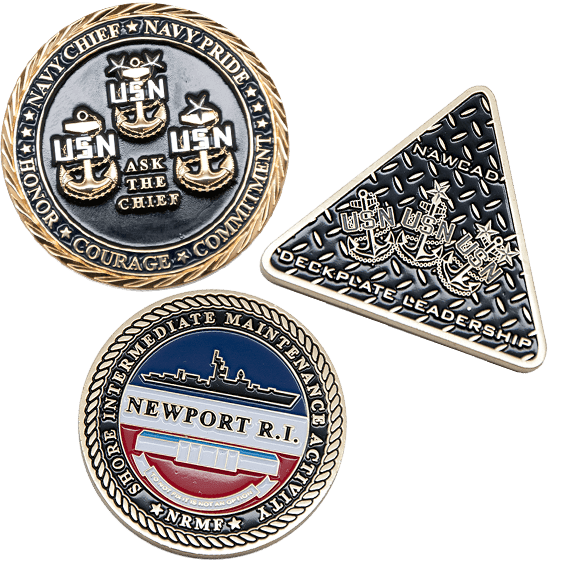 Making Memories Last! Commemorative Challenge Coins
Celebrate achievements, rites of passage, educational milestone and more with commemorative challenge coins
Challenge coins come in myriad shapes and sizes and for different purposes. Custom coins are crafted in honor of something remarkable. They started out in the military as a tool for recognizing the commitment, courage, and sacrifice of soldiers in combat.
Today, they are used by law enforcement, businesses, and even local clubs and charities. While there are all kinds of different ways to use custom challenge coins, many folks use them to celebrate different types of life milestones. At ChallengeCoins4Less.com, we have produced coins of all sorts, and we have learned that by providing helpful and friendly service, we are able to work with each customer to create challenge coins that better fit their needs.
Commemorative challenge coins serve as a memorial of a special person, place, or event. These coins are distributed in many ways, though typically handed out at special events honoring the person, place, or thing they are honoring.
There are several types of commemorative challenge coins, and each design is determined by the reason the coin is being created in the first place. Generally speaking, commemorative challenge coins are gold or silver, though there is the occasional request to include colors. No matter what type of customizations you would like to include, we can help. We offer free artwork and revisions while assisting you in turning your ideas into a reality and honoring that special person, place, or event. Let's examine a few popular reasons why we've created commemorative challenge coins.
Event commemorative coins are the most popular. These are used by businesses, brands, and other organizations. Event commemorative coins can celebrate special milestones for employees, soldiers, and more. From promotions to special accomplishments, commemorative challenge coins are a great way to provide a lasting memory of a special accomplishment.
Military commemorative coins are created for various purposes. From promotions to special events, they are also used by units and squads to honor special missions, fallen soldiers, and more. These commemorative coins are also great for team building.
US commemorative coins are common as well. These types of challenge coins are presented during patriotic holidays presented to military members and veterans to honor the sacrifice, dedication, and hard work. Challenge coins are also created to commemorate the past, including the Civil War, World War I and II, and Vietnam. The President of the United States even uses them, often handed out to soldiers and dignitaries.
Commemorative sports coins have grown in popularity over the years too. Teams have created their own special coins for fans and even players, sometimes in limited-edition designs. Other popular commemorative coins include national park coins and wedding coins, to name a few.
Anything important to you can be commemorated with a custom challenge coin. Now, let's discuss the options. Most challenge coins range anywhere from one to three inches, though two inches is the most popular and cost-effective. Commemorative challenge coins can be created in any color or the classics, such as gold and silver. There are plenty of options to choose from too. You are in complete control of your coin's design, from the imagery and text to the edge options and other details.
You have a few different options to choose from in terms of edge options. We offer a standard edge or diamond-cut edges to add unique patterns to your coins. Options such as the rope edge, cross-cut edge, and wave-cut edge give your coin a unique look and texture. But, don't forget about the different finishes either. While gold and silver are the most common, we also offer black nickel, polished brass, or polished copper, as well as antique finishes. Adding color is a great way to stand out, though you can also opt for the timeless elegance of traditional die-struck coins.
There are also other options to take your design to the next level. Add an epoxy coating to your coins to protect them or a 3D design that will stand out from the surface of your coin. We can also create custom cutouts and custom shapes or add engraved text. There is really no limit when it comes to creating custom challenge coins.
People choose ChallengeCoins4Less.com for their custom commemorative challenge coins because they know that we are dedicated to top-quality coins and care about our customers. We have produced challenge coins of all sorts for nearly twenty years, and we put everything into every challenge coin we produce.
We take pride in what we do, which is offering stunning custom coins, unbeatable pricing, and unrivaled customer service. Whether you need commemorative challenge coins, custom coins for your business, or challenge coins to honor someone special, we can help.
To find out more about our challenge coins, call us toll-free at 1 (855) 272-8451 or email us. It's that easy!
---
Jesse Daugherty
Blogger
Hello, I'm Jesse Daugherty, a music enthusiast, sports aficionado, and an avid supporter of the arts. I'm a writer and content creator. For the past 5 years, I've shared my knowledge of custom challenge coins and other promotional products, exploring their designs, meaning, and purpose.