Navy Challenge Coins Commemorate Naval Service
Custom Navy challenge coins are an outstanding way to commemorate sailors' service.
Navy challenge coins are a standard icon of Navy life, from SECNAV down to the newest sailor. And no wonder. They promote camaraderie and a sense of belonging to something special.
The U.S. Navy surely is something special. From its founding in 1775 to today, the Navy has protected the United States and the world from those who would deny us freedom. Custom challenge coins are an outstanding way to commemorate the vital role the Navy has played in keeping our nation free.
At ChallengeCoins4Less.com, we specialize in creating the finest in custom challenge coins of all kinds. We've been producing coins for the Navy and every other branch of the U.S. Armed Forces for nearly 15 years. We were selected to create the official challenge coins in honor of the final deployment of the USS Enterprise (CVN 65) in 2012.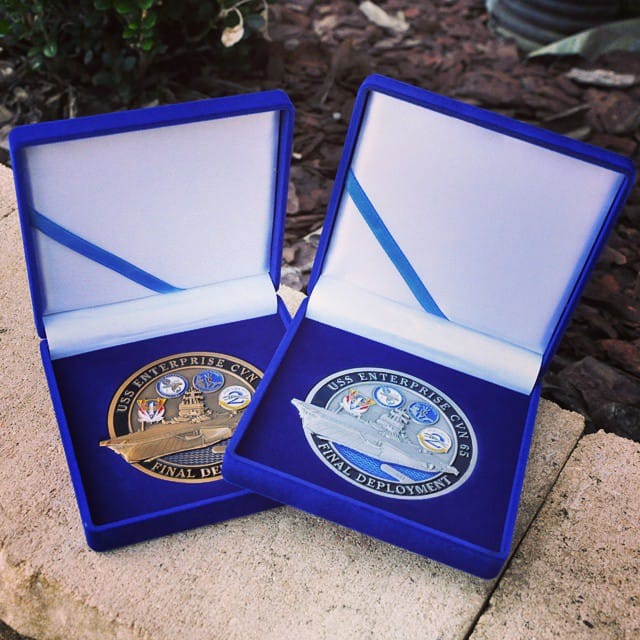 Whether you want to commemorate a specific deployment, mission or ship assignment, Navy challenge coins are an ideal way to do so. Our talented graphic artists will be glad to help you craft challenge coins that will perfectly capture your Navy experience. We have the resources and the talent to produce the perfect coins to match your design. No matter what aspect of Navy life you want to commemorate, we can make it happen.
Consider what you want your coins to look like. Do you want a standard round coin, or something different? Want your coins in the shape of your ship? No problem. Custom shapes are increasingly popular among military units of all kinds.
Next, think about the metal color you want for your custom challenge coins. We offer your choice of gold, silver, brass, copper or black nickel, in either polished or antiqued finishes. Duotone coins combine two metal colors for a striking look.
If you want to create a completely new design or reproduce an existing one, count on our graphic artists. We'll help you craft the perfect design for your needs. We can add color to your coins, on one or both sides.
Other outstanding options to create one of a kind coins include diamond-cut edges, translucent enamel, and sequential numbering, to name a few. We can produce as many, or as few, coins as you need.
Pricing is based on size of the challenge coins and on the number ordered. All other things being equal, the larger the coin, the more it costs. Conversely, the more coins ordered, the lower the cost per coin. No matter what size coins or what size order you need, you can rest assured that ChallengeCoins4Less.com has the lowest price you'll find anywhere. If you do find a lower price for identical coins, we'll gladly match or beat it.
The bottom line when you're ordering challenge coins is experience. You want a company that has demonstrated the ability to make custom Navy challenge coins right, that believes in giving customers great value, and that knows what real customer service means. You can depend on ChallengeCoins4Less.com for all your Navy challenge coin needs!
---
Rick Cundiff
Content Director, Blogger
Rick Cundiff spent 15 years as a newspaper journalist before joining TJM Promos. He has been researching and writing about custom challenge coins and other promotional products for more than 10 years. He believes in the Oxford comma, eradicating the word "utilize," and Santa Claus.