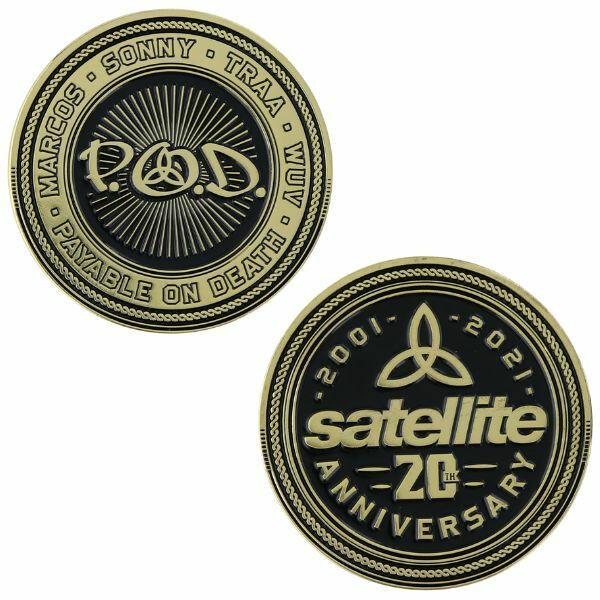 P.O.D. 'Satellite' 20th Anniversary Commemorative Coin
Commemorating a classic album's 20th anniversary
At ChallengeCoins4Less.com, we have created challenge coins of all sorts. From classic military and commemorative coins to honor and police coins, we've had the opportunity to design some exceptional custom coins. Businesses, brands, and organizations are using custom coins for many reasons. They are a functional marketing tool for companies and are used to raise brand awareness.
We recently had the privilege of creating a custom coin for the American rock band P.O.D. We created the coin in honor of the 20th anniversary of the band's album, 'Satellite.' The design is a perfect example of a commemorative coin, boasting vivid details that mark the album's anniversary and praise the band.
The coin's simple and timeless design is concise. The layout is sharp with contrasting colors, boasting outstanding attention to detail. The front and back of the coin pay tribute to the band and their hit album.
Celebrating Sound
Commemorative challenge coins honor special moments and milestones. This particular coin celebrates the release of an influential album in P.O.D.'s career. The album would become their best selling record and make them a household name. The design details celebrate the band and their album 'Satellite' with a classic, timeless aesthetic. The coin boasts a polished gold base contrasted by black accents on both sides. Unique textures accent the coin's round shape, creating a bold look and feel.
The front of the coin includes P.O.D.'s logo in the center of the design. The gold lettering is accented by an array of gold rays behind it, while a black background makes the elements stand out. A thick gold band surrounds the logo and includes each band member's name and the band's official name, "Payable On Death." Rope detailing encircles the gold band, adding texture and further accenting the other elements. A thin black line circles the bottom to finish off the front.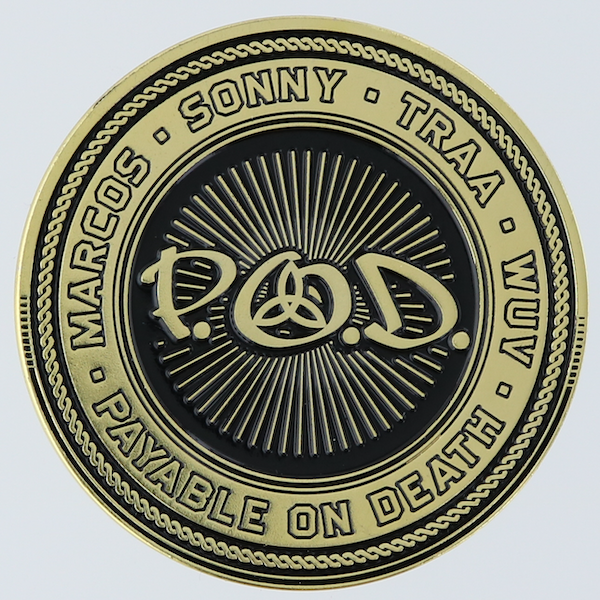 The coin's reverse side keeps the same black and gold color scheme. The center of the coin includes the band's primary logo. The symbol is known as a "triquetra." It's derived from ancient Celtic knotwork and was adopted by Christians around St. Patrick's time as a symbol of the Trinity.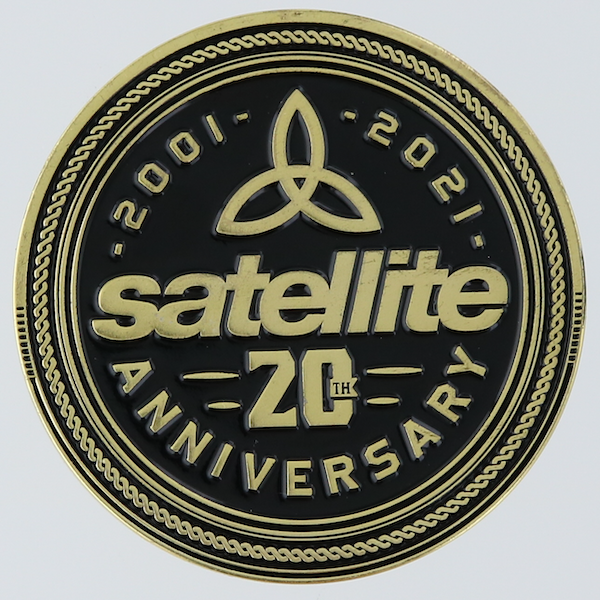 Below the emblem is the 'Satellite' album title with a stylized '20th Anniversary' encircling the bottom. The top marks the year the album was released and the year of its 20th anniversary. Surrounding the central design are three thin gold bands circled by the same rope-like detailing found on the front. The black and gold color scheme is a perfect contrast that makes every element of the coin stand out.
This is a stunning example of a commemorative challenge coin. The coin's aesthetic, color scheme, and details come together flawlessly. At ChallengeCoins4Less.com, we enjoy designing creative challenge coins. We especially take pride in commemorating incredible milestones, such as this one.