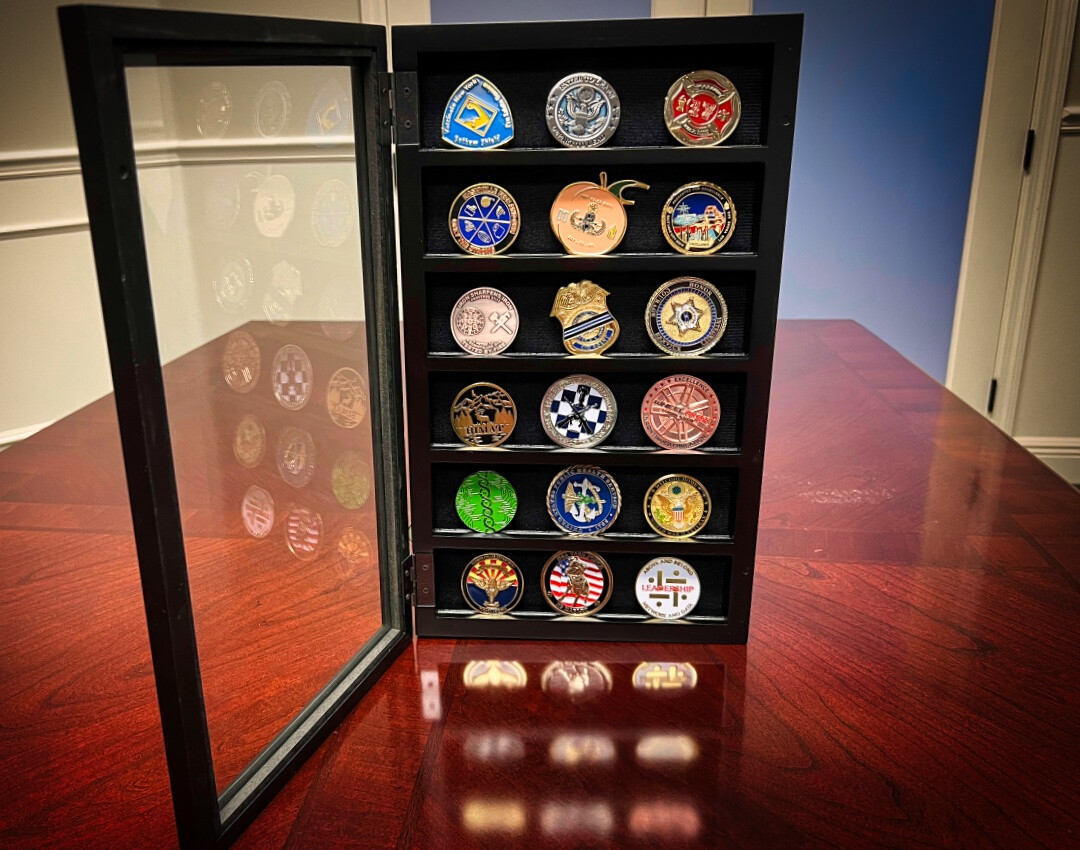 Protect Your Prized Possessions: Choosing The Best Challenge Coin Holders & Displays 
Explore multiple options for displaying challenge coins
Challenge coins are special mementos, and they should be displayed with pride. There are many excellent ways to display custom coins, but what is the best option for you? No one gets a challenge coin just to keep it in a random box, stashed away somewhere. Each coin represents something special, serving as an acknowledgment of a hard-earned accomplishment or memory.
A specialized challenge coin holder or display case is the perfect way to protect your coins and show them off. Collecting coins is a timeless hobby that is passed down through generations. Both service members and collectors alike display their challenge coins with honor. Today, we look at a few great display options, though the choice is ultimately up to you. Whether you are looking to showcase just a few coins or dozens at once, you have plenty of options. Ready below to find out what display option will work best for you!
The Options
When you display your challenge coins, they become a part of your decor. However, there are several display options depending on the look you want, but you should choose something that fits your vision the best.
Tabletop Displays
One of the most popular options for displaying challenge coins is a tabletop case. These cases hold a large number of coins, anywhere from ten to dozens of coins. These cases are shallow and may be open to the air or have a transparent enclosure. Some cases look like they are made to hold rings, featuring cloth rides where coins can be inserted. Other tabletop displays boast tiny stands built into the cases for each coin. This is an excellent option if you have an extensive collection of coins and an open tabletop to display them. However, many say that some tabletop cases cause the coins to overlap somewhat, which means you may not see all the details of each coin.
Wall-Mounted Displays
Shadow boxes are an excellent way to display any personal memorabilia. Some wall-mounted coin displays take inspiration from them, turning them into an ideal option for displaying an array of coins. Wall-mounted displays feature a clear front often flanked by wood or metal along the sides and back. The interior is usually lined with cloth, providing ample room for several rows of coins. These displays do not take up tabletop space and often display coins more openly than tabletop cases. You can also opt for higher-end versions that include lighting and other details that will further accentuate your coins.
Single Coin Displays
Tabletop and wall-mounted displays are popular choices for collectors because they can hold a lot of coins at once. However, for those who have just a few unique coins, a large case is too much. Single coin display stands are simple and effective for displaying a few coins at a time. The stands look like miniature easels that are designed to hold custom coins. These stands are offered in various colors, materials, and styles, which allows you to get the perfect fit for your display. Of course, you can choose to display your whole collection with single coin displays, though it may take up a lot of space. Choose wisely.
Floating Displays
Last but not least is the floating display. Most cases mentioned above use a traditional way to display challenge coins. However, floating cases offer something a bit more modern and eye-catching. Challenge coins are placed between two clear pieces of glass, plastic, or plexiglass, giving the appearance that they are floating within the case itself. Floating coin displays come in several different styles and sizes, which means you have plenty of options. You can find them to hold single coins or an assortment of coins.
As you consider your options for display cases, there are a few other things to think about. Your display doesn't just make your coins look good; it protects them as well. Find out a few tips below about choosing the proper case for your needs.
Your Space
You have options when it comes to display cases. Size, shape, and style definitely come into play. Some challenge coins are more compact, while others take up ample space. Think about where you want to display your challenge coins. You want a case that is proportional to the area you have, whether it's on a wall or a tabletop. Size isn't the other factor that matters either. Your display case will be a part of your decor, so look for something that matches your room's materials, colors, and designs.
Plan for the Future
Some folks are collectors at heart, and they make a hobby out of their collection. Others may not care about collecting coins but more so about the coins they have received. Take these elements into account when looking for a display case. You want a holder that fits your collection today and in the future. If you don't plan on building a collection of coins, opt for a more compact case. However, if you are a collector with plans to grow your collection, choose something a bit larger that will hold more coins.
The Risks
Challenge coin display cases not only hold your coins, but they protect them as well. Think about the protection your coins need. Do you have kids or pets? If so, choose a case that is stable and durable. Consider the activity around where the display will be located. If you are hanging a wall-mounted display, consider the room and the room on the other side of the wall. The last thing you want is to damage your coins and your display case.
The Perfect Fit
At the end of the day, the choice is yours. Your display case has to do with your style and the purpose of the display itself.
At ChallengeCoins4Less.com, we understand the importance of challenge coins. These cherished tokens are collected, traded, purchased, and displayed with pride. With over fifteen years of experience producing quality challenge coins, we understand their value and what they mean to recipients. If you are interested in finding out more about custom challenge coins, call us toll-free at 1 (855) 272-8451 or email us. We'd be happy to help!
---
Jesse Daugherty
Blogger
Hello, I'm Jesse Daugherty, a music enthusiast, sports aficionado, and an avid supporter of the arts. I'm a writer and content creator. For the past 5 years, I've shared my knowledge of custom challenge coins and other promotional products, exploring their designs, meaning, and purpose.