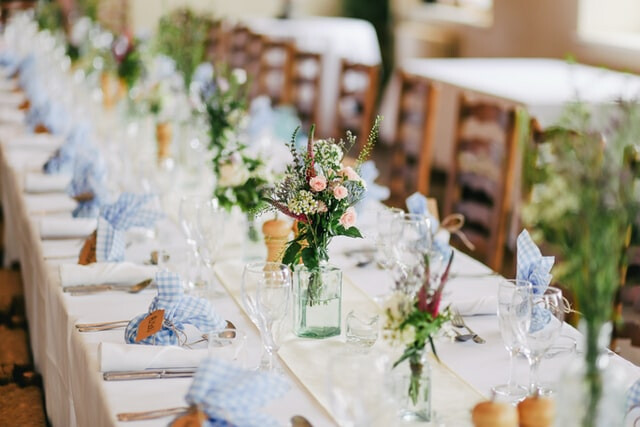 The Ancient Tradition of Custom Wedding Coins
Modern wedding coins continue traditions of many cultures
Weddings are among the oldedst and unique customs around the world. Cultures celebrate them differently, and many weddings are packed with traditions that have been passed down through family. Others are even more ancient rituals that we are probably not aware of.
One wedding tradition that has become popular in the past few years is presenting wedding coins. Wedding coins actually are an ancient wedding ritual that has come back into style in recent years. Custom coins are an excellent way to commemorate any event or occasion, and weddings are a significant moment in any couple's life. Coins can add a romantic and spiritual appeal to the entire ceremony, celebrating the event, the couple, and so much more.
The tradition of wedding coins, also known as unity coins, dates back to ancient Rome. The Romans used a ceremony that included the bride and groom breaking gold or silver into two equal pieces. The ritual signified their intention to marry, though the practice has evolved over the centuries.
Today, a similar custom is practiced by some Hispanic, Latino, and Filipino cultures. Known as "las arras," the tradition requires thirteen gold or silver coins placed inside a decorated box. The number of coins symbolizes Jesus and his 12 apostles, though some have explained that the number of coins represents the months of the year, with an additional coin as a gift to the less fortunate.
While wedding coins are an excellent way to celebrate, how the coins are presented is also important. Typically, custom coins are given to the wedding officiant by a designated coin bearer. Once the coins have been blessed, the groom presents them to the bride. The coins are usually presented in an ornate box or pouch, which signifies the groom's promise to provide for the family. The bride's acceptance cements her vow to honor their blessings. The practice serves as a symbol of their pledge to share their life for both bride and groom.
The best part about any coin is the ability to create a design that is all yours. Wedding coins, like any other custom coin, can range from ornate to plain and simple. With an array of options to choose from, you can create wedding coins in plain gold or silver or with antiqued or polished finishes.
Gold and silver coins are the most common, though any coin can be engraved with details regarding the couple and their devotion. Dates are always a popular option, including paying homage to the wedding in a unique form that will be cherished for years to come. The coins can even be handed down through the years, becoming family heirlooms.
At ChallengeCoins4Less.com, we offer the finest coins on the market. We have nearly 20 years of experience producing top-quality custom coins, and we also provide the best customer service on the market. When you order coins from us, you are getting coins that are made to order. We can work with pre-existing designs, or we can help you create something new. We make ordering custom challenge coins fast and easy. We also back everything with our 100% Satisfaction Guarantee.
If you are ready to get started with your next order, we've got you covered. Fill out our free quote form or email us. We'd be honored to work with you!