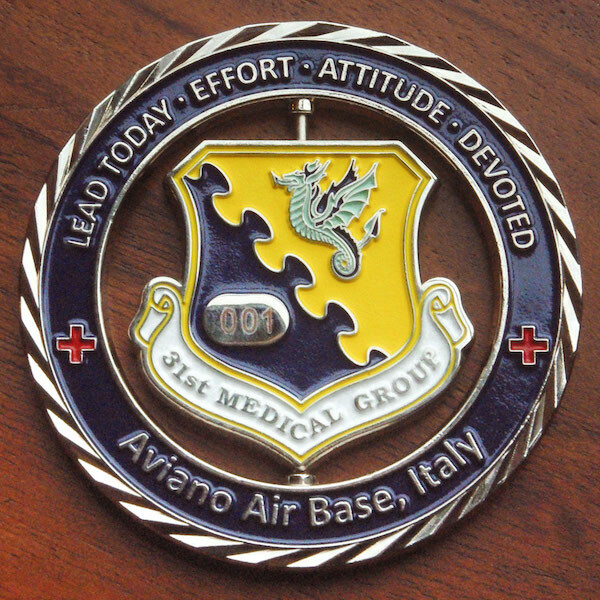 Turning Traditions: The Creativity of Custom Spinner Challenge Coins
Spinners add interactive interest to your custom challenge coins
Just as challenge coins carry stories and symbols that bridge history, custom spinner challenge coins hold a unique place in this tradition. These small tokens honor bonds, achievements, and shared experiences and bring innovation and creativity to the forefront of challenge coin design.
Today, we will explore the creativity of custom spinner challenge coins, examining a few of our most outstanding coins. These coins embody the tradition of challenge coins and combine craftsmanship and innovation.
What are Spinner Challenge Coins?
Spinner challenge coins are different from typical coins. They feature a distinct spinning section integrated into their design. This spinning element can take the form of a cutout section in the coin's center or a separate piece attached to it, allowing it to rotate freely.
What sets spinner challenge coins apart is their ability to add a dynamic and interactive element to the standard challenge coin concept. While standard challenge coins display symbolism and stories, spinner coins take this to the a higher level. They engage the senses and captivate the holder.
When someone receives a spinner challenge coin, it's a keepsake that comes alive with a simple spin. These coins add a tactile and sensory experience to passing on a token of appreciation or recognition.
With their blend of artistry and interactivity, spinner challenge coins invite us to look at the tradition of challenge coins in a new light.
Why Choose Spinners for Your Custom Coin?
Spinners are an outstanding choice if you want to craft a custom coin that stands out and leaves a lasting impression. The spinning elements enhance your coin design in several ways.
First, they add a tactile and interactive dimension, turning a static token into an engaging experience. As recipients hold your coin, they can't help but spin it, creating a fun interaction that deepens their connection to the coin. Spinners capture attention, making your coin impossible to ignore.
Spinners also offer virtually endless possibilities for creative expression. They enable you to incorporate dynamic elements, intricate details, and storytelling features into your coin's design.
Whether you want to commemorate an achievement, promote a cause, or celebrate a special event, a spinner can bring your vision to life like no other design element. With the ability to choose materials, colors, and shapes, you can tailor your spinner coin to suit your specific message and audience.
Adding spinners to your custom coin design is a brilliant way to make your mark. Let's look at a few designs that illustrate what we mean.
31st Medical Group Challenge Coin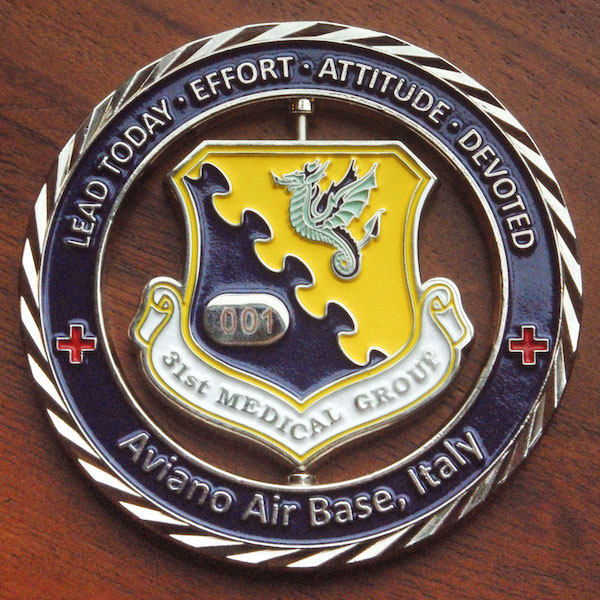 This coin stands as a testament to the artistry and craftsmanship that goes into creating custom coins. The 31st Medical Group coin takes on a round shape but adds a touch of brilliance with its polished silver base.
The ingeniously designed center features a cutout section, which makes the coin stand out. This cutout allows the coin's central insignia to spin freely within its confines, creating a captivating effect.
The emblem itself represents the 31st Medical Group with precision. It consists of a shield-shaped cutout with a blue and yellow background, divided diagonally by a wave-like design. At the top, a blue dragon rests on a yellow backdrop. In the lower section, the number "001" and a ribbon that bears the group's name, "31st Medical Group," add meaning. A thick, dark blue border encircles the emblem, drawing attention to its intricate details and bold colors.
Across the top of the coin, the statement, "Lead today. Effort. Attitude. Devoted," is a reminder of the group's core values. Two red crosses on the sides near the center of the coin symbolize medical expertise, while at the bottom of the border, the inscription "Aviano Air Base, Italy" indicates the group's location.
The spinner section truly sets the 31st Medical Group coin apart. Located in the coin's center, this spinning component adds visual and tactile appeal that leaves a lasting impression. With a simple flick of the finger, the central insignia dances to life, making the coin a source of pride and a memorable keepsake.
Vertigo Awareness Challenge Coin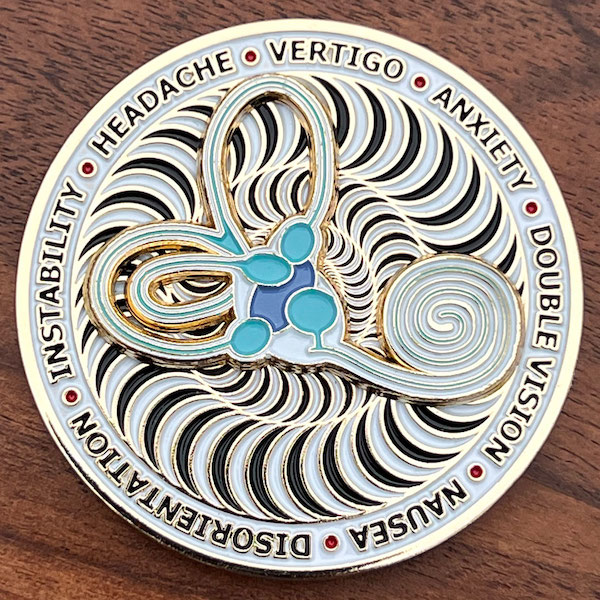 This impressive coin takes on a classic round form and elevates it with polished gold, accentuating every element.
The center of the coin includes intricate black-and-white artwork, imbuing the design with a sense of movement and depth. Its spinner section makes the coin distinctive, a dynamic addition that enhances its visual appeal.
Positioned at the coin's center, this spinning segment introduces a unique shape and bold colors that contrast with the coin's base. The spinner features shades of turquoise and purple, accentuated by touches of gold.
A thin white border surrounds the central design, with text reading: "Vertigo, Anxiety, Double Vision, Nausea, Disorientation, Instability, Headache." These words serve as a visual focal point and convey a powerful message.
This coin's artwork and bold color choices demand attention, but the spinning section takes its appeal to new heights. The spinner adds an interactive dimension that differentiates it from traditional challenge coins. It's more than just a coin; it's an interactive piece of art that raises awareness for a meaningful cause.
Engine Order Telegraph Challenge Coin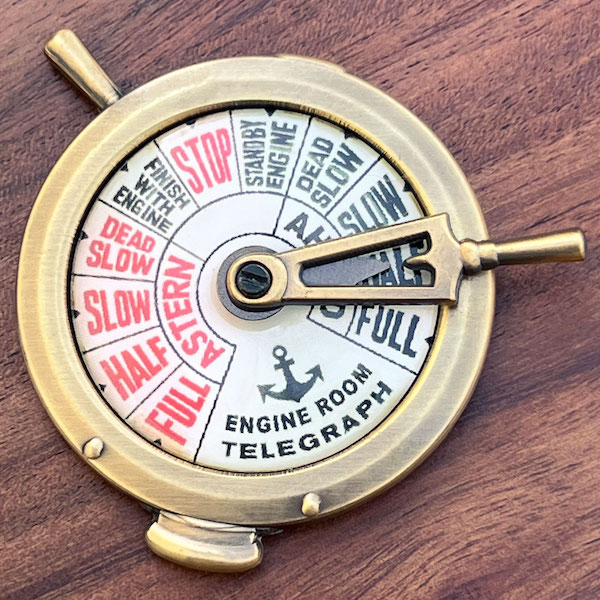 This coin pays homage to a vital piece of maritime history. The Engine Order Telegraph coin maintains the standard round design, but takes on a distinct form with its antique gold base.
The coin's design is a recreation of the engine order telegraph, a device used on ships and submarines to communicate between the bridge and the engine room. At the center of the coin is a spinning element that indicates the engine order telegraph. One handle remains stationary at the top, while another handle, attached to the spinning section, allows for interactive movement.
The central design consists of a white background, with text radiating toward the middle. On the left side, it reads: "Half," "Full," "Slow," "Dead Slow," and "Astern." At the top center, you'll find "Finish with engine," "Stop," "Standby engine," "Dead slow," "Slow," "Half," "Full," and "Ahead."
The bottom center displays "Engine Room Telegraph." The intricate detailing of these commands adds to the coin's authenticity. A border crafted from the coin's antique gold base frames the design, contrasting with the central white background.
This attention to detail and craftsmanship make the coin visually appealing. The Engine Order Telegraph coin is a prime example of how spinners can creatively enhance a coin's meaning and aesthetics.
Secret Society Challenge Coin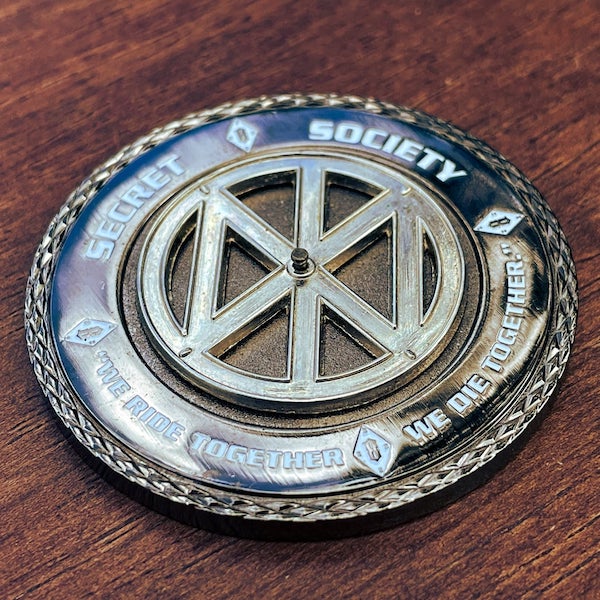 This coin is an example of unique creative details incorporated into challenge coin design. The coin features a traditional round shape and a black nickel base, while its central spinner makes the design stand out.
The coin's center includes a cutout spinning section arranged to form a geometric design. This spinner element shines brilliantly against a textured black nickel background. A polished border encircles the spinner, while text within the border adds depth to the coin's meaning.
The top of the border reads "Secret Society," and We Ride Together We Die Together" on the bottom. Separating the statements are four diamonds. A cross-cut edge finishes the coin with texture, adding to its visual appeal.
Each design cue comes together to create a unique piece of art that displays the limitless potential for customizing challenge coins.
The Uniqueness of Custom Spinners
Each coin above tells a story and adds an interactive component that pushes design boundaries. What sets spinner challenge coins apart is their ability to blend the timeless symbolism of traditional coins with an element of surprise and engagement.
At ChallengeCoins4Less.com, we understand your vision is unique, and we're here to bring it to life. Our experienced design team is passionate about turning your ideas into reality. Whether you have a specific concept in mind or need guidance in crafting a design, we've got you covered.
From choosing materials and colors to sculpting intricate spinner elements, we offer a collaborative design process that ensures your coin stands out. Check out our coin gallery for more outstanding challenge coin designs and get inspired to create your own. Let us be your partner in transforming your vision into an unforgettable coin that tells your story.
---
Jesse Daugherty
Blogger
Hello, I'm Jesse Daugherty, a music enthusiast, sports aficionado, and an avid supporter of the arts. I'm a writer and content creator. For the past 5 years, I've shared my knowledge of custom challenge coins and other promotional products, exploring their designs, meaning, and purpose.