United States Air Force Chaplain Corps Challenge Coins
Jesse Daugherty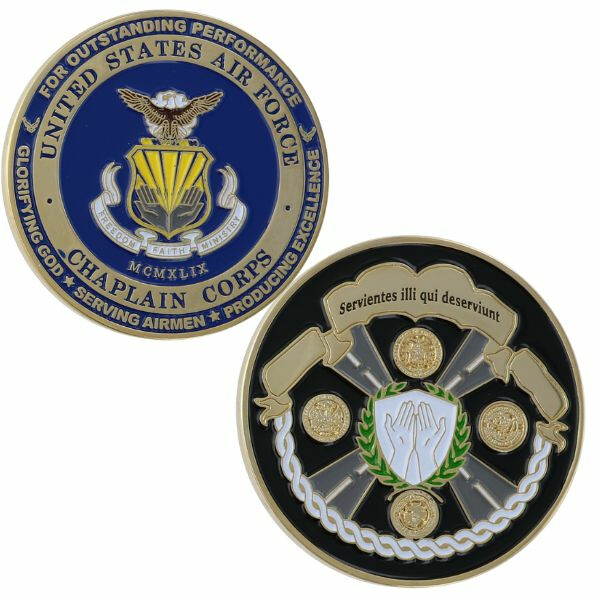 Challenge coins are a special tradition in the military. Every branch has challenge coins for notable accomplishments, achievements, and more. The United States Air Force has its own challenge coin traditions, starting with basic training. Challenge coins are tangible tokens passed out for various reasons, each with meaningful details.
The Chaplain Corps of the United States Air Force includes both ordained clergy and non-ordained religious affairs specialists. The purpose of military chaplains is to support the exercise of religion by members of the military. They also provide spiritual, ethical, and moral advice to branch leadership. We recently worked with the Chaplain Corps to create a challenge coin that honors its duties, history, and role throughout all military branches. The Chaplain Corps takes pride in its responsibilities. This coin represents the membership and the service of the Chaplain Corps.
Honoring Service
Challenge coins tell a story. This particular coin speaks volumes about the Chaplain Corps. The design also honors the Army, Navy, Marines, and Air Force. The coin has a standard round shape that uses logos, insignia, and text. The front and rear of the coin are quite different. The front includes a clean look that uses color to make the central design stand out. The back takes on a much different look with outstanding attention to detail.
The front of the coin includes the Chaplain Corps logo in the center with two rings of text surrounding it. The inner ring represents the Air Force and the Chaplain Corps, while the outer ring includes "For Outstanding Performance," "Glorifying God," "Serving Airmen," and "Producing Excellence." The design's striking blue background makes the text and the emblem stand out.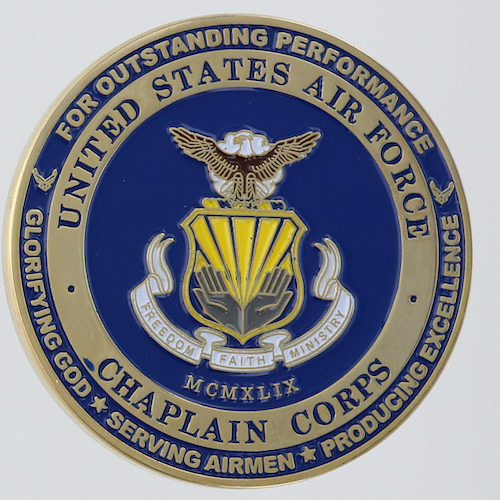 The rear of the coin has a black background. A gold ribbon decorates the top section of the coin with the text "Servientes illi qui deserviunt," which means serving those who serve. The center includes a logo representing the chaplains' duties, surrounded by four gold emblems representing the Army, Navy, Marines, and Air Force. The bottom is home to a rope-like design connecting to each end of the gold ribbon.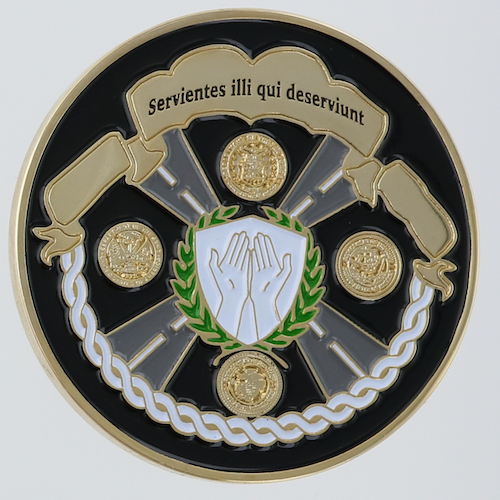 This unique challenge coin is an excellent example of a custom military challenge coin. The standard round design is easy to carry or display. The design includes meaningful details and elements that showcase excellence and pride. At ChallengeCoins4Less.com, we take the same pride in designing every challenge coin.