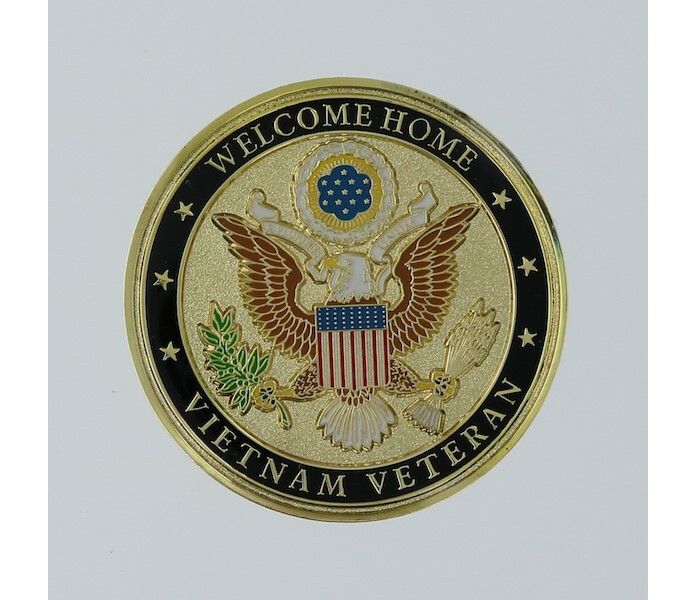 Vietnam Veteran Military Coin Spotlight
As far as military traditions go, challenge coins are a staple that dates back to World War I. What started as a way to identify members of a particular squadron...
---
Challenge coins are a military tradition that dates back to World War I. What started as a way to identify members of a particular squadron has evolved into a rite of passage of the United States armed forces.
Today, military coins serve many purposes. They recognize achievements, specialized skills, and notable milestones. Every branch of the armed services uses military coins to identify members of specific units and tell stories of deployments, missions, and more. These remarkable coins are keepsakes that will become heirlooms passed to future generations.
At ChallengeCoins4Less.com, we take pride in designing custom challenge coins for our military. We've created military coins of all sorts, including commemorative coins for fallen comrades, honor coins celebrating the sacrifice and dedication of our soldiers, and custom coins for veterans. We recently had the opportunity to design a custom coin in dedication to Vietnam War veterans.
This challenge coin is an example of a thoughtfully crafted military challenge coin. The coin shines and shimmers while boasting vivid imagery, colorful details, and meaningful text. The elements of the coin stand out thanks to a blend of rich colors and extraordinary attention to detail.
Honoring Service
Military challenge coins are an honor to their recipients. They tell the story of one's career and act as reminders of important moments. This particular coin commemorates the service of Vietnam veterans through thoughtful imagery and a beautiful layout. The coin has a classic approach with a polished gold base, contrasted with unique textures and vivid colors on the front and back. The coin features different attributes on both sides, which pay homage to Vietnam veterans and their sacrifices.
The front of the coin is simple and sharp, decorated by the Great Seal of the United States. The seal depicts an American bald eagle with its wings spread. The bird holds 13 arrows in its left talon and an olive branch in its right. Above the eagle are 13 stars, while a shield with 13 stripes adorns its chest. The bird has a scroll in its beak that includes "E Pluribus Unum (Out of Many, One)." The seal's colorful composition pops from the rough textured background. The front of the coin also has a black border that encircles the seal with text that reads "Welcome Home Vietnam Veterans."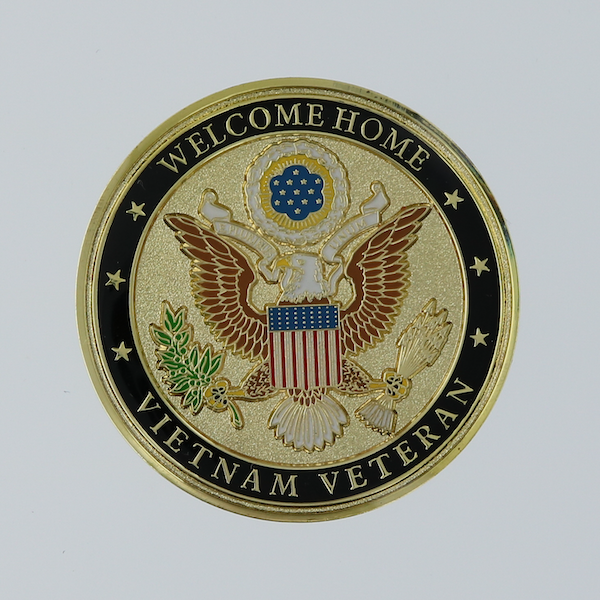 The reverse side features the same general layout. The rough textured background is the same, as is the black border around the coin. The central design consists of a green silhouette of Vietnam with a Vietnam service ribbon on top. The black border includes the text "Thank You For Your Service and Sacrifice" around the top and "Duty Honor Country" along the bottom.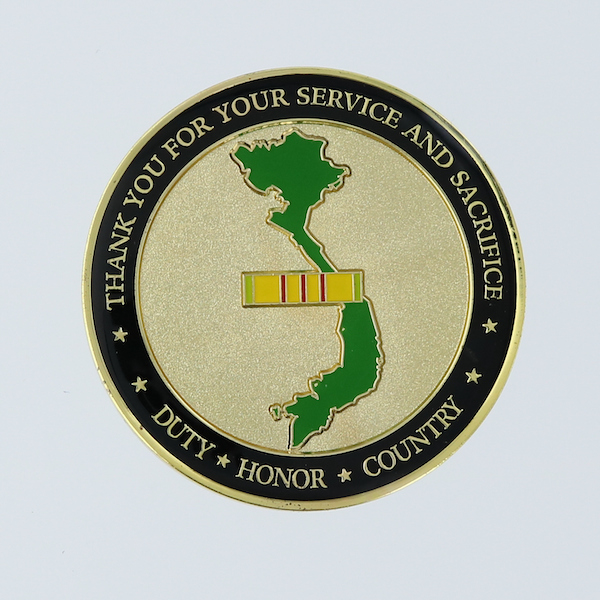 This particular coin is an excellent example of a challenge coin for veterans. The coin has a timeless aesthetic, thanks to the gleaming gold base. The imagery is clean and colorful, and the details commemorate Vietnam veterans with dignity. At ChallengeCoins4Less.com, we take pride in creating military challenge coins for veterans. Acknowledging these individuals and their dedication to our freedom is a privilege.