Wedding Coins For Bridesmaids and Groomsmen!
Jesse Daugherty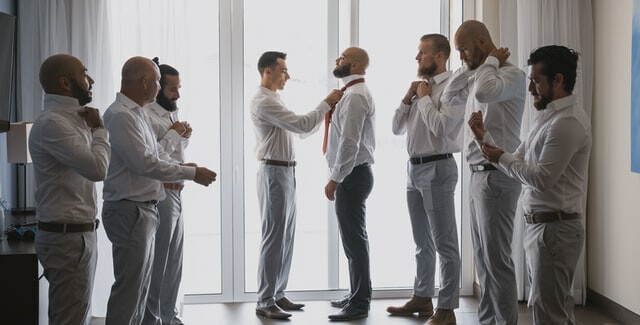 Weddings are one of the most memorable occasions in a couple's lifetime. Brides and grooms celebrate the day with their closest friends and family. The wedding party consists of significant figures in their lives. Brides have their bridesmaids. Grooms have their groomsmen. Typically the groomsmen include immediate family, and their closest friends. The bridesmaids are the closest friends and relatives of the bride. Considering the pivotal role they play on the big day, it's customary to present a token of appreciation.
Challenge coins make a great gift. They commemorate the big day and say thanks to those closest to you in a unique way. Challenge coins also build bonds between those who receive them. Let's talk more about wedding coins for bridesmaids and groomsmen below.

Say Thanks
The bridesmaids and groomsmen are some of the most influential figures in your life. Celebrate them! A challenge coin can be used to say thanks and acknowledge their importance. Create a custom coin for the whole group or one for each member. Father of the groom's coins is a perfect way to show Dad how much he means.
It is customary for brides to present the bridesmaids with gifts. Challenge coins are a sign of gratitude for the support. Add imagery that represents each individual. The more memorable the coin, the more cherished it will be by your entire wedding party.
Celebrating The Date
Challenge coins are a unique way to celebrate the moment. Your wedding day is one of the few when all your friends and family will gather in one place. Wedding coins include details that honor the big day, including the date. Consider adding other text too. Include a joke or other elements that only the group will get. These coins are for extraordinary people in your life. Create something that they will recall fondly for years to come.
Building Bonds
Bridesmaids and groomsmen are those in your inner circle. Custom coins can build a bond that will last a lifetime. They are also a great way to bring together friends and family who might not know each other well. A well-designed custom coin will be displayed with pride. It will also provide memories of an unforgettable day and a special bond.
It's meaningful to honor those who gather for your wedding day. Show your wedding party that they are an important part of your life. Creating a challenge coin is an easy way to do precisely that. Find out more about designing your own challenge coin here.