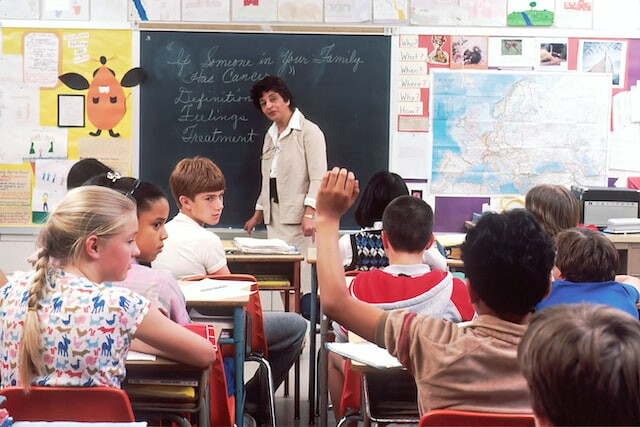 World Teachers Day Challenge Coins
Honoring those educating the citizens of tomorrow
Teachers have a significant influence on our communities, educating and helping the development of children around the world. Teachers mold future generations, and on October 5th, we honor those who spread education worldwide. World Teachers' Day honors teachers and teacher organizations who contribute to the growth of our future leaders.
World Teachers' Day brings awareness to the importance of teachers' roles. These dedicated individuals affect how children learn and grow, carrying a responsibility to educate young people. We all have at least one teacher who made a difference in our lives. Let's work together to honor those who help people educate people everywhere.
Custom challenge coins are the perfect way to say thank you. Challenge coins are small tokens with memorable details that can be customized to your liking. These exceptional items are a cherished gift and a unique way to honor those making a difference in our communities.
History of World Teachers' Day
In 1994, UNESCO (The United Nations Educational, Scientific and Cultural Organization) adopted October 5th as World Teachers' Day to praise and celebrate educators.
UNESCO chose the date to commemorate the signing of the 1966 UNESCO/International Labor Organization recommendation concerning the status of teachers. The recommendation set standards for teachers worldwide regarding education personnel policy, recruitment, and training. The 1966 UNESCO/ILO Recommendation outlines the continuing education of teachers, employment, and working conditions.
The day is one of global appreciation for teachers and bringing awareness to improving issues related to teaching. To celebrate World Teachers' Day, UNESCO and Education International, a union representing teachers worldwide, bring attention to teachers' function in developing students and society.
The campaign focuses on different themes each year, with past themes including "Empowering Teachers," "The Right to Education Means the Right to a Qualified Teacher," and "Young Teachers: The Future of the Profession."
For 2022, the theme is "The Transformation of Education Begins with Teachers." The theme was inspired by teachers' efforts during the Covid-19 pandemic.
Honoring Teachers Around The World
Education International is the largest global educators' union, representing more than 30 million educators around the world. The organization promotes quality education and the interests of teachers and other educators. They also work hand in hand with UNESCO on World Teachers' Day.
UNESCO and EI campaign every year to give people insight into the value of teachers and their place in our society. Donating and volunteering are great ways to give back to educators while supporting education everywhere.
How To Observe World Teachers' Day
Getting involved with World Teachers' Day is simple, and it can be fun. To observe World Teachers' Day, the best thing you can do is give back to the educators who affected your life. Praise teachers in your community working to spread knowledge, and let your children know the importance of good teachers. If you are a student, thank your teachers for all they do. Honor these exceptional individuals in a special way.
Why not create custom challenge coins that honor World Teachers' Day and educators' influence on young people? These memorable tokens are unique and novel ways to bring awareness to any cause. They are reminders of teachers' importance in our society and their role in our lives.
Teachers and educators deserve our recognition. They shape young minds and help children become exceptional adults, shaping the future of society in the process. World Teachers' Day is a day to recognize teachers' hard work and dedication. Let's work together to create a custom challenge coin that signifies teachers' vital position in our lives. Find out more about designing challenge coins, and look through our gallery for inspiration.