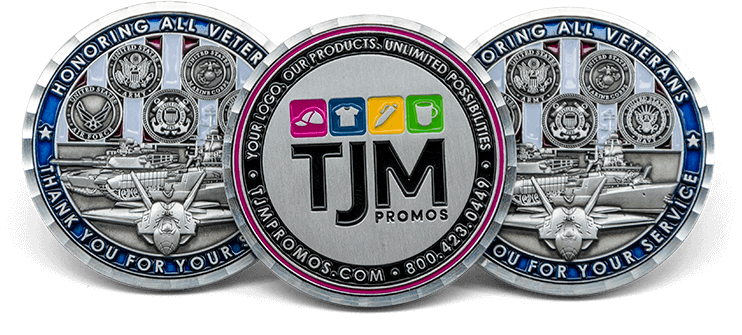 You Don't Have to Sacrifice Quality for Cheap Challenge Coins
If you're shopping for challenge coins, you don't have to settle for poor quality.
If you're shopping for challenge coins, you want the best combination of quality, service and value. Fortunately, you don't have to settle for poor quality when you order cheap challenge coins.
Custom challenge coins are meant to be keepsakes. They should never look or feel cheap in any way. Yet they need to be affordable. Fortunately, modern production techniques and computer-assisted design make it possible to order top-quality coins on even a limited budget.
It's really all about value. Look for a coin provider that doesn't charge for artwork or revisions. That enables the buyer to be confident the coins will look exactly the way they want them to before finalizing their order.
Another thing to look for is free shipping. A great coin provider will offer free shipping within the continental United States. Save your money for your coins, not shipping!
Remember, you don't have to give up quality for cheap challenge coins. Look at the metal choices a prospective supplier offers. Can you select among gold, silver, brass, copper or black nickel finishes for your coins? Can you choose between polished or antiqued finishes?
Do they offer custom shapes? What about custom finishes and options? Any reputable custom coin provider can create challenge coins you can distribute, carry or display with pride. It's all a matter of how much pride they take in their business.
Ask about a guarantee. Any reputable challenge coin provider will gladly stand behind their work at any price point. They should be willing to replace, at no additional cost to you, any coin found to be defective in either materials or workmanship, no excuses. Any provider that can produce cheap challenge coins to the same high quality standards as much more expensive ones is worth doing business with.
When it comes to pricing, a good supplier won't charge any more than a less reputable one. Any good provider of challenge coins will match or beat competitors' prices, and offer you the service and guarantees as noted above. It's all a matter of customer service.
That's where a company like ChallengeCoins4Less.com excels. We're dedicated to giving all our customers outstanding quality, value and customer service, regardless of budget or order size. We've been in the business for nearly 15 years. We have the experience, the talent and the commitment to ensure your challenge coins are outstanding, at a price you can afford. And we back every coin we sell with our legendary 100% Satisfaction Guarantee.
Challenge coins are always an outstanding way to recognize and honor dedication, service and sacrifice. That's part of what makes them so popular among military units. Businesses, schools and other organizations have discovered their value as motivational tools as well.
No matter what you need custom coins for, you can depend on ChallengeCoins4Less.com to provide them on your schedule, within your budget, and crafted to meet the highest standards – yours. We look forward to serving all your custom challenge coin needs!