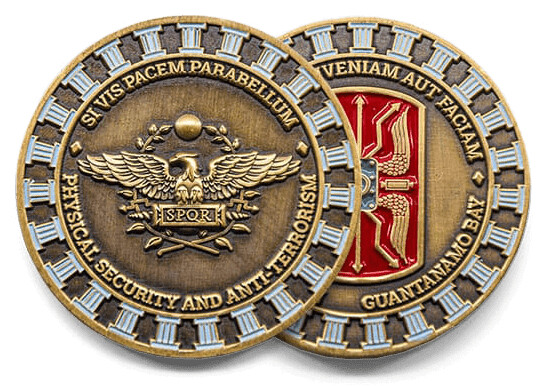 A Closer Look! The Purpose Of Challenge Coins
Challenge coins can serve multiple functions -- keepsake, morale booster, reward for outstanding performance
Challenge coins are custom-made coins that represent a team or an organization. What started as a military tradition evolved into something much bigger. Challenge coins are used as proof of membership, a commemoration of respect and honor, and even a marketing tool. Today we take a closer look at the purpose of challenge coins.
Challenge coins started in the military. These pocked-sized medallions were originally presented to service members as a gift of honor. They are still used by the military, commemorating special events, missions and building camaraderie.
Challenge Coin Composition and Design
Typically, challenge coins are crafted from brass or zinc with plating options such as copper, gold, or silver. Military coins feature mottos and symbols that are significant to specific units. They represent morale and dedication, and today, many organizations use them in a similar fashion.
Challenge coins are commonly circular in design. They can, however, be produced in virtually any shape that you can imagine. Custom challenge coins have grown in popularity over the years. They are often used by schools, companies, and even teams. They are often seen with logos and emblems, as well as significant locations and dates.
The most popular plating options are gold and nickel, and an array of other finishes are available. From copper and nickel to black nickel and duo-tone options, challenge coins have plenty of choices. You can even add color to the coin for an added pop.
A Military Tradition Lives On
Challenge coins are still a big part of military life. They are used by the highest ranks in the military, all the way up to the Commander in Chief, the president of the United States. The coins are typically presented to service members for their sacrifice and dedication. These coins are a token of honor and keepsakes for the recipients. Presidential challenge coins are commonly given to foreign dignitaries and military personnel.
Custom-designed coins have expanded outside of the military. Today government agencies, businesses, and nonprofits of all sorts are making use of challenge coins. They are a cost-effective way of marketing and promoting, and are also great for awards, team building, and more.
At ChallengeCoins4Less.com, we understand the benefits of challenge coins. We have been producing top-quality coins for more than fifteen years, and we know what it takes to create a well-designed challenge coin. We have made challenge coins of all sorts, from military coins to coins for brands, agencies, and organizations. Not only do we produce the best coins on the market, but we also provide top-notch customer service. We offer free artwork, design, and revisions, as well as free shipping within the contiguous United States.
We stand behind everything we create. Each coin undergoes our rigorous quality control standards. When you order from us, rest assured that you are getting the best value products. We stand behind that with our 100% Satisfaction Guarantee. If you purchase challenge coins from us and find any defects in materials or workmanship, we will replace it at no extra charge. At ChallengeCoins4Less.com, we make it easy! Simply get a free quote or email us! We'd be honored to work with you!
---
Jesse Daugherty
Blogger
Hello, I'm Jesse Daugherty, a music enthusiast, sports aficionado, and an avid supporter of the arts. I'm a writer and content creator. For the past 5 years, I've shared my knowledge of custom challenge coins and other promotional products, exploring their designs, meaning, and purpose.