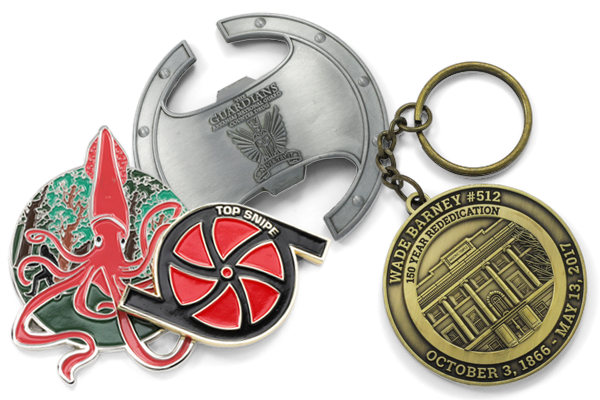 All About Options! The Details of Cut Out Challenge Coins
Sometimes, less is more. Cut outs add a distinctive touch to challenge coins.
Challenge coins are more than just small tokens of appreciation. Custom coins are great commemorative gifts that can be used in distinctive ways to honor people, places, special events, and much more. There are several ways to make a challenge coin stand out and a bevy of custom options that allow you to get creative. There are several methods and options, including coin finishes, color options, edges, engraved text, custom shapes, and many more.
One of the most popular options for making an outstanding coin is a cut-out design. This unique option adds a unique appeal to any challenge coin, creating something eye-catching and different in the process. Challenge coins can feature different cuts and shapes, though there is something special and appealing about cut-out details.
Challenge coins can feature different cut-outs to the inner parts of the coin. From the appearance, the cut-out challenge coin is a relatively difficult technique, though it offers a striking effect to any coin. The circle cut option is often used to attach the challenge coin to a chain or rope. This allows the challenge coin to be worn around the neck or on a keychain. A circle cut inside challenge coins is also a great way to display your coins differently. Not only an effective and functional add-on, but the circle cut can also add a bold look to your custom coin.
Cut-outs can also be made around the symbol on any challenge coin. Cutting out parts of the design the same as your logo and symbol are novel and impressive. A high-relief 3D effect is formed with this effect. The cut-out brings attention to the center of your coin, focusing on the logo, symbol, or emblem featured on the coin.
This cut-out option is perfect for business events that wish to promote their brand and product awareness. You can also add a functional cut-out to any coin. When we want to make custom challenge coins with more function, cutting a gap around can make it happen. Functional cut-out options include turning your challenge coin into a bottle opener. The opener can be around the edge or the inside of the coin. The choice is completely up to you.
Remember, you can develop your challenge coin in virtually any shape imaginable. Each cut-out challenge coin doesn't have to be round; they come in various shapes such as rectangular, triangle, square, oval, or other special designs.
Let's look at a few other options that will surely make your coin stand out. As we mentioned earlier, there are several metal finishes and plating options to choose from. Our free options include polished gold metal, polished silver, black nickel, polished brass, or polished copper. However, you can also choose from antique gold, brass, antique silver, antique copper, or a duo-tone effect for a novel-looking coin.
You can also choose to add color, which will make your coin stand out even more. Choose the traditional die-struck coins for a classic look, showcasing the beauty of your coin without color. But, adding color to one or both sides is a great way to add a pop to your coin.
We also mentioned custom coin edges. For a terrific and elegant look, choose a diamond cut edge that will complement the design of your challenge coins. The standard edge provides a smooth and classic look, while the rope edge is common for military challenge coins. Cross-cut edges increase the allure of your coins, offering a reflective appeal to the surface area. A wave-cut edge is devised to mimic the motion of waves, while the slash-cut edge adds character and style. The oblique cut edge produces a bold look and a sense of movement. The reeded edge is an iconic look, featuring grooves and lines around the edge of a coin like that of a half dollar, dime, or quarter. Here are a few other options to help your challenge coin stand out even more. 3D elements create a unique allure, bringing images to life.
Engraved text is a perfect way to add a motto or a favorite saying to the edges of your coins. You can also opt for sequential numbering, which turns your coins into truly limited-edition collectibles. Epoxy coating and transparent enamel add a level of protection to your coin while keeping the design safe from scuffs, scratches, and more.
But wait, there are more options. Presentation and packing options are available for your coins too. We ship our custom challenge coins individually packaged in clear PVC pouches. But we offer a whole range of other presentation boxes such as velvet bags, coin capsules, velvet presentation boxes, and more. These are a great way to keep your coins protected while showing off your impressive collection.
At ChallengeCoins4Less.com, you are not limited to common arrangements. We offer a range of attractive options that will surely enhance the appearance of your coins. A unique coin is one that will be honored and displayed with pride for years to come. At ChallengeCoins4Less.com, we understand the significance and purpose of challenge coins. We take pride in turning your ideas into great challenge coins, and we stand behind everything we do. You won't find better coins and better customer service anywhere.
When ordering challenge coins, you want experience and trust. We have the experience, a commitment to customer satisfaction, and an incredible team that will work with you to produce a challenge coin you will be proud of. Our staff of award-winning graphic artists are among the best in the industry, dedicated to providing the finest quality coins you can get. All of our challenge coins are produced in state-of-the-art factories worldwide and are carefully inspected before being shipped.
To find out more about our custom challenge coins or to get started with your next order, call us toll-free at 1 (855) 272-8451 or email us. You can also use our free quote form to get started immediately. Designing challenge coins has never been this easy!
---
Jesse Daugherty
Blogger
Hello, I'm Jesse Daugherty, a music enthusiast, sports aficionado, and an avid supporter of the arts. I'm a writer and content creator. For the past 5 years, I've shared my knowledge of custom challenge coins and other promotional products, exploring their designs, meaning, and purpose.