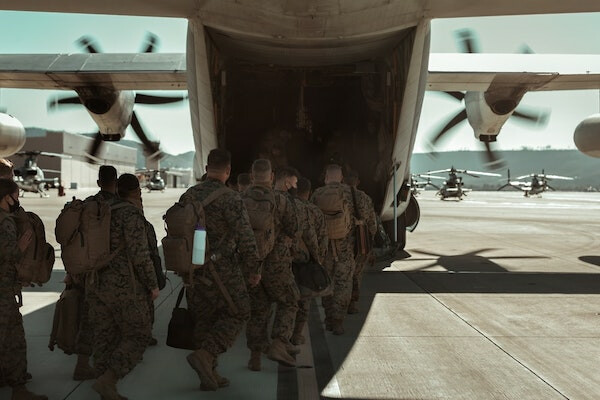 An Honor and Tradition! The Different Types of Military Challenge Coins
Each branch of the U.S. military features different types of custom challenge coins
Military challenge coins tell a story. Some coins mark the camaraderie and friendship shared by soldiers, while other coins are received for bravery and sacrifice. Regardless, Army, Air Force, Marines, and other military personnel carry challenge coins as a means of identity, a symbol of honor, and a source of pride. Today professionals of all sorts use challenge coins as a symbol. While nothing tops the classic military challenge coins that are designed for the men and women who started it all, each branch of the military has a different coin of its own. There are a variety of other military coins, but before we look at the different types, let's examine the history of military challenge coins.
History
The history of challenge coins dates all the way back to ancient times. However, the modern challenge coins we are familiar with go back about a hundred years. What started as a military honor has expanded into the world of business and more. Today's military still uses coins, and organizations and companies also use them for many of the same reasons.
Challenge coins are used to reward excellent service and notable achievements and accomplishments. Challenge coins started in Ancient Rome, where soldiers were given something extra for performing well in battle. Not only would they receive the day's pay, but they would also receive a separate coin as a token of their sacrifice and performance. The coins became keepsakes that Roman soldiers carried as a memento of their dedication and loyalty. Since those times, challenge coins have evolved, but they have remained part of military tradition.
Fast forward to World War I, where many volunteers from around the country headed to war. Many of these volunteers left school to fight for their country. One wealthy Army lieutenant made solid bronze medallions and presented them to each crew member, keeping one for himself. These coins were worn in a small leather pouch around the soldier's neck. Today, military units worldwide design custom challenge coins that are significant to the team. These challenge coins are often decorated with battalion logos, mascots, and other unique details that have meaning to the group. These coins are handed out to soldiers to build camaraderie and recognize extraordinary achievements, milestones, and other notable events. For example, the U.S. Air Force awards a special Airman's coin once recruits graduate from USAF Basic Military Training or Officer Training School. Challenge coins have become popular outside of the military as well, becoming a tradition for firefighters, police officers, and first responders. They are a way to honor the courage and bravery of these men and women, a keepsake that recognizes those who risk their lives for the safety of others.
Army Challenge Coins
Custom challenge coins are a part of life for all branches of the United States military. Legend has it that they date back more than 100 years to the Army Air Service in World War I. Since then, they have become a treasured part of military life. As mentioned above, a wealthy lieutenant had custom coins struck for all the members of his squad. A squadron member was shot down and captured behind enemy lines, only to escape the germans and make his way to French-occupied territory. The French thought the soldier was a German spy, stripping him of his possessions, except for the leather pouch that contained his challenge coin. One French soldier recognized the coin, realized the captured soldier was an ally, and eventually returned him safely to his squadron. Since then, military coins have been an icon of Army service, later expanding to other military branches.
Air Force Challenge Coins
Air Force challenge coins are also important. The first coin an airman will receive is the Airman's coin. Like others, the coin signifies their accomplishments and achievements, serving as a meaningful keepsake. Military coins are objects of honor and to receive a challenge coin is an acknowledgment of merit for something you have done. Air Force trainees work hard to complete basic military training, and they are handsomely rewarded with the Airman's coin. Challenge coins are presented to the Airmen during a special coin ceremony, becoming the first and most important coin of an airman's career. The coin is commonly offered by the Wing Commander or Command Chief Master Sergeant and serves as an acknowledgment of promotion from trainee to official Airmen of the United States Air Force. These coins are to be treated with dignity and respect. Airmen will receive other coins throughout their careers, and that collection of coins tells the story of an entire career.
Coast Guard Challenge Coins
The Coast Guard also uses challenge coins in many of the same ways they are in other military branches. Coast Guard challenge coins are designed to tell a story. These are presented to celebrate milestones and special occasions or even to honor a specific ship and her crew. Some of the most popular inspirations for Coast Guard coins include the coast guard emblem and the famous orange and white color scheme. However, there are an unlimited amount of options to choose from. Custom Challenge Coins can include seals, insignia, standards, stripes, mottos, and other graphics while representing squadrons, units, and individuals for outstanding duty.
Marine Challenge Coins
For the past 200 years plus, the Marines have kept our nation safe and free. The branch has its own loyalty, sacrifice, and dedication traditions, which adds to its lore and appeal. Marine challenge coins come in a variety of styles and forms, produced as a way to honor extraordinary achievements and the brave acts of each marine. These coins also become valuable keepsakes that are passed on through generations.
Navy Challenge Coins
Like the rest of the military challenge coins, Navy coins are a way to acknowledge any sailor who has served their country. Steeped in military tradition, many are unfamiliar with the meaning of challenge coins to any soldier from any branch. Navy coins are commemorative, designed for a particular purpose and to tell the story of a sailor's career. These coins are produced and distributed to specific groups to showcase membership. However, Navy challenge coins are also designed to recognize individuals, events, or notable achievements. The options are endless and can even be created to commemorate ships, units, tours of duty, and even general membership in the United States Navy. Navy coins have a distinct meaning for those who receive them, serving as a moment they will never forget.
At ChallengeCoins4Less.com, we understand the value and importance of military challenge coins. We have been fortunate enough to be tasked with creating many military coins through the years, and it's a tradition that we are proud to be a part of. If you are interested in learning more about military challenge coins or would like to order some for yourself, we are here to help. Give us a call toll-free at 1 (855) 272-8451 or email us with any questions you have. We would be honored to assist!