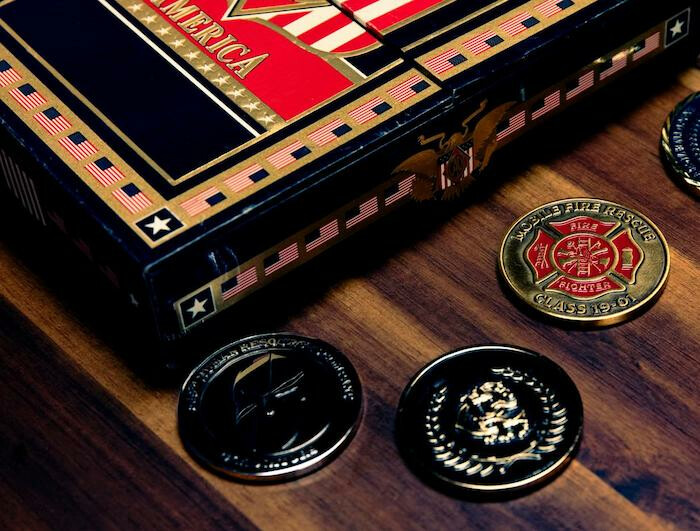 Buy, Trade and Collect: What To Do With Custom Challenge Coins
Challenge coins offer many options for collecting or trading
To many, challenge coins seem like a simple collectible. However, their history and uses go back decades. They hold a special place in the military, thanks to a storied tradition with deep roots. Challenge coins also serve a purpose and have extended far outside of the military. Though challenge coins got started as a military-specific tradition, they have been adopted by groups, clubs, organizations, and businesses, adding their own twist on the tradition.
One question that many ask is, "What do you do with a challenge coin?" We've compiled a few answers.
First Things First
First , let's examine the design elements of custom challenge coins. These tokens come in an array of different schemes, and in different shapes and sizes. The nature of a challenge coin is that every coin is unique to the group that carries it. That's just one part of the reason folks collect different coins, especially military members. Current and former service members will often have an entire collection of coins of their own. In terms of design, challenge coins vary, though many concepts come together naturally.
When designing military challenge coins especially, there are specific logos, mottos, and symbols that represent certain squadrons. Challenge coins should capture the essence of the service members, through the use of colors, numbers, phrases, and more. These details are important to the group and should be incorporated into the challenge coin.
When it comes to businesses and other organizations, coins often vary a lot. Challenge coins provide memories of achievements, accomplishments, important milestones, and special moments. They can be passed along to coworkers, friends, and family members, who will cherish them for years to come.
Designing Challenge Coins is Easier than You Think
You might think you need a fully realized concept ready before contacting a challenge coin supplier. It's much simpler than that! For those who are not artistically inclined, it's okay. Just gather a few ideas and elements that you want to include, and a reputable challenge coin provider will help you bring your plan to life.
Now that we have a better grasp on the design side of things let's look into challenge coin etiquette. The challenge behind the challenge coin is pretty simple. However, there are rules, insider information, and etiquette that all come into play.
The Challenge
For the most part, the challenge consists of one person challenging others to show their respective challenge coins. For anyone who can't produce their challenge coin, the next round of drinks is on them. If everyone happens to show off their own challenge coin, the challenger is responsible for the next round. It's important to follow the established rules because things could get pricey.
When it comes to the challenge, it's important to always explain the rules. Before any challenge is issued, each person must understand how the game works. Also, be sure to keep your coin on you at all times. There are no exceptions to this rule, so be sure to keep your coin on you at all times. And, be sure to never leave it sitting anywhere. Understand that challenges may happen at any time. Even if you are taking a shower, trying to relax, or getting ready for a night out, if you are challenged, be prepared to show your coin.
The challenger must state the terms. The most common way to play is that the loser will purchase an entire round of drinks for every player. However, sometimes a challenger will say it's for a single drink of the loser's choosing. If you're challenging, but sure to clearly state the terms!
Never pass out your coin either. It's an honor to receive a challenge coin, and handing one to someone essentially means you are giving it to them. If someone is curious about your coin, hold it in your palm or let the person view it on a table.
Keep in mind that your challenge coin is a coin. It isn't a fashion accessory or a piece of jewelry. It's important to honor the history of the challenge coin and treat it with the care it deserves. And, never, ever drill a hold in your coin under any circumstance. If you have been presented with a challenge coin, you have been considered worthy. It's a high honor to be given a challenge coin, and it should be treated as such.
These are just a few of the standard rules, though different groups have some of their own. That's why it's essential to explain the rules at the beginning. The game truly varies from group to group.
Collectibility
Challenge coins are also becoming highly sought-after collectibles. Not only for members of the military and veterans but also for civilians, including friends and family. Challenge coins are found almost anywhere, from surplus shops to flea markets, even conventions and trading events. They are remarkable tokens that share memories of accomplishments and achievements of all sorts.
At ChallengeCoins4Less.com, we understand the importance and impact of challenge coins. For over fifteen years, we have produced custom coins of all sorts for military units, police departments, fire departments, and many others. If you can think of a design, we've made it, and we take pride in our experience, as well as our coins.
Ordering challenge coins from ChallengeCoins4Less.com means you are getting a top-quality product without the high cost. You may rest assured that you will be getting the best value for your dollar, as well as custom challenge coins that can be displayed with pride and cherished for years to come.
For more information, call us toll-free at 1 (855) 272-8451 or email us. You may also fill out our no-obligation free quote form. We make creating and ordering challenge coins easy and effortless!
---
Jesse Daugherty
Blogger
Hello, I'm Jesse Daugherty, a music enthusiast, sports aficionado, and an avid supporter of the arts. I'm a writer and content creator. For the past 5 years, I've shared my knowledge of custom challenge coins and other promotional products, exploring their designs, meaning, and purpose.