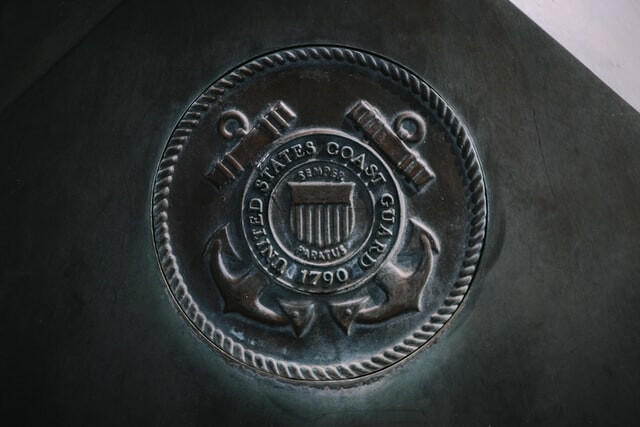 Honoring The Coast Guard Birthday 
Commemorating 232 years of Coast Guard protection of our waterways
Every year on August 4th, the U.S. Coast Guard celebrates its birthday. The date commemorates the organization for its honor and discipline on the anniversary date of its founding.. The U.S. Coast Guard patrols our coasts for smugglers, human trafficking, and both domestic and international terrorism. They also provide search and rescue operations off our coasts. These brave men and women keep our waterways and coastlines safe, providing protection, security, and more.
Since 1790, the Coast Guard has provided protection along our waterways, playing a significant role in national security. Since its origin, technology has evolved, and the Coast Guard has grown, using modern technology to combat crimes on the water and in our ports. August 4th is a special day and one that we should celebrate. What better way to celebrate the U.S. Coast Guard's birthday than with a memorable U.S . Coast Guard challenge coin?
History Of The U.S. Coast Guard
The U.S. Coast Guard has a fascinating history, serving in significant battles that helped shape our country. The Coast Guard was initially known as the Revenue-Marine. In the late 1800s, the organization collected taxes at U.S. seaports. The group was not an organized federal agency at the time, though it provided regular law enforcement and customs duties, even serving in combat along the Navy in many conflicts.
The modern Coast Guard was created in 1915. The Revenue Cutter Service merged with the U.S. Life-Saving Service. In 1967, the Coast Guard moved from the U.S. Department of the Treasury to the Department of Transportation. The organization was transferred to the Department of Homeland Security in 2003.
The Coast Guard can operate as a service of the Navy and has played a role in wars, including the War of 1812, the Mexican–American War, and the American Civil War. Thoughtful custom challenge coins are a great way to honor that history.
In addition to its military role, the Coast Guard provides humanitarian and security assistance. The service saves live at sea and in U.S. waterways, also offering emergency response and disaster management. The Coast Guard's three prominent roles are maritime safety, security, and stewardship.
Known for their responsiveness and adaptability in various emergencies, the Coast Guard works on everything from ice operations to waterway and coastal security. Celebrate these brave and dedicated individuals and their service with an outstanding custom challenge coin.
Training
The Coast Guard has a workforce of 87,569. These Coast Guardsmen, or "Coasties" as they're informally known, include commissioned officers, warrant officers, and enlisted personnel. Each member of the Coast Guard undergoes training at the U.S. Coast Guard Academy in New London, Connecticut. Nearly 200 cadets graduate each year and are obligated to serve a minimum of five years on active duty.
Newly enlisted personnel undergo eight weeks of training at Coast Guard Training Center Cape May in New Jersey. The recruits learn teamwork and develop physical skills while being introduced to the Coast Guard's core values.
The recruit training objectives include self-discipline, military skills, marksmanship, vocational skills and academics, military bearing, physical fitness and wellness, water survival and swim qualifications, esprit de corps, and core values of honor, respect, and devotion.
Roles and Duties
The Coast Guard has many duties while protecting our coastline and ports. The organization is a multi-mission maritime military service that aims to protect the public, the environment, and interests along the nation's waterways. The Coast Guard can operate in international waters or in any maritime region to support national security.
The Coast Guard also provides search and rescue operations support, serving as one of the country's eight uniformed services. The service is unique among the other services for having maritime law enforcement duties and jurisdiction in both domestic and international waters.
Happy Birthday!
There are many ways to honor and celebrate the Coast Guard's birthday. Some areas host events that mark the founding of the Coast Guard. Creating a custom challenge coin is the perfect way to commemorate any event or milestone.
Present these small tokens to guests at events that honor the Coast Guard or to veterans who served. Unique and detailed, challenge coins are a staple of the military and held in high regard by their recipients. Challenge coins can be customized to include special dates, slogans, insignia, and logos, so get creative.
Celebrating The U.S. Coast Guard
Custom challenge coins are an excellent way to celebrate any special occasion. With a past rooted in military history, they are a great way to commemorate the Coast Guard's birthday. The U.S. Coast Guard members risk their lives for our safety, taking on risks and duties that other services do not. These individuals deserve recognition, and custom challenge coins acknowledge their hard work, dedication, and loyalty.
Create custom challenge coins to present at events observing the Coast Guard's birthday. Pass them along to friends and family, veterans, active-duty members of the Coast Guard, and more. Add details that have meaning and appeal. Include images of the boats, aircraft, and other tools used by the Coast Guard. Cutters, motor lifeboats, helicopters, response boats, and other vessels are excellent options. Incorporate important locations and other elements of significance to the recipient.
Add logos, insignia, special dates, and other thoughtful details that will honor the history and future of the Coast Guard. Important dates, names, and other elements will make your design stand out and offer a tangible item that will be cherished for years to come.
The U.S. Coast Guard celebrates its 232nd birthday on August 4, 2022. Celebrate the day and honor those who sacrifice so much for our freedom. Design a custom challenge coin that represents the Coast Guard and honors the Guard's history, duties, and role in the U.S. Armed Forces.
Challenge coins boost morale and make people feel like part of the team. Challenge coins are an honor and a great way to celebrate special milestones, achievements, and accomplishments. Do your part to honor and celebrate the heritage of the U.S. Coast Guard and its members with something special. Find out more about designing custom challenge coins here.