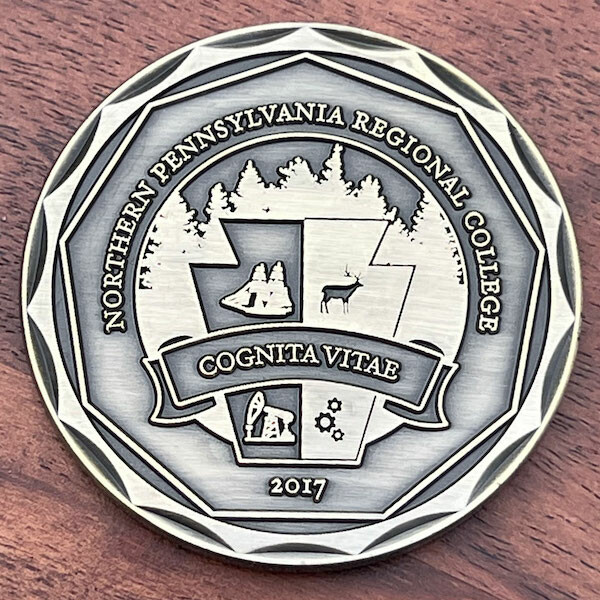 Symbols of Success: Custom School Challenge Coins
Custom Coins Commemorate Education Milestones
Custom challenge coins have a storied history in the military, but their influence has transcended the armed forces. Today, we shine a light on the educational realm, where custom coins have found their place in celebrating academic excellence.
Below, we explore the world of education challenge coins, examining their significance and highlighting four exceptional examples that embody the spirit of accomplishment. Education challenge coins not only honor noteworthy accomplishments but also serve as a reminder that learning is a lifelong journey worth celebrating.
Recognizing Achievement and Milestones
People present education challenge coins to individuals who demonstrate dedication, prowess, or leadership. Whether it's a student achieving specific goals, a teacher making an enduring impact, or a school commemorating a significant milestone, these coins are testaments to hard work.
Pride of Ownership
Education challenge coins become cherished keepsakes for those fortunate enough to receive them. They are more than just tokens. They represent a commitment to excellence and a badge of honor. Owning a challenge coin is a source of pride, and it fosters a strong sense of belonging to a community that values and recognizes exceptional effort.
Symbols of Unity and Tradition
Beyond individual recognition, education challenge coins contribute to the unity and tradition of academic institutions. People often exchange them as symbols of respect and appreciation. In the following sections, we will spotlight four unique education challenge coins. These coins encompass the values and triumphs they represent.
Designing Custom Education Challenge Coins
Creating education challenge coins that capture the essence of academic excellence requires thoughtful design. The arrangement of these coins makes them visually appealing and imparts a deeper meaning. A well-designed education challenge coin is a work of art that embodies an institution's values, heritage, and accomplishments. It is a representation of the ideals and aspirations the institution holds dear. A thoughtful layout is essential, because it elevates these coins from mere tokens to revered symbols of distinction.
Factors to Consider
Incorporating school symbols, emblems, or mascots is common in education challenge coin design. These symbols hold immense sentimental value for students, faculty, and alumni, making the coins instantly recognizable and deeply meaningful.
Colors convey symbolism, and the selection of colors should align with the school's branding or the message the coin is meant to convey. For instance, gold and blue might represent academic excellence and wisdom, while red and white could symbolize courage and purity.
The choice of materials can significantly affect the coin's look and feel. High-quality metals and finishes add to the coin's durability and aesthetic appeal. Consider options such as brass, bronze, or antique silver, depending on the desired effect.
Tips for Creating Memorable Coins
A good design tells a story. Whether it's a student's journey through their academic years or the milestones of an institution, the design should narrate a compelling tale.
Keep the design clean and uncluttered. Simple, elegant designs are timeless and resonate better with a broader audience.
Add inclusivity in your design by incorporating elements representing various facets of the institution, such as academic departments, sports, or extracurricular activities.
Collaborate with skilled graphic designers or coin manufacturers who specialize in crafting custom challenge coins. Their expertise can help bring your vision to life.
Before finalizing the design, gather input from students, faculty, and alumni.
Let's look at some examples.
NPRC Honors Graduate Coin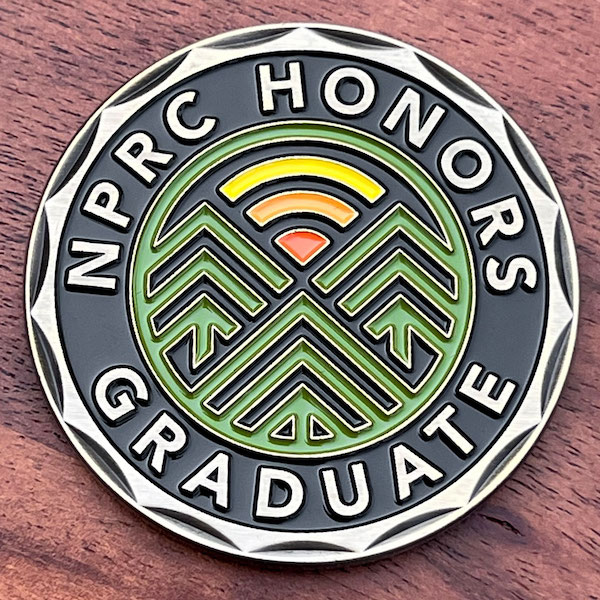 This round coin, crafted from polished silver, celebrates the achievements of Northern Pennsylvania Regional College's finest scholars. The center of the coin features the NPRC logo. This stylized representation of a forest with a radiant sunrise in the background employs deep green, bold orange, and yellow hues.
A bold black border surrounds the logo. The words "NPRC Honors" grace the top, while "Graduate" adorns the bottom. Finishing the coin is a distinctive slash-cut edge, which adds a layer of sophistication.
The NPRC Honors Graduate Coin is a shining example of an education challenge coin. It embodies the core values of Northern Pennsylvania Regional College and celebrates excellence. It also serves as a keepsake for honors graduates and the promise of knowledge and growth.
BSHS Criminal Justice Program Coin
Crafted from polished gold, this round coin blends concise design with symbolism, making a distinctive challenge coin. The center of the coin includes an emblem representing the Berkeley Springs High School's Criminal Justice Program. The design boasts bold colors and impeccable attention to detail, making it visually striking.
The focal point is a shield outlined in gold. A bold orange background in the shield features the words "BSHS Criminal" emblazoned across the top. A black banner across the middle of the shield reads "Justice," underscoring the program's commitment to fairness and equity. Below the school's emblem, a profile of a Native American resides on a stark black background. A thin gold border extends to the coin's edge, complementing the gold details of the logo.
The BSHS Criminal Justice Program Coin is a remarkable example of an education challenge coin. It pays homage to the values of Berkeley Springs High School's criminal justice program and its unwavering pledge to excellence.
MATC Protective Services Training Challenge Coin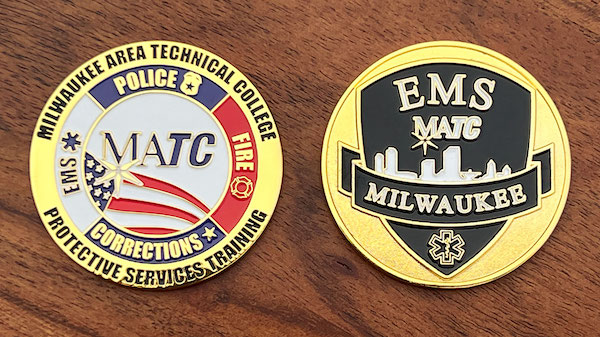 This round coin, crafted from polished gold, blends vivid colors, intricate details, and thoughtful design. The coin features meaningful elements representing the Milwaukee Area Technical College Protective Services Training program.
The front of the coin boasts a red, white, and blue color scheme. The center features a white background adorned with a stylized "MATC" representing Milwaukee Area Technical College. The dark blue text, outlined in gold, stands against the white backdrop. Just below, an American flag unfurls with red stripes and gold stars.
Surrounding the central imagery is a border divided into four sections. The top and bottom sections feature blue backgrounds, the left displays a white background, and the right showcases a rich red. Each segment symbolizes a specific facet of Protective Services Training: Police, Fire, Corrections, and EMS. A gold border encircles the colorful ring, inscribed with "Milwaukee Area Technical College" across the top and "Protective Services Training" along the bottom.
The coin's reverse side consists of a textured gold background and a black shield-shaped emblem at the center. Across the top of the shield, "EMS" is displayed. Below, the stylized MATC logo from the front design reappears. A silhouette of the city sprawls across the shield, while a banner bearing the city's name, "Milwaukee," crosses the entire design. At the base of the emblem, a golden caduceus represents EMS services.
This coin is a shining example of an education challenge coin. Its attention to detail, vivid colors, and thoughtful design make it a meaningful symbol of dedication.
Culver-Stockton College President's Coin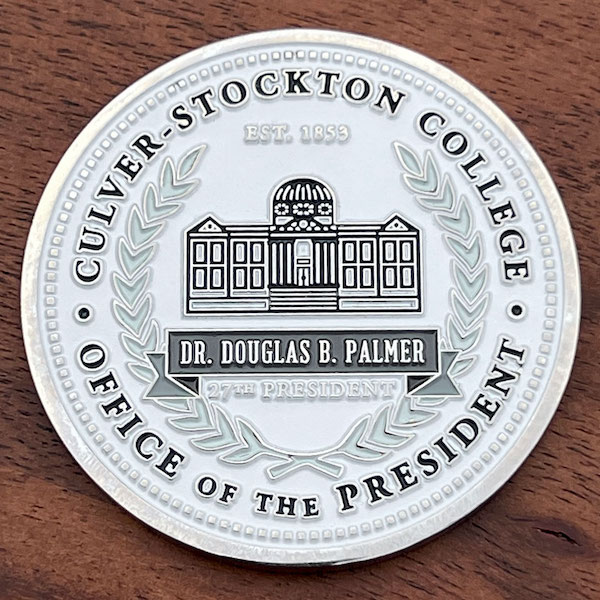 This classic round coin, crafted from polished silver, features a timeless appeal, striking color contrast, and exceptional attention to detail. The coin's center consists of a white background adorned with black imagery and text.
The central imagery features a stylized representation of the college's presidential office building. A laurel wreath encircles this central imagery from the bottom of the coin. Just above, subtle text reads "Est. 1853," commemorating the college's founding. Below the image, a banner emerges in a light gray shade, bearing the name "Dr. Douglas B. Palmer."
Beneath the banner, the designation "27th President" highlights the individual's role within the institution. Completing the coin's design, a border of text envelops the central elements, with "Culver-Stockton College" spanning the top and "Office of the President" adorning the bottom. Small dots surround the text, emphasizing the coin's intricate details and lending texture.
The Culver-Stockton College President's Coin is an excellent example of an education challenge coin. It pays tribute to the leadership and dedication of Dr. Palmer and the legacy of the college.
Challenge coins have become timeless symbols of recognition, pride, and accomplishment, representing a journey of growth. Education challenge coins are a great way to celebrate students, programs, and offices that shape our institutions. Each coin embodies its respective institution's values, heritage, and aspirations.
At ChallengeCoins4Less.com, we take pride in transforming your ideas into tangible tokens of recognition. Our dedication to excellence ensures your custom education challenge coins are works of art that capture the essence of your institution. As you explore these coins' unique elements and symbolism, we invite you to envision how they can celebrate the accomplishments of your students, faculty, and institution.
Each coin tells a story, and we are here to help you craft a design that matches your vision. With years of experience and a deep understanding of coin design, ChallengeCoins4Less.com is well-equipped to transform your ideas into stunning, custom coins. Our expertise in crafting custom education challenge coins ensures that every detail is meticulously considered, from design to production.
Creating a challenge coin is an art form, and our team of skilled designers and craftsmen strives to exceed your expectations with every coin we make. Look through our coin gallery for more outstanding designs and get inspiration for your custom challenge coin.
---
Jesse Daugherty
Blogger
Hello, I'm Jesse Daugherty, a music enthusiast, sports aficionado, and an avid supporter of the arts. I'm a writer and content creator. For the past 5 years, I've shared my knowledge of custom challenge coins and other promotional products, exploring their designs, meaning, and purpose.