The Definition: All About Custom Challenge Coins
Jesse Daugherty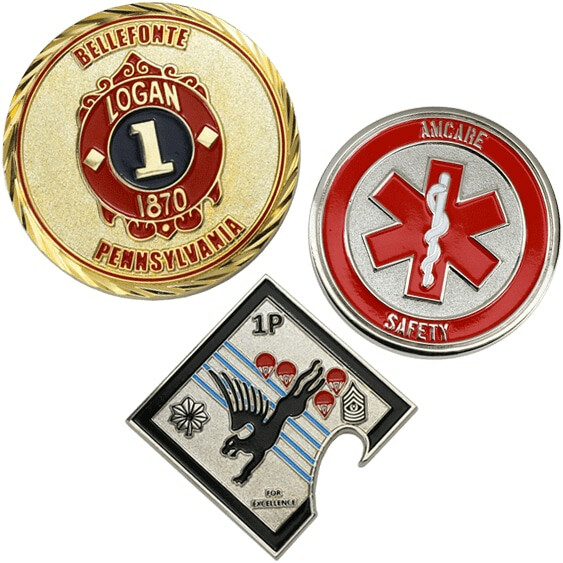 We're all familiar with coins for spending and for collecting. You've undoubtedly seen custom coins created to commemorate special events, but do you know what a challenge coin is? Do you know what they represent? Challenge coins have a long and intriguing history. At ChallengeCoins4Less.com, we know challenge coins, and we are here to tell you all about challenge coins and what makes them so unique.
If you are asking yourself, "well, what is a challenge coin?" We are here to tell you. Challenge coins are one of the many traditions in the military. While the exact history of the challenge coin is a bit of a mystery, they have become a prized possession for soldiers and collectors through the years. But what exactly is a challenge coin? That's a good question and one with many answers. The short answer is a challenge coin is a coin-sized medallion presented to soldiers as a symbol of their membership in their chosen branch of the armed forces. These coins are also given out to commemorate exceptional services or promotions more than just a representation of membership.
Challenge coins started out as a way to build camaraderie and show unity, while they have grown to inspire pride in the enlisted personnel. In the early days, they included simple designs that were stamped on the back of actual coins. However, as time went on, challenge coins became something much more desired by soldiers of all ranks. Each branch has its own particular challenge coins, and frequently they will issue different coins for outstanding performance or making it through a difficult battle. Challenge coins are a token of acknowledgment and hard work, as well as a cherished item that will be passed down to future generations.
The history of challenge coins and how it all began is a bit of a mystery. The first mention of similar coins dates back to the Roman Empire. The first issued coins were non-sanctioned, and a handful of stories have been passed down for generations. Roman soldiers were presented special coins with their daily pay, honoring their dedication and performance on the battlefield. However, the most modern story comes from World War I. The story goes that an Army Air Corps lieutenant had coins created for his entire unit. One of the members of the unit was shot down and eventually captured by the German military. The soldier was stripped of all of his possessions, except for a leather pouch he wore around his neck. The small bag held his unit's challenge coin for safekeeping. The soldier ended up escaping before being found by French troops who mistook him for a German spy. Subject to execution and unable to show any identification, he presented his challenge coin. One of the French soldiers recognized the coin, and the lieutenant was returned to his unit. The soldier told his tale, inspiring the tradition of keeping the coins available at all times.
Now that we've opened up about the purpose and the history of challenge coins, you are probably wondering about the challenge aspects. The challenge behind these custom coins started during the Vietnam war. Soldiers had to blow off steam the best way they could, and they got creative. The tradition begins with soldiers keeping shrapnel from battles they survived. The items were thrown on a bar as a challenge to see who had the most significant piece and the best story. The loser would have to purchase a round of drinks for everyone involved. Before things got out of hand, the special forces began issuing challenge coins that replaced the ammunition being thrown on top bars as a challenge. The challenge continues to this day. A challenge is initiated when someone displays their challenge coin, which signals everyone around to reveal theirs. The loser has to buy a round of drinks for those included. However, if all challenge coins are displayed and everyone has their respective coin, the person who initiated the challenge has to buy drinks. So choose wisely.
These days challenge the military still uses coins for promotions, notable accomplishments, and for being a part of specific units. They are still being used in the time-honored tradition of buying a round of drinks as well. Presidents now have their own challenge coins. They will present these coins to soldiers who show bravery, loyalty, or service to the United States. They are even being used outside of the military by businesses, brands, organizations, and companies of all sorts. Custom challenge coins have become quite popular in all facets of life, being used for marketing and promotion, team building, and of course, commemorating extraordinary achievements and accomplishments. You will likely find any uniformed soldier in possession of his or her coin, as well as veterans.
Another unique element about challenge coins is how they are presented. While they are sometimes given away at public ceremonies, you might miss it. Challenge coins are often presented in secret, not flaunted or made into a spectacle. The coin is presented privately, usually through a secret handshake. President George W. Bush delivered a coin to a wounded soldier coming home, doing so in plain sight, but without anyone knowing. Challenge coins are not just for the military anymore. They are being adopted and used by law enforcement, firefighters, EMS, and other organizations to symbolize bravery and dedication.
One of the best things about challenge coins is that everyone is different. At ChallengeCoins4Less.com, we produce coins that you can present, carry, and display with pride. We love turning your concepts into novel mementos that are sure to be treasured for years to come. We have supplied military coins to every U.S military branch and police and fire departments across the country. We have even created coins for businesses that recreate company logos and symbols into beautiful coins. We are dedicated to producing high-quality products with unbeatable pricing and providing the best customer service on the market. Are you ready to get started designing your own challenge coin? It's easy, simply fill out our free quote form or email us. We'd be honored to work with you!