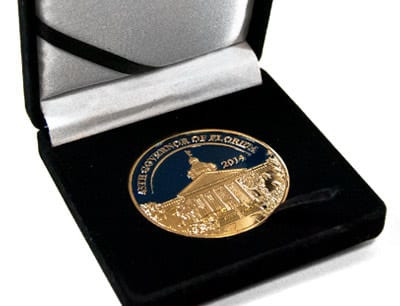 The Details: Choose The Right Packaging Option For Your Custom Coins
Custom packaging options for the best possible custom coin presentation
It's all about the details when it comes to designing great custom challenge coins. There are a few essential details to consider when ordering custom challenge coins.
Of course, your coin's design is the focus, but how you present your coins is another important element. You have many options when it comes to customizing your coins. The possibilities are almost endless, from the metal style to edge design options, cutouts, custom shapes and other choices.
Yet packaging options are often overlooked as part of the overall coin presentation. Let's take a closer look at some of the unique coin packaging options to add even more allure to your custom coins.
At ChallengeCoins4Lesss.com, all of our custom coins are shipped in clear PVC pouches at no extra cost. These pouches are cost-effective and straightforward, keeping your coins protected and looking great at all times. Although they do offer a simple layer of protection from the elements, they are not optimal for showcasing your custom coins.
One upgrade choice is our velvet bag option. This is a classic, traditional approach, offering a touch of class in the process. Simple, stylish, and sleek, the velvet bag is a popular option for any coin. They're not suitable if you want to keep your coins visible at all times, but they do make for an elegant presentation.
The coin capsule is another popular option, one designed to showcase your coins. The tight, clear case wraps around your coin almost seamlessly, letting you catch all of the details clearly on both sides. Coin capsules are an elevated approach to the standard PVC pouch, offering the ability to really display your custom coin.
The velvet presentation box is our most elegant option for packaging, for good reason. The box features a velvet exterior that provides a luxurious way to showcase custom coins and keep them protected. The velvet presentation box is generally reserved for special and exclusive coins. The box is a perfect way to display your coin, as they look great on desks or in cases.
For a more display-friendly approach, we also offer coin stands. These simple, clear stands allow you to show off your collection of custom challenge coins in a stylish way. The coin stands are an excellent addition to any of the above packaging options.
If you are looking for the very best, ChallengeCoins4Less.com is your one-stop source for custom coins. We make designing custom coins easy, fast, and fun. Fill out our no-obligation free quote form, email us at coins@challengecoins4less.com or call us toll-free at (855) 272-8451 to find out more. We're here for all your custom coin and accessory needs!