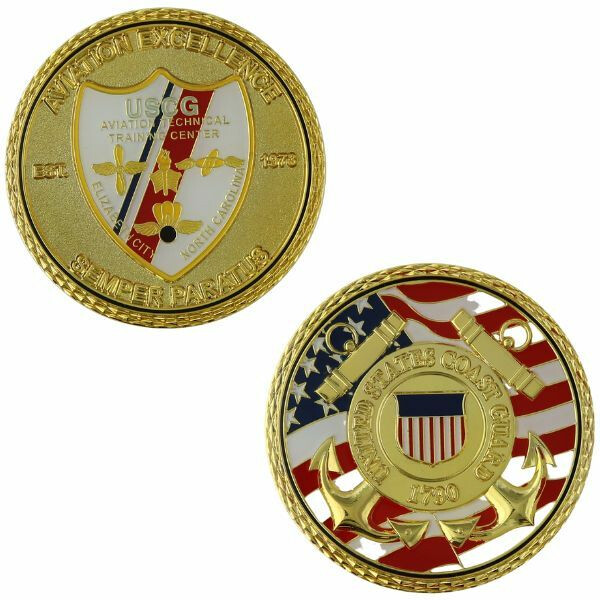 United States Coast Guard Aviation Excellence Challenge Coin Spotlight
Military challenge coins are a time-honored tradition that serves many purposes,
---
Military challenge coins are a time-honored tradition. These personalized coins serve many purposes, from recognizing achievements and milestones to showing specialized skills and membership in a particular group. In every military branch, custom coins are used to identify members and commemorate significant moments in a soldier's career.
These custom challenge coins are designed to celebrate the service, dedication, and ambition of military personnel, and are created with the utmost attention to detail. Military challenge coins are an important part of military life and are valuable keepsakes.
At ChallengeCoins4Less.com, we are proud to produce military coins for our armed forces. With nearly twenty years of experience, we have made a wide variety of military coins. It is our pleasure to create challenge coins for our service members.
We've produced everything from honor coins dedicated to veterans, commemorative coins for specific deployments, and coins that celebrate promotions. We recently produced a unique United States Coast Guard challenge coins in honor of aviation excellence.
This coin is an outstanding example of a commemorative military coin. The coin has a prominent aesthetic, thanks to its gleaming gold plating. The coin's detailed imagery and text are complemented by contrasting colors and feature distinctive elements on both sides.
A combination of color and texture distinguishes the coin's details, which is essential for a well-designed custom challenge coin.
Honoring Excellence
Challenge coins are a special honor for those who receive them. They serve as a reminder of the significant milestones and achievements that they have achieved throughout their military career. This remarkable coin honors excellence in aviation and was presented at the United States Coast Guard Aviation Technical Training Center in Elizabeth City, North Carolina. The mission of ATTC is to maintain the Coast Guard's aviation fleet and train Coast Guardsmen in maintenance skills and the latest engine technologies.
This particular coin honors aviation excellence at ATTC with logos and insignia while keeping a classic approach. The coin's vivid colors are contrasted by a gold base, boasting a different layout on both sides. The coin celebrates the exemplary work and dedication of ATTC students with thoughtful and memorable elements.
The front of the coin shimmers with polished gold details. The center of the coin features ATTC's logo. The white shield includes a red and white stripe running diagonally across and includes text that reads "USCG Aviation Technical Training Center" and "Elizabeth City, North Carolina." The logo also includes four other insignias inside the shield that represent the duties of the ATTC. The shield sits on a textured gold background with raised text. The top of the coin reads "Aviation Excellence," while the bottom features the USCG's "Semper Paratus" motto. A cross-cut edge finishes off the front of the coin, encircling the logo and text in the center.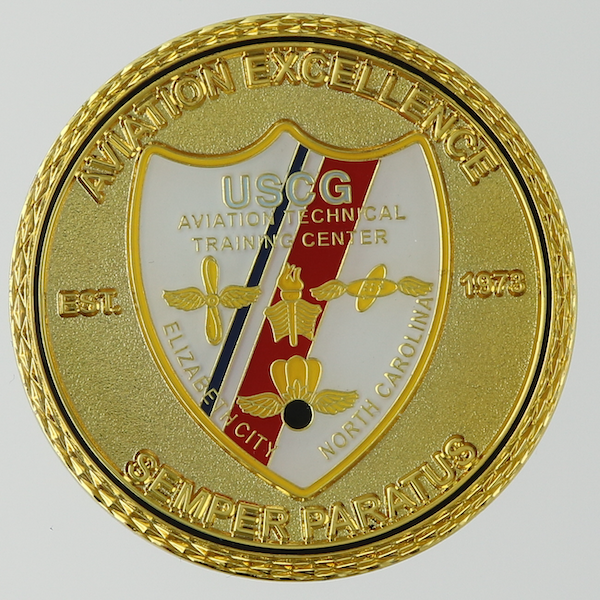 The reverse side of the coin boasts more color and an understated approach. The United States Coast Guard seal adorns the center of the coin. The seal features crossed anchors with a life ring and a shield surrounded by a line grommet. The golden seal stands out against the background of a waving American flag in full color. The color scheme of red, white, and blue makes the USCG seal stand out and becomes a prominent feature. The same cross-cut edge from the front finishes off the layout, adding a touch of brilliance to the entire design.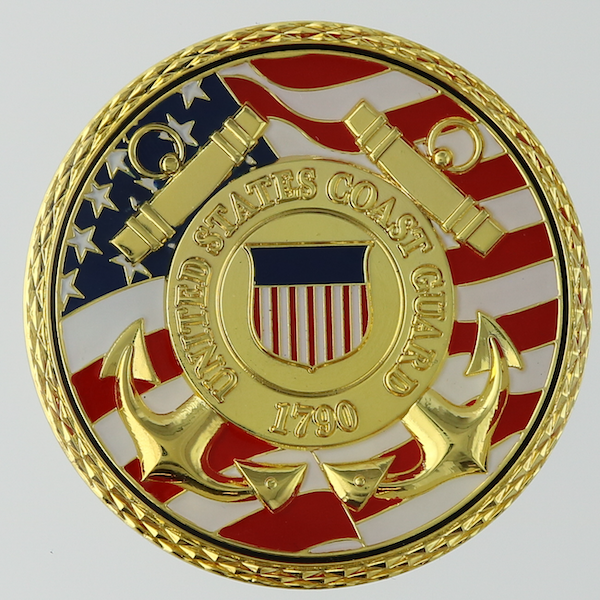 This stunning coin is an excellent example of a military challenge coin. It has an elegant approach and timeless details, while its polished gold base stands out. The details are precise and have a purpose.
At ChallengeCoins4Less.com, we understand what it means to receive a challenge coin. We put that same level of pride into our custom military coins. Challenge coins are a personalized way to acknowledge the hard work and dedication of the United States Coast Guard.