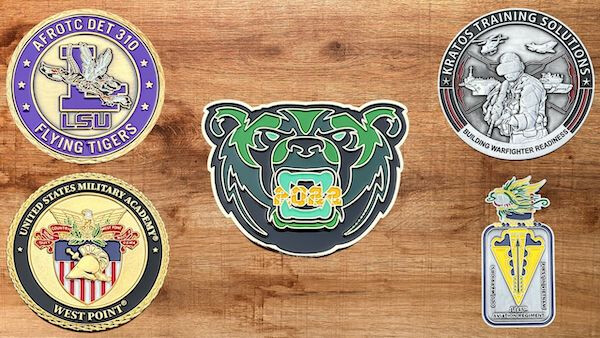 Unleashing the Creative Possibilities of Custom Challenge Coins
Challenge coins offer an opportunity to showcase creativity. These 5 coins are outstanding examples.
Challenge coins are more than just small tokens of appreciation or recognition. They represent an organization's values, history, and originality. A challenge coin is a unique symbol of achievement or membership and an opportunity to showcase creativity and innovation.
Below, we highlight five custom coins demonstrating exceptional creativity and uniqueness. From intricate designs to unconventional shapes and sizes, these coins represent the endless possibilities that custom challenge coins offer. So, without further ado, let's dive into the world of imaginative custom coins.
Colorful Challenge Coins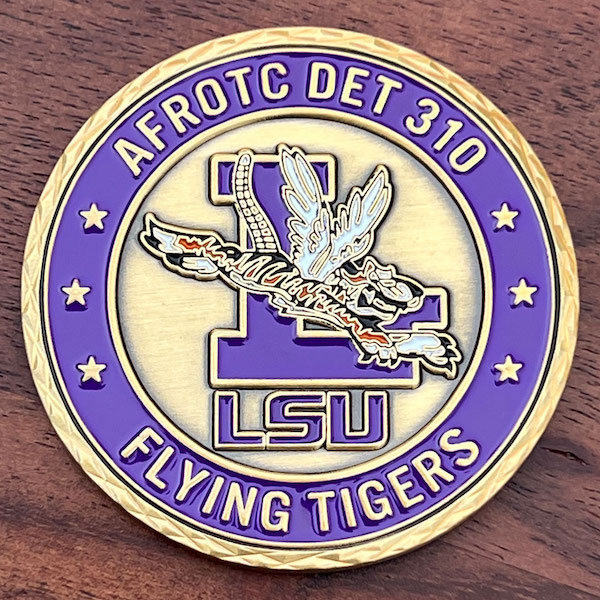 This challenge coin is no ordinary one. It boasts creativity in its composition. Its captivating appearance features a radiant gold base with a classic round shape. At the heart of the coin lies a bold Louisiana State University logo, vividly displaying the university's signature purple hue, set against a matte gold background that produces a stunning contrast. A complex Flying Tigers logo adds depth to the coin, featuring black, white, and orange details.
A thick purple border frames the central imagery of the coin. The text "AFROTC DET 310," for Air Force Reserve Officer Training Corps Detachment 310, and "Flying Tigers" is adorned in a striking gold font at the top and bottom, respectively, which stands out against the purple backdrop. The coin's cross-cut edge provides texture and adds to its brilliant finish. With a design that expertly blends color and texture, this coin is a true standout, leaving a lasting impression on all who see it.
Custom-Shaped Coins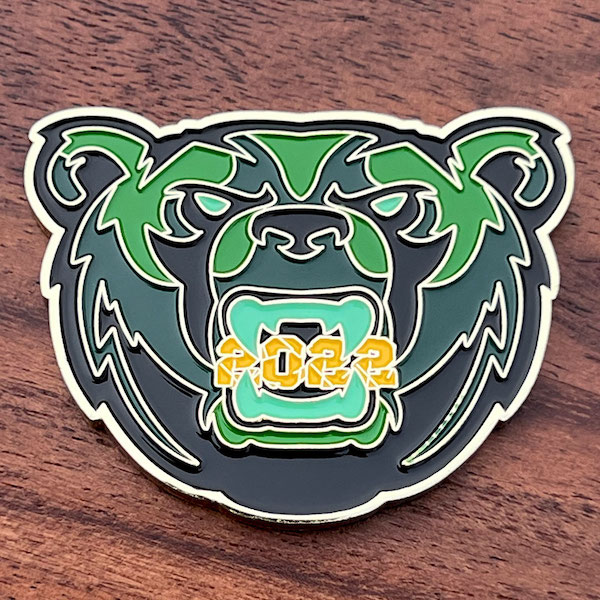 This challenge coin's unique characteristics make it memorable. Rather than conforming to standard geometric shapes, the coin takes on the form of a bear's head, making for a striking silhouette. The elaborate and colorful artwork boasts various hues of green, creating visual appeal. Artistic details abound, from the raised silver areas that add depth and dimension to the bear's face to the recessed areas filled with rich greens. Details of black further enhance by adding depth to the overall design of the coin.
The colors and intricate lines blend seamlessly, with a bear clenching "2022" in its teeth as the centerpiece. The polished silver base provides an attractive contrast and attention to detail to the entire coin. Finally, a thick band of silver frames the colorful design, adding a perfect finishing touch. This remarkable coin exemplifies the boundless originality of custom-shaped coins and how color can add depth and dimension to a custom coin.
Detailed Challenge Coin Design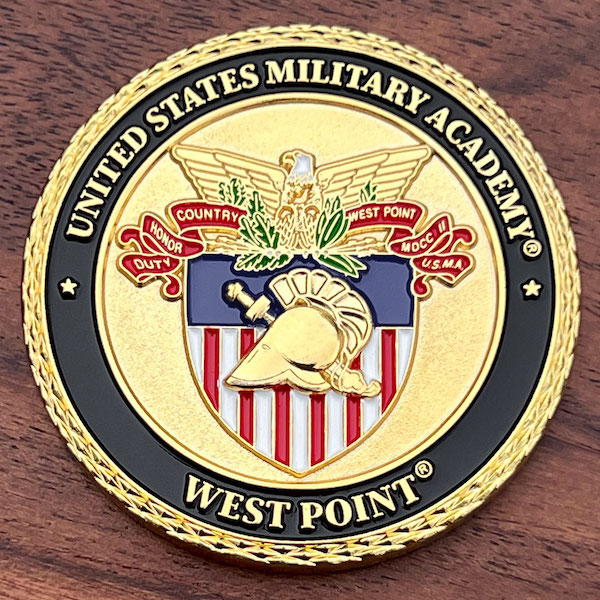 This impressive coin is an exquisite representation of a classic military challenge coin. Its round shape and polished gold base add to its timeless appeal. The center of the coin prominently displays the West Point Coat of Arms.
The intricately detailed design features a sword and the helmet of Pallas Athena, the mythological Greek goddess of war, affixed to a shield bearing the country's colors of red, white, and blue. A bald eagle with 13 arrows in its claws adorns the shield's crest, symbolizing the 13 original states, and oak and olive branches. The red, white, and blue colors accentuate the shield and a scrolled ribbon, which bears the U.S. Military Academy's motto of "Country," "Honor," and "Duty." The insignia contrasts beautifully against a textured background, with every detail standing out. The black border around the central imagery includes the text "United States Military Academy" across the top and "West Point" at the bottom.
A cross-cut edge finishes the coin, adding texture and elegance. Its creativity lies in the details and great use of color. From the fine lines of the eagle to the shield's vivid colors, each element comes together for a fantastic and unforgettable layout.
Custom 3D Challenge Coins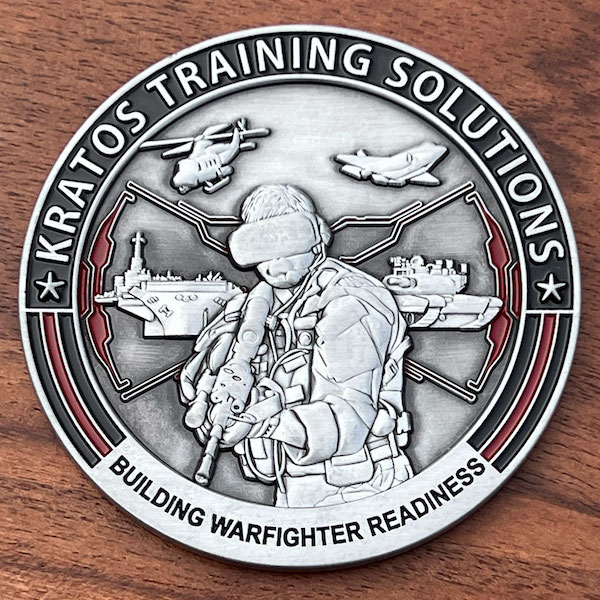 This 3D challenge coin is a true testament to creative design. While it features the standard round shape, it is anything but ordinary regarding details. The center of the coin is where its creativity shines. The design showcases 3D elements that jump out thanks to distinguishing textures and finishes.
The coin captures a soldier in full gear during training, with features that bring the uniform and weaponry to life. The layout includes a ship, tank, helicopter, and airplane, rendered in 3D form with vivid precision. The flat background features darker recessed areas, allowing each element to stand out. Intricate line work is also visible, with touches of burgundy adding even more contrast.
A wide border encircles the image, encapsulating the details and adding depth to the coin. At the top, a black border with the text "Kratos Training Solutions" draws attention, while the bottom section includes silver with black text that reads "Building Warfighter Readiness." This exceptional coin showcases the originality of 3D design with incredible features and outstanding artistry.
Intricate Challenge Coin Designs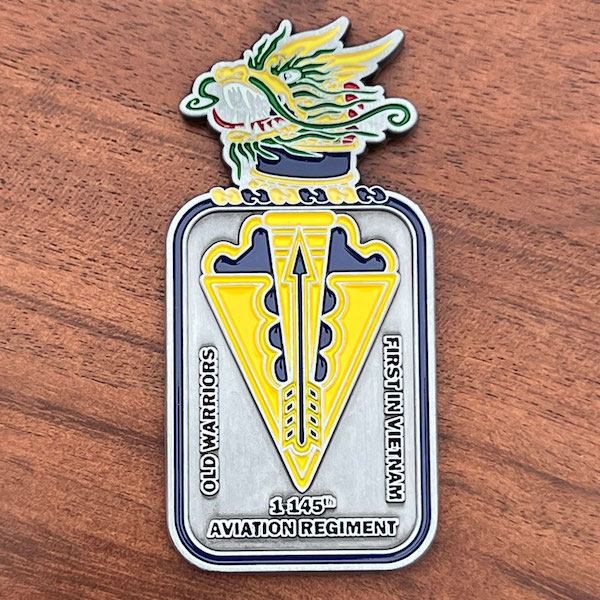 This military challenge coin breaks away from the traditional round shape, offering a uniquely creative design. An exquisitely detailed dragon's head tops the coin, which features a rectangular shape with rounded edges. The dragon's face boasts rich colors, such as green, yellow, red, and dark blue, that blend seamlessly to produce a lovely contrast.
The coin's center features arrow-shaped artwork that combines bold yellow and deep blue hues. A thin blue edge encircles even more colorful elements, accentuating the design. The matte silver background provides a perfect backdrop for the prominent yellow artwork, while the text "Old Warriors," "First In Vietnam," and "1145th Aviation Regiment" is inscribed in bold black. This striking coin showcases a perfect balance of intricate linework, vivid colors, and attention to detail, making it stand out for all the right reasons.
These five examples of custom coins demonstrate extraordinary creativity. They showcase the endless possibilities that challenge coins offer. Each coin displays a unique and memorable design, from using color and texture for a clever design to using shapes and detailed elements.
The coins demonstrate how to use creativity and innovation to craft a symbol of achievement or membership. Custom challenge coins have the power to represent an organization's or group's identity and values, and these coins do just that in a visually attractive way.
---
Jesse Daugherty
Blogger
Hello, I'm Jesse Daugherty, a music enthusiast, sports aficionado, and an avid supporter of the arts. I'm a writer and content creator. For the past 5 years, I've shared my knowledge of custom challenge coins and other promotional products, exploring their designs, meaning, and purpose.