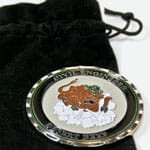 Creating Meaningful Custom Challenge Coins As Gifts
Custom challenge coins can make outstanding, personal gifts.
Custom challenge coins have been an honored tradition for decades. Organizations such as the military, police, fire department and others have traditionally used challenge coins to recognize and reward their members. In recent years, custom coins have become a popular gift option for individuals and corporations.
Challenge coins make quite versatile gifts, which is one of their biggest benefits. They are a thoughtful way to provide a token of appreciation for any occasion or recipient. Add a specific logo or symbol, such as that of your company or one that signifies a personal interest, to make them unique. If you want to make them even more special, add an inscription or message to them. Challenge coins stand out as unique gifts, differentiating them from traditional items such as pins, shirts, or hats. They have a sense of history and tradition dating back to the military.
Whether you want to commemorate an extraordinary achievement, show your appreciation for a loved one, or promote your business, custom coins offer an expressive way to do so. Let's explore the benefits of giving custom challenge coins as gifts. Below, we delve into designing the perfect coin, presenting challenge coins, and the meaning that coins carry.

Designing Custom Challenge Coins
Designing the perfect coin is the key to giving a custom coin as a gift. A meaningful and personalized design should be used to convey the message to the recipient. One way to do this is to include the recipient's name, rank, or notable achievement on the coin. This gives the coin an even more impressive look and adds a personal touch to it as well.
Also take into account the images, symbols, text, and artwork when you are designing a coin. Often, this can be expressed in the form of a company logo, an interest of the individual, or a symbol that signifies an upcoming event or anniversary. For example, if you know that the recipient enjoys a particular sports team, you can include the logo of that team on the coin. As a result, the coin becomes even more personalized and a much more valued possession.
Challenge coins come in many sizes, from small coins that you can carry in a pocket to larger ones that recipients can display on a wall. The shape of the coin can vary from round to square or even a custom shape that represents the recipient.
The text or inscription that appears on the coin should be written in a font and color that is legible and easy to read. This will ensure that the coin's details are clearly seen. The inscription or message will be easier to understand and will give the piece an additional level of personalization.
Lastly, consider the material and finish of the coin. The most common materials for creating challenge coins include brass, copper, and nickel. Each material has particular properties and can be used to create different coins. Additionally, you can choose between a polished or antique finish to give the coin an additional level of personalization.
Challenge Coin Packaging

Packaging challenge coins is an important aspect of presenting and preserving the coins. A coin's appearance and its level of protection can be greatly affected by the type of packaging chosen. You can choose from multiple packaging options, including PVC pouches, velvet bags, coin capsules, velvet presentation boxes, coin stands, and acrylic boxes. Select coin packaging by considering the purpose of the coin, such as whether it is for a collector or for presentation purposes, and the level of protection required.
It is important to ensure that the packaging is of good quality and does not damage the coins in any way. The packaging should also be aesthetically pleasing and complement the design of the coins. The overall goal is to make the coins stand out and show their value and significance.
Custom challenge coins make exceptional gifts for many occasions. They are perfect for military graduations, retirements, promotions, or other notable achievements. You can use them to show appreciation for a loved one, such as a spouse, parent, or child. Custom coins are an innovative and fun way to promote a business or brand. They can make great promotional items to show appreciation to employees or customers.
Custom challenge coins are also a fantastic way for businesses and individuals to commemorate special events, such as weddings and anniversaries. These can be personalized with the couple's names, the date of the event, or even a short message. You can use them as a means of thanking and rewarding members of a community association, such as a volunteer group or a church.
Challenge coins are a versatile and unique gift option. They can be designed to suit any occasion or recipient. They have a sense of history and tradition, which makes them distinctive.
A Special Honor
Custom challenge coins are more than just a tangible representation of recognition or achievement, They hold deeper meaning and symbolism. These coins represent a sense of belonging and camaraderie, a reminder of shared experiences and memories. They are a symbol of the values and ideals of the organization or company, reflecting the traditions and heritage that make it unique. When collecting challenge coins, one not only acquires a beautiful piece, but also a piece of history and identity that holds a special place in the hearts of its members.
Custom challenge coins are a highly versatile and visually appealing gift option that can be used for a variety of purposes. They are often used to commemorate milestones, recognize achievements, express gratitude, and promote businesses. With their creative and eye-catching designs, challenge coins make a memorable gift and are ideal for any occasion. Whether you're looking to celebrate a special event, show someone you care, or spread the word about your business, challenge coins are a meaningful way to leave a lasting impression. They are versatile, memorable, and can be customized to meet your specific needs, making them a popular choice for individuals, organizations, and businesses alike.