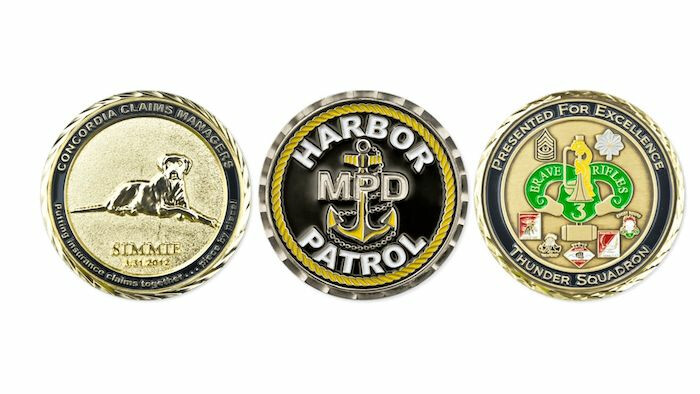 Dig Into The Details: All About Custom Coin Edges
Custom edges add distinction to any challenge coin design
When creating a custom challenge coin, you have complete control over the entire design. From the imagery and text, down to details including metal styles, different finishes, and many other options, challenge coins can be produced in various forms. They are also be made for several purposes. Challenge coins serve as a marketing tool for businesses or as a way to celebrate notable achievements and milestones.
Custom coins come in many shapes and sizes, but today we dive into a unique detail that folks often overlook; coin edges. As we mentioned above, you have control over every aspect of your coin's look, and adding something different to the edge of a coin will add to its appeal.
Here at ChallengeCoins4Less.com, we offer an array of options for every coin we make. That includes four diamond-cut edge options that will add an elegant look to your coin. We offer a standard edge, as well as rope-cut, cross-cut, wave-cut, and oblique-cut edges. These edges will complement the look of your custom coins, and the details featured. Another popular detail is adding sequential numbering or text to the edge. First things first, let's dive into each of these edge options and learn more.
The standard flat edge is the most common. This edge is simply a flat edge without any unique details. The smooth, shiny finish has an elegant look while keeping things simple. Flat edges are great for coins crafted in different shapes. They don't pull attention from the details found on the front or back of the coin, making them great for coins with intricate and bold elements.
The rope-cut edge is precisely what you are probably envisioning. The border will boast a look that resembles the rope's angular lines, almost adding a braided effect in the process. The diagonal impressions are classy and professional, also adding a different texture in the process. Rope-cut edges are great for Navy coins or any coin that reflects a nautical theme. Consider this edge option for Coast Guard coins and other government agencies.
Cross-cut edges add a striking level of detail to any coin. Often confused with 'diamond-cut edges, cross-cut edges turn your coin's edge into a ring of diamonds that encircle your coin's face. 'Diamond-cut' refers to the process by which the coin's edge is engraved. Cross-cut edges add a level of class and elegance that is great for memorial coins, or coins created for remarkable achievements and milestones.
The wave-cut is another popular option, and it might just be the most eye-catching option. The edge resembles the crests of a wave, offering a bold look that will complement any design. The pattern can be deceptive, but it provides a note-worthy touch that will make your coin stand out among the rest.
Last but certainly not least is sequential numbering. This detail will add a level of exclusivity. Take your custom coins up a notch by adding numbering along the edge. However, you may also add text or a special message for your recipients. This is a unique way to add new detail to your coin with an added appeal.
At ChallengeCoins4Less.com, we know challenge coins. We have more than fifteen years of experience, and we know what it takes to produce a stunning challenge coin. Our team of graphic artists will work with you throughout the entire process to ensure you get the exact coin you have envisioned. Get a free quote for your next order or give us an email with any questions. We'd be happy to help!
---
Jesse Daugherty
Blogger
Hello, I'm Jesse Daugherty, a music enthusiast, sports aficionado, and an avid supporter of the arts. I'm a writer and content creator. For the past 5 years, I've shared my knowledge of custom challenge coins and other promotional products, exploring their designs, meaning, and purpose.