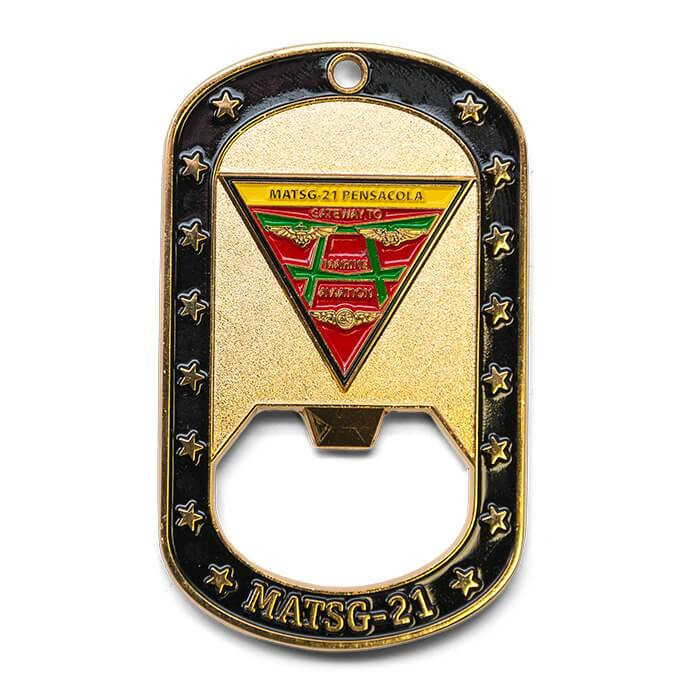 Turn Custom Challenge Coins Into Custom Bottle Openers
Custom Bottle Openers put your logo or brand right into customers' hands
Custom challenge coins are a great way to commemorate events, celebrate with the team, or market your brand. If you want to add a functional aspect to your custom coins, and increase their branding power, consider turning your coins into custom bottle openers.
The idea is easy! You can turn virtually any custom coin design into a custom bottle opener. This is a great way to get your logo into customers' hands on a regular basis, keeping your brand awareness high.
Start by designing your coin in the standard way. Choose from the same variety of metal colors, including gold, silver, brass, and copper, as well as your choice of polished or antiqued finishes, just as you normally would.
You can still choose duo-tone options, and add color to your custom bottle openers too. A reputable coin provider will use the Pantone® color matching system to match your design colors accurately. They also will offer you up to five colors per design free, with additional colors available.
Just as with a standard coin design, you're not limited on size and shape. And you can add cutouts, 3D designs, sequential numbering, and even translucent enamel for added appeal. You can turn your custom bottle openers into keychains, giving recipients even more incentive to carry them everywhere.
Looking for something different? Consider wooden bottle openers instead. Made of high-quality birch wood, they offer a unique way to stand out from the crowd. The 2.5" disc features an opener attachment on the underside. The front features a full-width edge to edge area, perfect for your logo or text. These are terrific giveaways for breweries, beer distributors, outdoor businesses, and more.
Bottle openers are a great way to get your logo and brand into the hands of the customers who buy your products. They are a great way to keep your brand fresh, boasting a positive association that users will remember.
At ChallengeCoins4Less.com, we know all about custom coins and custom bottle openers. We make ordering and designing both a breeze!
If you are ready to order custom bottle openers, we are ready to assist! Give us a call on our toll-free line, (855) 272-8451. Or fill out our no-obligation Free Quote form, or email us with any questions you have. We'd be honored to work with you to create something memorable and functional!