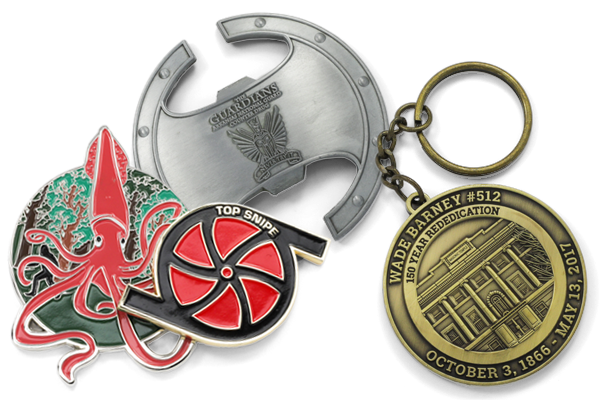 The Differences Between Enamel Coins, Die-Struck Coins & Others
So, you are thinking about creating custom challenge coins? While they are a less conventional type of custom product, they are great for several reasons. Challenge coins can be sold...
---
So, you are thinking about creating custom challenge coins? While they are a less conventional type of custom product, they are great for several reasons. Challenge coins can be sold in your store or distributed throughout your organization. Challenge coins are small and subtle, though they are memorable and incredibly customizable. This makes them perfect for commemorating events, recognizing achievement, or even for marketing and promotional purposes.
Deciding to create custom challenge coins is just the beginning of the process. You still need to develop a design, find a reputable manufacturer, and choose the right coin for your particular needs. Here at ChallengeCoins4Less.com, we make ordering challenge coins easy. We understand what a well-designed challenge coin should include, whether you are creating military coins, commemorative coins, corporate coins, or any other type of coin. You can create your own design from scratch, choosing all of the unique elements that will make your coin different from any others. Today we find out all the details about challenge coins, including enamel coins, die-struck coins, and more.
A Challenge coin is a custom-designed coin representing a specific organization, occasion, or group. Typically small and circular, challenge coins feature an organization's logo or emblem, text, and other details. While they can be created in virtually any size or shape, typically, challenge coins are the size of a nickel or a quarter. They are created for commemorative, often carrying no monetary value, though their sentimental value is unmatched. Many who receive challenge coins keep them in a collector's box or carry them with pride every day.
Challenge coins have many uses, though they are generally used for an individual's special achievement or simply to represent membership and unity. Receiving a challenge coin is considered a great honor, and these tokens are treasured and passed on as an heirloom. Challenge coins grew popular in the military, demonstrating proof of membership and affiliation with a specific unit.
They are a big part of military life and date back to the Roman Empire. Modern challenge coins started during World War I and have become a tradition for American military members. Challenge coins are used by the military and first-responder services to this day. Now communities and organizations have created their own, using them in many of the same ways that the military and first responders do. They are excellent morale-boosting mementos, perfect for honoring exceptional leadership, service, or commitment.
There are many different types of challenge coins too. Of course, there are military challenge coins, which are some of the most popular. However, there are also commemorative coins that highlight an individual's affiliation with a certain organization. Challenge coins feature an organization's name, founding date, insignia, values, and more. They may also feature special dates, titles, or achievements. They can also be created for family reunions, special events, club memberships, and much more outside of military coins and commemorative coins.
Let's take a look at the customization options. Challenge coins are great because they can be customized to your liking. As mentioned earlier, challenge coins can be produced in virtually any size and shape. Choosing the size of your coin will be the first step in the process and the most important. The size of your coin dictates how much detail you can fit within your design.
After you choose the right coin size, it's time to determine the style of the coin you want. Of course, we offer a bevy of metal colors and finishes to choose from. High polish gold and silver are always a safe bet, though we also have antique plating options, as well as nickel, brass, and copper. If you can't decide on one metal color, you can opt for a duotone design that will stand out. Beyond the metal and plating options, you also can add color to your design if you choose to do so.
Adding color is an ideal way to get your design elements to pop. Consider using contrasting and complementary colors for a bold and vibrant look. If you do choose to add color to your challenge coin, you have to choose between soft enamel and hard enamel. Soft enamel adds colored enamel that dries in the recessed areas between the metal lines. This offers a classic and timeless look. Hard enamel dries on level with the metal edges and provides a smooth surface. If you are unsure what option will work best with your design, your challenge coin provider can lead you in the right direction.
If you do not want to include any color at all, opt for a die-struck coin. This style relies on the raised die-struck surface for any embellishments. You can even choose a 3D challenge coin with a three-dimensional sculpted look. Remember that you can also add small engraved sequential numbers onto each coin for exclusivity.
Epoxy coating is another great addition to any custom coin. Choose between thin, clear epoxy or a thick epoxy dome and get a bit of smoothness and some added protection to your coin. Last but not least is the border and edge options for your challenge coin. We offer a host of border and edge options that will surely make your coin stand out. Our diamond-cut edges will provide a striking contrast to your design, adding a classic-meets-modern look in the process.
Ordering challenge coins is quite easy too! First, select your challenge coin style and add the personalized details you want to include. Once you have your design in mind, choose your coin's size, color, style, finish, type, and border design. Keep in mind that you can add extra options such as a bottle-opening function, a spinning centerpiece, epoxy coating, engraved sequential numbers, and more.
Once you have all of the details in order, it's time to submit your design. We will work with you, providing detailed notes in order to help you create a beautiful challenge coin. Once our team creates an artist proof, we will send it to you for revision or approval. If everything looks how you intended, we will move forward with production. Once your coins are produced, they are inspected by hand before being shipped directly to your door.
At ChallengeCoins4Less.com, we are proud of what we do and every coin we produce. To find out more about our products or how challenge coins can benefit you, call us toll-free at 1 (855) 272-8451 or email us. Let us show you how effective custom coins can be.